Digitisation is now everywhere and is spreading like wildfire.
I am therefore writing a series of articles on the subject of digitalisation. My motivation is that digitalization means something different for every industry and type of company and I want to work out these differences. For an illustration of the differences in different industries, see the following figure.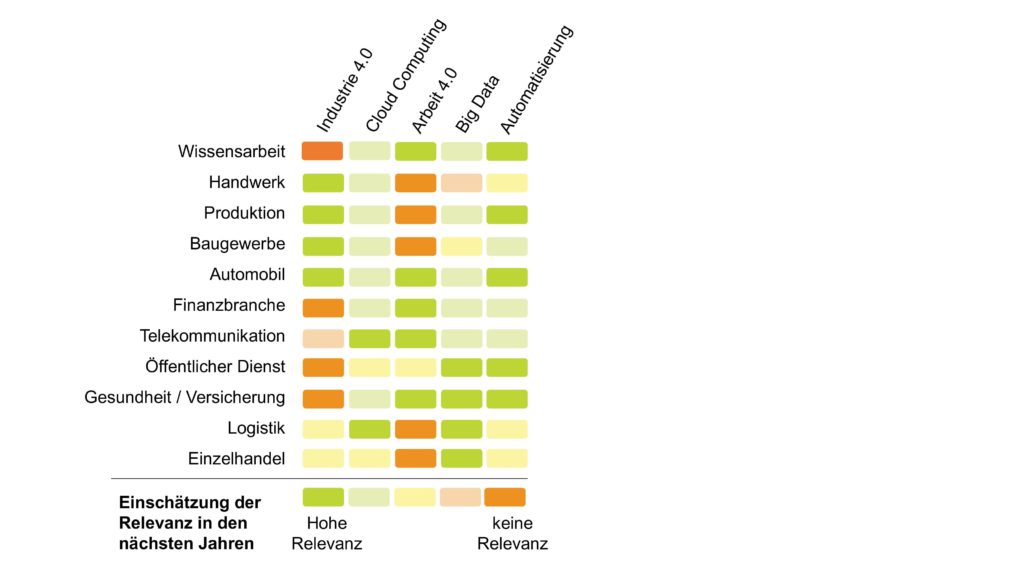 In this section, I would like to go into the very essence of this article and illustrate the digitalisation in the health and insurance industry.
Characteristics of the industry
The health and insurance wasteland consists of health systems. These, in turn, can be divided into networks with different actors, such as health insurance companies, medical associations or hospitals. Decisions of these actors have a direct or indirect influence on the national state of health. As many different institutions and actors exert influence, the health and insurance industry has always called for great flexibility. Nevertheless, agile methods have so far received only a small amount of input. Digitalization, on the other hand, already determines a large part of the everyday life of this industry and makes a cross-sectoral link age of health-related products possible.
In addition, technological advances in the medical and technical field, as well as demographic change and the trend towards a healthier lifestyle, are putting increasing pressure on the industry. In the future, it will have to react even more flexibly and agilely by pushing ahead with digitalisation in this area, in the form of work 4.0 or the automation of processes.
The current digitalization in the healthcare and insurance industry
Digitalization has long since arrived in the healthcare and insurance industry and ensures the flexibility and automation of various processes.
For some time now, online appointments or the use of the electronic health card (eGK) as proof of insurance have been going on for some time. In addition, more and more actors in health systems are offering access to electronic medical records or the issue of electronic prescriptions. As part of the E-Health Act, which came into force in 2015, interactions on the internet, such as online counselling, are also protected.
Benefits of digitalization in the healthcare and insurance industry
In the future, digital technologies will be even more important in helping to address challenges such as demographic change or the spread of chronic diseases. In addition, digitalization promises to provide optimal services for rural areas. For example, through a comprehensive exchange of information. Agile methods are also intended to ensure more efficient care for patients. This is to be achieved in particular by advancing telemedicine. This can help to use electronic applications, such as electronic medical records or medication plans, as a basis for better medical care.
In the health and insurance industry, more and more technological tools such as big data and artificial intelligence will be used. For example, special apps for this industry should not only optimize the exchange with the patient, but also contribute to massive time savings and an improved workflow.
Tip:
If you are as enthusiastic about this topic as I am, then you can find the entire series of articles here!

Genderhinweis: Ich habe zur leichteren Lesbarkeit die männliche Form verwendet. Sofern keine explizite Unterscheidung getroffen wird, sind daher stets sowohl Frauen, Diverse als auch Männer sowie Menschen jeder Herkunft und Nation gemeint.
Lesen Sie mehr dazu.
Falls es noch Fragen gibt, können Sie mich gerne anrufen. Hierzu einfach im Buchungssystem nach einen freien Termin schauen. Ich nehme mir jeden Monat einige Stunden Zeit um mit Lesern zu interagieren.
Helfen Sie meinem Blog, vernetzen Sie sich oder arbeiten Sie mit mir
Sie haben eigene, interessante Gedanken rund um die Themenwelt des Blogs und möchten diese in einem Gastartikel auf meinem Blog teilen? – Aber gerne! Sie können dadurch Kunden und Fachkräfte ansprechen.



Ich suche aktuell außerdem Werbepartner für Bannerwerbung für meinen Blog. Sollte es für Sie spannend sein Fachkräfte oder Kunden auf Ihre Seite zu leiten, dann bekommen Sie mehr Informationen hier.
Vernetzen Sie sich in jedem Fall auf
Xing
oder
LinkedIn
oder kontaktieren Sie mich direkt für einen Austausch, wenn Sie gleich mit mir ins Gespräch kommen wollen. Werfen Sie auch einen Blick in meine
Buchvorschläge zur Digitalisierung
, vielleicht wollen Sie mir auch ein Buch empfehlen?
Ich arbeite gerne mit Unternehmen zusammen. Sie können mich ebenfalls gerne bezüglich folgender Punkte anfragen:
Image source: pixabay.com