I worked for several years myself in a medium-sized consulting company and we mostly worked at the customer's site. As a consulting team, we have provided absolutely flexible and agile support for digitalization for a large DAX Group. Every customer's demand was implemented by us in an absolutely flexible and individual manner. So we were, as it was on our website: an agile companion in the digital transformation.
Reading Tip: Agile IT Service Provider
"Please coordinate agility with customers"
The disadvantage was that we were 1:1 bound by the interests and guidelines of the customer regarding working time, home office and place of work. But I often see promises on the websites of consulting companies: corporate events, home office, flexitime and modern workspaces. But then I hear from my friendly IT consultants:
We have flex time, modern workspaces and home office but that's not possible because we have to follow the customer's guidelines.

Statement by the consultants
Internal Agility and NewWork: often many possibilities
Consulting companies offer great corporate events and also have really great offices. In almost all cases, flexitime and home office are also permitted internally without restrictions. The problem, however, is that you are always bound by the customer's guidelines and thus have no room to use them. The reason is almost always: "The customer said no" and going to company events often leads to the fact that you can spend fewer hours at the customer. So how do I create an agile corporate culture when all employees are not on site and you are bound by the customer's general conditions?
Reading Tip: Consulting 4.0
Internal digitization: often many possibilities
The internal software tools and hardware are really good for many companies. You can scan travel expenses and receipts directly or even get a company credit card and expenses directly. However, in addition to the great Macbook of the consulting company, you also get the customer's laptop: a mostly 12KG heavy brick with Windows 7. Please use this daily and also work on the customer's tools. So the question remains: How do I design a modern digitalization when I am tied to the customer's software and hardware?
Reading tip: Advice 4.0
Now the central question remains: How can a consulting company be agile and digital internally when everything has to be coordinated with the customers?

Agile-Unternehmen.de
Conclusion: Adapting customer contracts
My recommendation is that the individual consultants should be close to the customer and be allowed to decide autonomously with the Key Account Manager. The Account Manager is the lawyer of the client and the employee. He knows the customer and speaks his language, but also defends the consultants.
The internal teams such as HR, internal IT and travel management support the consultants at work and provide great services and products such as laptops or Office 365.
Now it is time to unravel the knot of agility and digitization. The board helps account managers negotiate new-work options such as remote work and flex ibtime as well as their own hardware at the customer's site. Contracts need to be relaxed and exciting projects and customers must be pulled ashore. The rather supportive activity means that the Board of Management has enough time to form strategic partnerships and attract new and modern customers.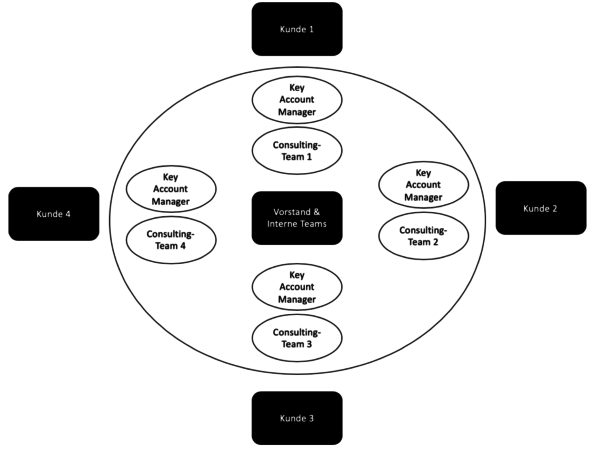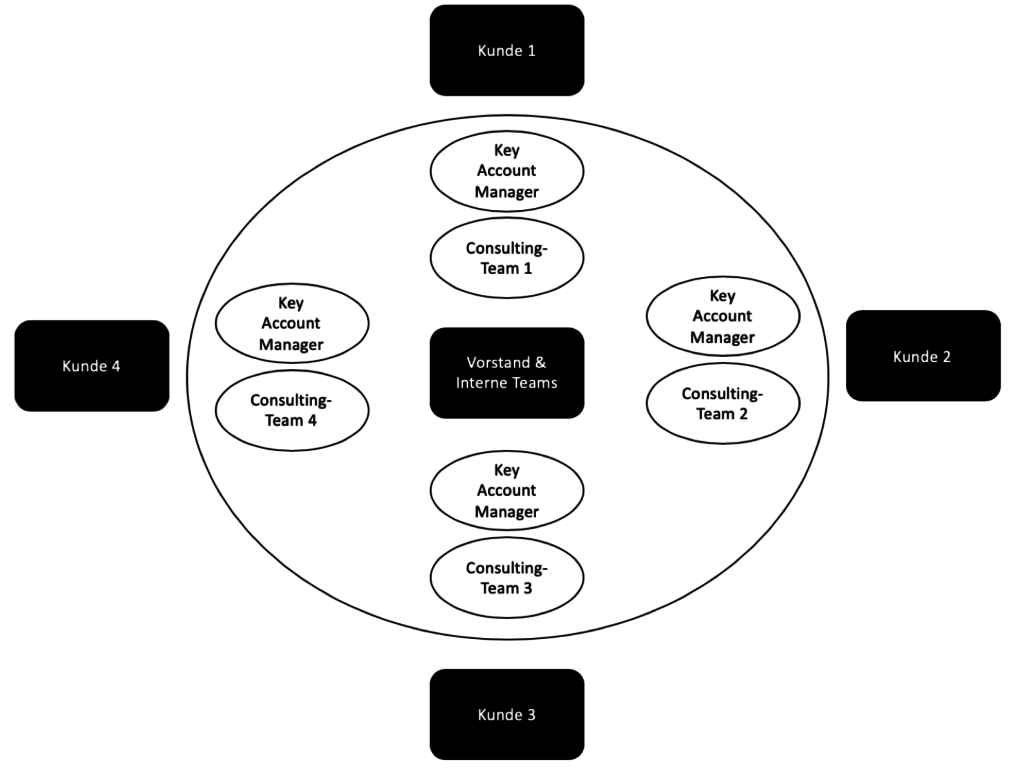 Photo credit: Shop photo created by yanalya – de.freepik.com
Genderhinweis: Ich habe zur leichteren Lesbarkeit die männliche Form verwendet. Sofern keine explizite Unterscheidung getroffen wird, sind daher stets sowohl Frauen, Diverse als auch Männer sowie Menschen jeder Herkunft und Nation gemeint.
Lesen Sie mehr dazu.
Falls es noch Fragen gibt, können Sie mich gerne anrufen. Hierzu einfach im Buchungssystem nach einen freien Termin schauen. Ich nehme mir jeden Monat einige Stunden Zeit um mit Lesern zu interagieren.
Helfen Sie meinem Blog, vernetzen Sie sich oder arbeiten Sie mit mir
Sie haben eigene, interessante Gedanken rund um die Themenwelt des Blogs und möchten diese in einem Gastartikel auf meinem Blog teilen? – Aber gerne! Sie können dadurch Kunden und Fachkräfte ansprechen.



Ich suche aktuell außerdem Werbepartner für Bannerwerbung für meinen Blog. Sollte es für Sie spannend sein Fachkräfte oder Kunden auf Ihre Seite zu leiten, dann bekommen Sie mehr Informationen hier.
Vernetzen Sie sich in jedem Fall auf
Xing
oder
LinkedIn
oder kontaktieren Sie mich direkt für einen Austausch, wenn Sie gleich mit mir ins Gespräch kommen wollen. Werfen Sie auch einen Blick in meine
Buchvorschläge zur Digitalisierung
, vielleicht wollen Sie mir auch ein Buch empfehlen?
Ich arbeite gerne mit Unternehmen zusammen. Sie können mich ebenfalls gerne bezüglich folgender Punkte anfragen: