This is part 2 of a series of posts reflecting on the lean&agile transformation at eprimo. You can find part 1: unlocking the human potential here.
Heading for the perfect 10
With customers increasingly requesting state of the art digital services, the eprimo team suggested redesigning the entire customer experience. At the time, digital take rates were already high but first resolution still remained below 50%, ending up with customers calling in trying to solve their issues. Satisfaction scores with the digital service ranked way below the conventional service. The product owner offered a moonshot vision, "Going for the perfect 10", to increase first resolution with digital service, driving satisfaction rates to the same level as analog service within 18 months.
It consisted of new services like easy payment adjustments, mobile first usability and most importantly providing a digital assistant, Sophie, to support customers in native and colloquial dialogue. It was a compelling product vision, but it had the downside of being based on too many assumptions about customer behavior. With this uncertainty ahead, the team wanted to respond in an agile way of working and suggested a new crossfunctional team setup. All necessary skills ranging from customer service experts to data analysts, ux designers, digital marketing and technology experts were requested. An agile master completed the team setup to organize the HOW, i.e., the way of working in this agile environment. The product owner who pitched for this mission has been accountable from the very beginning for the WHAT. With these acquired resources and committed targets the team was given the mandate and the entire e2e accountability to go for it.
The team started their CX endeavor by eliminating 'pain points' in the digital journey like enabling easier access or making payment adjustments. The way of working was structured in the following way: making hypotheses, prototyping solutions, validating results, and iterating through these steps by taking into account customer feedback and customer co-creation. Short sprint cycles provided flexibility to react on new findings. The team fixed the main pain points, added relevant features and as reward experienced the uplift in first resolution and thus customer satisfaction. A final big shift in performance was achieved by taking the entire digital customer journey to the next technological level, providing much better usability. A joint effort by different teams. It took exactly 19 months for the team to hit their ambitious target for the first time. The digital service equalled the excellent feedback scores of our conventional service, thus providing an excellent digital customer experience.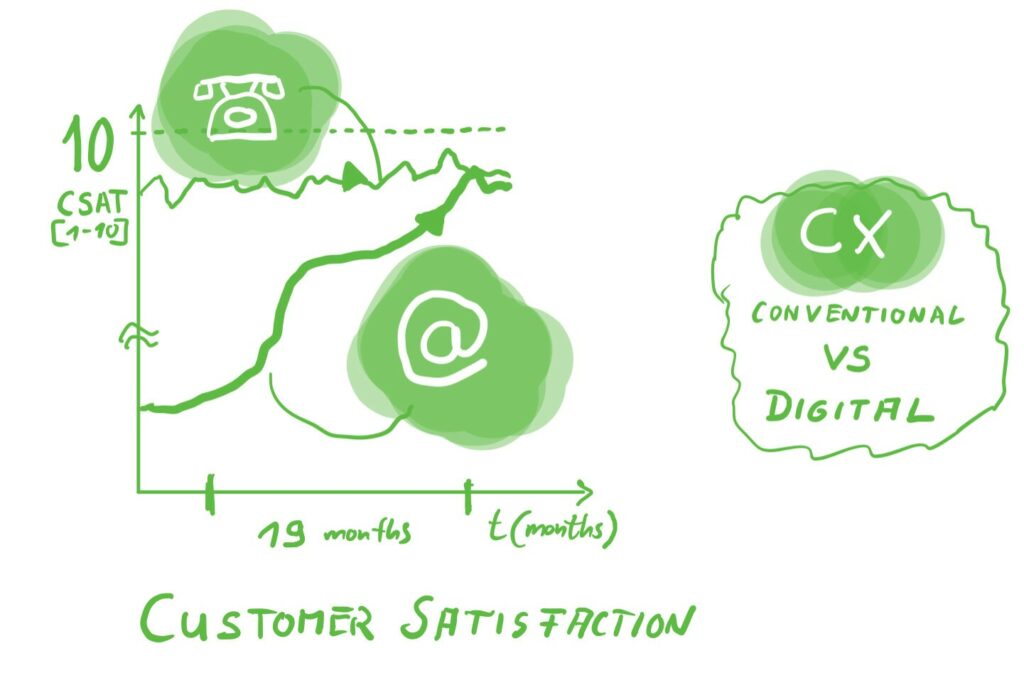 This is only one example we have experienced to illustrate the use case. Other positive experiences have been made in other areas such as ecommerce/sales.
The findings confirmed our hypothesis, i.e., in an agile environment agile setups are superior to cope successfully with the speed of change.
ownership for a product with e2e accountability drives high commitment – the impact of daily and work and own decisions is experienced continuously
crossfunctional setup with all necessary skills onboard ensures holistic view on the journey, provides different perspectives for better decisions
Decision making is faster in the team being close to insight and execution.
to run short and effective sprint cycles with focus on value, IT Change capacity is fully integrated into the team
new clear roles help empowering self organizing team work of experts like the owner (WHAT) and agile master (HOW)
Considering that most of the team was new in their respective roles it has been a learning journey from scratch. Learning by doing. Starting as an organizational prototype. Of course supported by professionals from our transformation team to get going. With the challenge in mind the team turned their ownership and passion in an incredible development so far.
The take home message – empowering teams to take e2e ownership on a purpose with a compelling ambition enables high performance.
You can find Part 3: Fostering Personal Development here!