Due to Corona, many companies have decided to send their employees to the home office 100%. In any case, the current state of affairs should continue until shortly after Easter 2020. But what happens after this time how will the presence in the office develop in the next few years? I would like to discuss my opinion in this article.
Corona will last for some time
Since we have to live with Corona for a few more years or other virus pandemics are not excluded, we should continue to prepare for home office. Especially due to the current situation, many companies have massively upgraded remote technologies. Examples are chat systems, task management, file sharing, etc.
Reading Tip: Virtual Teams Tools
Balancing office and office
Already in my roundtable the following was proposed:
One to two days of home office per week does not reduce productivity and sometimes even increase it.
So I believe that after Corona, office hours can be reduced for safety and that we let 50% of the employees into the office every day. So I think that especially in IT towards September we will be 2-3 days in the home office and 2-3 days in the office.
I have been working regularly in the home office for 3 years and have already completely adapted my working method to the work between home office and the office of my company. But home office is something new for many companies. If you look at a study of a master's degree from me, you realize that many people are not allowed to do a home office at all. With almost 40 employees interviewed from the knowledge work, it was almost 1/3 not possible to make home office.
Tips for the home office
It is important that you realize that virtual work cannot work the way you do in the office. The cooperation does not run via hallway radio, but via software tools.
Reading Tip: Virtual Teams Tools
It is important that you have a meaningful communication infrastructure. This is for me:
Task management tool such as Kanboard or Jira
Chat system like RocketChat
Mail servers such as Open Xchange
Staff such as Joplin or OneNote
File sharing like ownCloud
Edit common documents such as OnlyOffice or OpenOffice
Meeting options such as Kopano or Zoom
Reading Tip: OpenSource Stack for Remote Work
These technologies are your first port of call. For example, set a task in Jira and then discuss it with colleagues in Rocketchat. Create a document in ownCloud and edit it with colleagues at a video conference via screen sharing.
Reading tip: Control work in the home office
Tips for new office
Since many employees are in the home office every day, it will also change in the office. For example, fewer tables and permanent jobs are needed. It is therefore time to think about a new office design.
The theme: Acitivity-based working defines an "ultimate workplace" that is suitable for any kind of work and in which there is a culture of trust and a lasting networking. The figure shows the idea behind the activity based working. Quiet work, which is carried out in a fixed workplace, can be carried out without problems in the home office. Meetings and creative work in the office.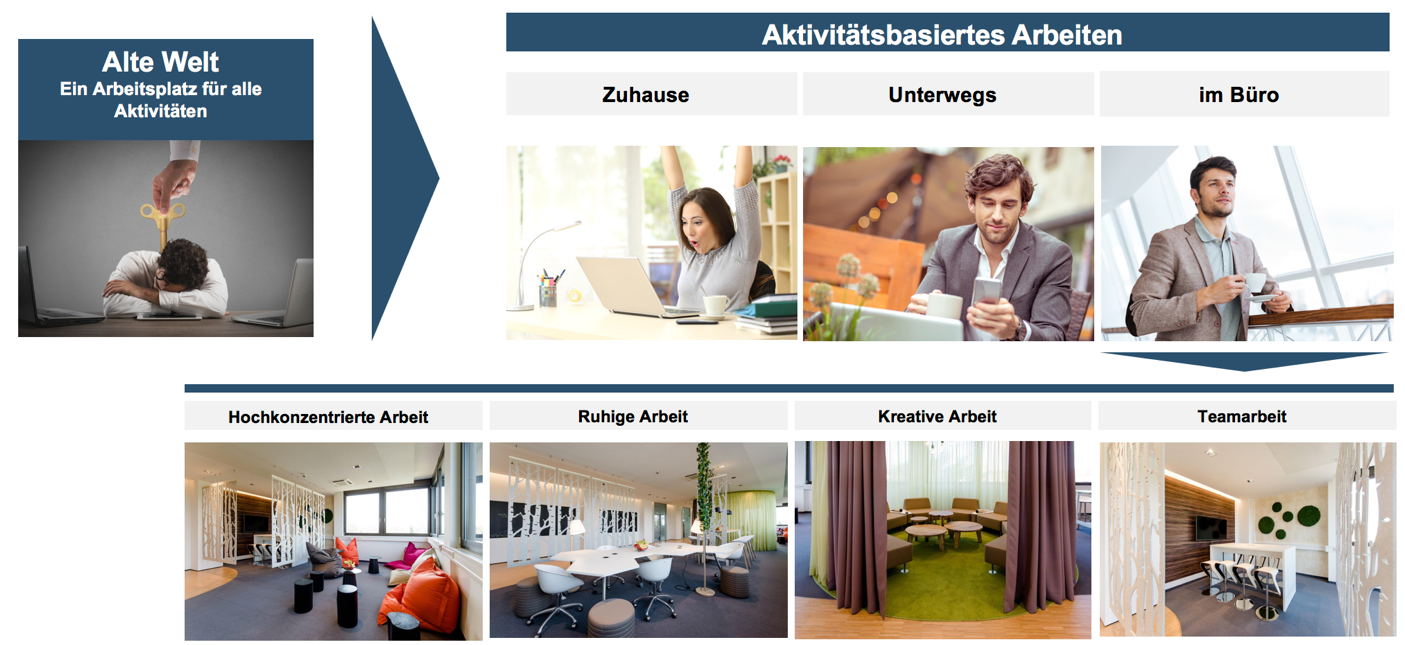 The office transforms into a place of communication and networking instead of routine work. This requires situation-oriented spaces that both promote creative exchange or project work, as well as offer opportunities for retreat.
Conclusion
No one can currently say what happens after the current measures around Corona, but we should use it and promote virtual work and adapt current personal appointments like in the office to a new kind of work. The home office will certainly gain in importance and we can thus reduce work-life balance as well as contacts between people.
Reading tip for managers: Control work from the home office
Image source: https://pixabay.com/de/photos/arbeitsplatz-schreibtisch-computer-1246677/
Genderhinweis: Ich habe zur leichteren Lesbarkeit die männliche Form verwendet. Sofern keine explizite Unterscheidung getroffen wird, sind daher stets sowohl Frauen, Diverse als auch Männer sowie Menschen jeder Herkunft und Nation gemeint.
Lesen Sie mehr dazu.
Falls es noch Fragen gibt, können Sie mich gerne anrufen. Hierzu einfach im Buchungssystem nach einen freien Termin schauen. Ich nehme mir jeden Monat einige Stunden Zeit um mit Lesern zu interagieren.
Helfen Sie meinem Blog, vernetzen Sie sich oder arbeiten Sie mit mir
Sie haben eigene, interessante Gedanken rund um die Themenwelt des Blogs und möchten diese in einem Gastartikel auf meinem Blog teilen? – Aber gerne! Sie können dadurch Kunden und Fachkräfte ansprechen.



Ich suche aktuell außerdem Werbepartner für Bannerwerbung für meinen Blog. Sollte es für Sie spannend sein Fachkräfte oder Kunden auf Ihre Seite zu leiten, dann bekommen Sie mehr Informationen hier.
Vernetzen Sie sich in jedem Fall auf
Xing
oder
LinkedIn
oder kontaktieren Sie mich direkt für einen Austausch, wenn Sie gleich mit mir ins Gespräch kommen wollen. Werfen Sie auch einen Blick in meine
Buchvorschläge zur Digitalisierung
, vielleicht wollen Sie mir auch ein Buch empfehlen?
Ich arbeite gerne mit Unternehmen zusammen. Sie können mich ebenfalls gerne bezüglich folgender Punkte anfragen: