The future of work in the context of the digitization of many areas of life is summarized under the term "Working 4.0". Sounds simple, but it is practically highly complicated: the catchphrase "Working 4.0" conceals a wealth of as yet unresolved labour law issues for employers, managers and employees, according to Manager Magazin. This article is therefore intended to summarize the idea and selected concepts behind the term Work 4.0. The basic question of the article is therefore: What is Work 4.0 and is there a definition?
Overview of the terms
First of all, I would like to give an overview of the many terms. In doing so, I define Work 4.0 as a generic term for the influence of digitalization on work. Other terms, in my opinion, describe certain aspects of this new digital work. The table is from the source (Lindner 2019).
WHAT IS WORK 4.0
As a term, "Work 4.0" deals with the future of work in the digital age. The main reason for this is the problems (but also opportunities) that are causing a progressive technicalisation in the labour market and the general structures of enterprises. In the 3rd Roundtable, discussions were held about what the term means in the context of the participants. The following characteristics of Work 4.0 were adopted by consensus:
Work 4.0 must be agile!
Agility needs freedom!
Good work is based on voluntary work!
The concept of "leadership" must give way to a "guide"!
Work will become more dynamic and short-cycle in the future!
Work 4.0 is supported digitally!
In the context of Work 4.0, therefore, the focus is no longer on technical expertise, as it was many years ago, but on the human being. Phrases such as technology as a helper of man and man as "guardians" of technology underline this thesis. In my Roundtable on Work 4.0, the participants presented three approaches that could shape Work 4.0.
THE DIGITAL WORKPLACE
According to many magazines, an enabler of work 4.0 is fast and progressive digitization. Thus, the workplace is increasingly supported by tools and other technologies and thus "somehow digital". These changes create new opportunities such as mobile or remote work as well as a high level of networking of employees. In a roundtable, one participant said: Work is now possible up to 3 days a week from the home office without losing touch with the team.
But it seems that this development is still in its infancy. The WiWo study on digitalization in the workplace shows:"Digitalization is already more advanced at home than at the workplace in the office – this is shown by a study among German office workers." Thus, the full potential of the digital workplace does not yet seem to be available. Read more in the following article on the digital workplace.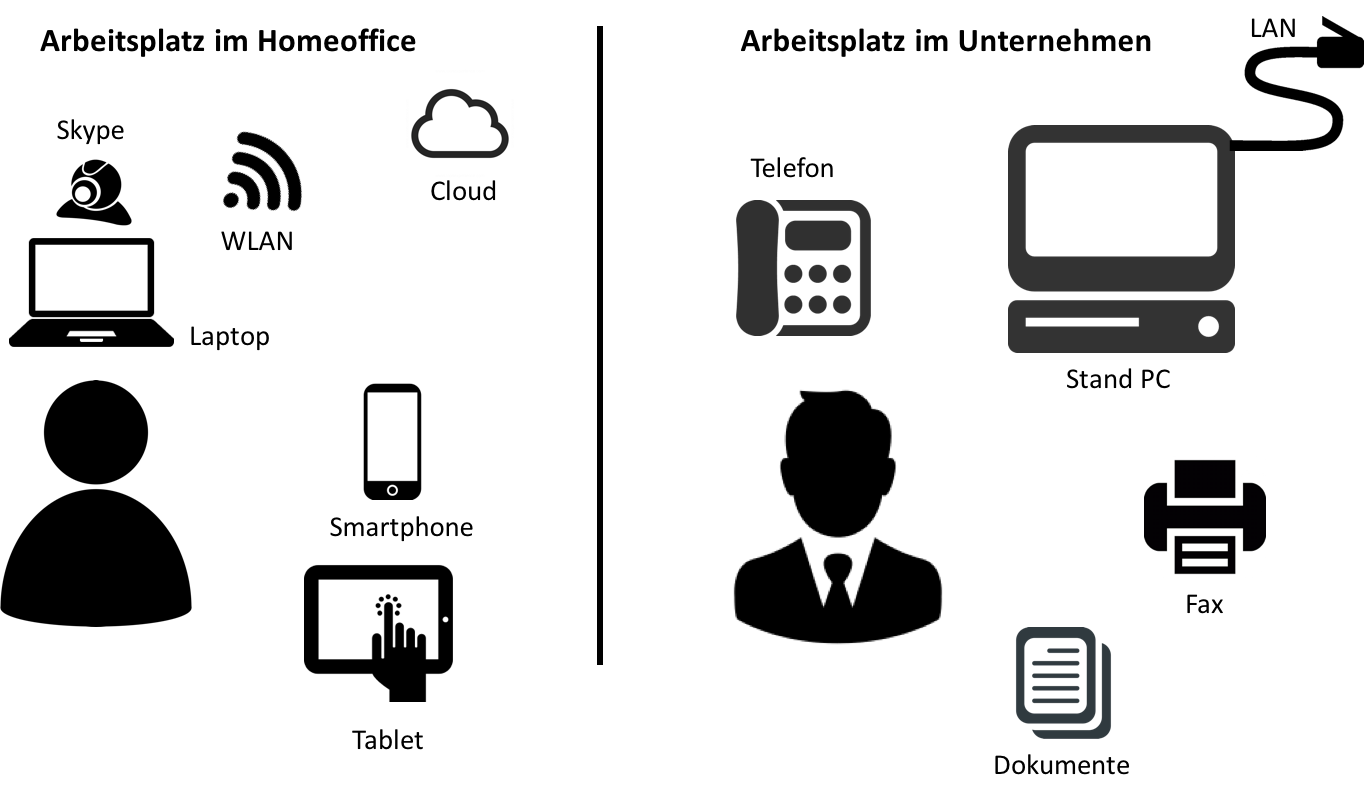 NewWork – Definition Work 4.0?
The concept of New Work was developed by the Austro-American social philosopher Frithjof Bergmann, based on his examination of the concept of freedom. The NewworkBlog says the following: The classic "nine-to-five job" in the office will soon be a thing of the past. The connection to fixed places of work as well as standardized times and organizational structures is constantly disintegrating. Instead, work becomes multimobile: Home Office, Remote Work and Trust Work are the models of the future that blur the boundaries between work and leisure.
Overall, Petry's graphic shows the vision of Newwork. So it means: Work when, where and with whomever you want. What is clear is that the "where" dimension points to mobile work and "when" to a loosening of core times. Currently, however, the dimension "with whom you want" is still in open dialogue and can be interpreted among other things by the idea of the hashtag Futurework. Also check out my article on NewWork for a detailed explanation of the idea.
Futurework – Work 4.0
Overall, the investigation of the hashtag shows a strong focus on space and office concepts to promote agility in the company. Of course, there is also talk of a cultural change and it is also dealt with in great detail, but office concepts are evaluated outweighed. The following sentence sums up the topic very well: "The office is transforming into a place of communication and networking. This requires situation-oriented spaces that promote creative exchange or project work, as well as offer retreats for concentrated and confidential work and optimally support routine activities. " (Source Detecon). In the illustration you will find an embodiment of the idea with different offices. These should allow to work in different teams in different locations. Also look at my article on Futurework.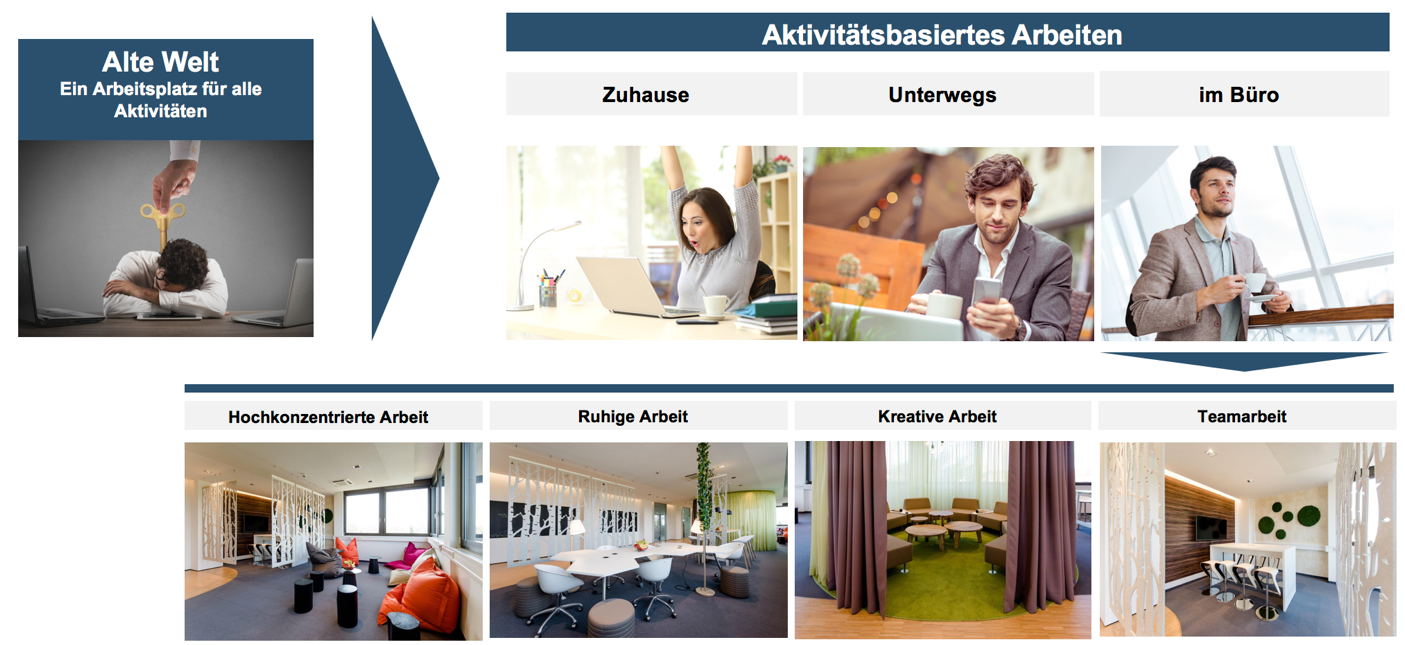 Agile Methods and Work 4.0
Many magazines and experts call for increased agility in companies and increased work with agile methods. Although there are currently numerous agile methods, Scrum has largely established itself as a best practice. Even in combination with the new flexible work in the course of NewWork and new work environments (Futurework), a new form of working with agile methods could increase productivity. The principles and values of agility were set out in the agile manifesto in 2001, which is the basis for all agile methods. Unlike traditional methods, agile means an orientation towards value creation, i.e. achieving the "best" result at a fixed time with the available budget.
Now the following is not to explain the methodology behind Scrum, but the challenge of working with an agile method such as Scrum, because Gloger et al. (2016, p. 2) already stated: "It is not methodological knowledge that is the biggest hurdle in the transition to the agile model, but the internal corporate culture and the change of internal processes." Working with agile methods requires above all a high self-organization of the employees. Many employees are accustomed to working long-term, plan-oriented and homogeneous. However, the new form of work requires continuous speed orientation and heterogeneity. It is therefore important to meet these new flexibility requirements, which are accompanied by agile methods, to protect employees from incorrect and overburdened by means of appropriate agreements and to ensure a work-life balance.
Conclusion: What is Work 4.0 – Definition
Thus, the question was addressed in this text: What is Work 4.0. It turns out that the term is the background for a collection of concepts. Work in the context of this work 4.0 becomes more technological, agile, faster and more short-cycle. Enabler for Work 4.0 is the digital transformation of the workplace, which is often still in its infancy. The work 4.0 can be designed with the vision of NewWork (work when, where and with whom you want) as well as with new office concepts.
Recommendations
I believe that the digitisation of work can bring significant potential for companies. From my study Lindner et al. In 2018, I was able to derive the following concrete recommendations for Action for SMEs:
Through short decision-making paths, SMEs can offer home office and mobile work as well as home jobs faster than corporations and thus be more attractive to skilled workers.
A relaxation of core times can usually be enforced faster in SMEs than in corporations, which is why the work-life balance for employees can be increased by flexitime.
Shorter decision-making paths allow SMEs to try out concepts such as "bring your own device" or novel agile methods faster than corporations.
Due to the smaller budget of SMEs, new office concepts are often linked to a new building and are difficult to implement in SMEs. However, existing premises can be renovated.
Genderhinweis: Ich habe zur leichteren Lesbarkeit die männliche Form verwendet. Sofern keine explizite Unterscheidung getroffen wird, sind daher stets sowohl Frauen, Diverse als auch Männer sowie Menschen jeder Herkunft und Nation gemeint.
Lesen Sie mehr dazu.
Falls es noch Fragen gibt, können Sie mich gerne anrufen. Hierzu einfach im Buchungssystem nach einen freien Termin schauen. Ich nehme mir jeden Monat einige Stunden Zeit um mit Lesern zu interagieren.
Helfen Sie meinem Blog, vernetzen Sie sich oder arbeiten Sie mit mir
Sie haben eigene, interessante Gedanken rund um die Themenwelt des Blogs und möchten diese in einem Gastartikel auf meinem Blog teilen? – Aber gerne! Sie können dadurch Kunden und Fachkräfte ansprechen.



Ich suche aktuell außerdem Werbepartner für Bannerwerbung für meinen Blog. Sollte es für Sie spannend sein Fachkräfte oder Kunden auf Ihre Seite zu leiten, dann bekommen Sie mehr Informationen hier.
Vernetzen Sie sich in jedem Fall auf
Xing
oder
LinkedIn
oder kontaktieren Sie mich direkt für einen Austausch, wenn Sie gleich mit mir ins Gespräch kommen wollen. Werfen Sie auch einen Blick in meine
Buchvorschläge zur Digitalisierung
, vielleicht wollen Sie mir auch ein Buch empfehlen?
Ich arbeite gerne mit Unternehmen zusammen. Sie können mich ebenfalls gerne bezüglich folgender Punkte anfragen:
Verwendete Quellen anzeigen
Brandes, U., Gemmer, P., Koschek, H., & Schültken, L. (2014).
Management Y
. Munich: Campus Verlag.
Detecon: http://www.detecon.com/sites/default/files/1_DMR_blue_Transformation_Neue_Arbeitswelten_D_02_2015_0.pdf
Gloger, B. (2016). Scrum. Munich: Hanser Verlag.
Lindner, D., Ludwig, T., & Amberg, M. (2018). Work 4.0 – Concepts for a new way of working in SMEs. HMD Practice of Business Informatics, 6(1), 17.
Lindner, D. (2019). SMEs in digital transformation: results of empirical studies. Wiesbaden: Springer Gabler.
Petry, T. (2016).
Digital Leadership: Successful leadership in times of the digital economy
. Munich: Haufe Verlag.