Digital change has arrived in companies, forcing them to demand more and more computing power. One solution is so-called cloud computing. But what is cloud computing? Before the turn of the millennium, Germany was still completely cloud free! Only a few years ago, manufacturers have been offering dedicated solutions for the cloud. But what is cloud computing? If you look at Wikipedia you will find the following:
Cloud computing describes the provision of IT infrastructure such as storage space, computing power, or application software as a service over the Internet. More technically, cloud computing describes the approach of making IT infrastructures available over a computer network without having to be installed on the local computer (Source: Wikipedia).
What is Cloud Computing – Service Models
There are three different service models, some of which are interlocking. These are: infrastructure, platform and software. All 3 models are described and summarized below.
IAAS – INfrastructure as a Service
This is a virtual data center. Specifically: virtual machines, storage and networks. What is in the virtual cloud is the responsibility of the users themselves. IaaS is therefore the lowest level in cloud computing. A well-known provider is the Amazon Cloud.
PAAS – Platform as a Service
But cloud services involve more than just retrieving computing power or storing data. Thus, a complete environment can be purchased through PaaS. So the cloud serves as a development environment. With PaaS, software developers develop or test their own software applications in a deployed environment. An example of PaaS, among others, is Windows Azure. The advantage of this method is the flexibility of the tools. The IT expert can work anywhere. It can also easily use any tool from the Internet or install it flexibly on the platform.
SAAS – Software as a Service
This is the most popular variant for the end user. For a monthly fixed price there is a software provided. A well-known example is Microsoft Office 365 and Windows Intune. SaaS is the most common form and many of us already use it. Sometimes even without knowing it. The following illustration summarizes the service models.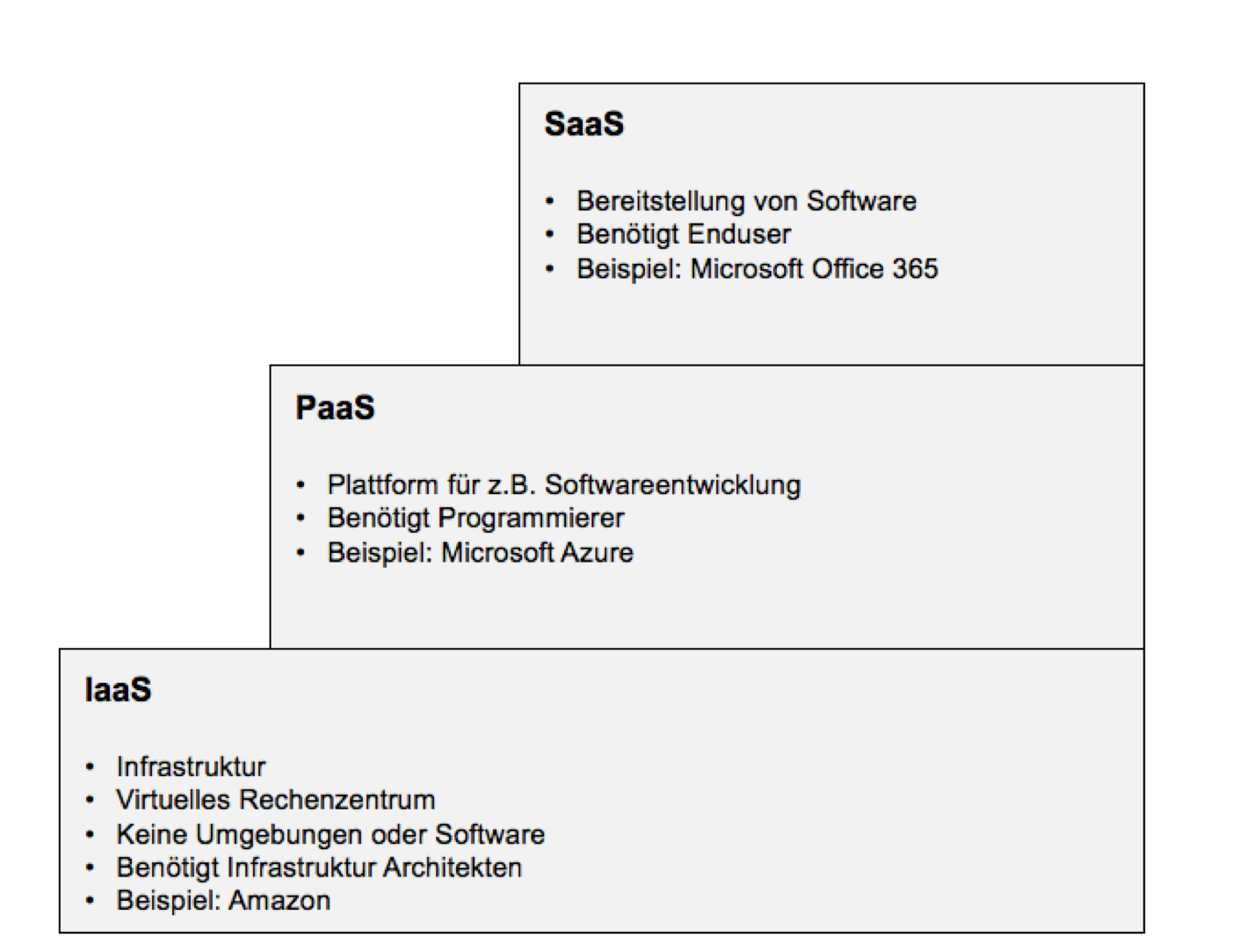 What is Cloud Computing – Delivery Models
Furthermore, there are so-called delivery models for cloud computing. So the way the services are provided. These are explained below. Each of the mentioned service models (SaaS,…) can be made available via any cloud.
Public Cloud
The public cloud is a provider's public cloud. This cloud is therefore freely accessible to every user. A good example of this is Google Docs or Mircosoft Office 365. So you're in the cloud with a lot of other users. Both examples are SaaS in a public cloud.
private cloud
The private cloud differs in that it is assigned exclusively to a company. So there are no more users on this one. This makes data protection and compliance easier to ensure than in public clouds. If a company purchases a platform (PaaS), this is usually made available in the private cloud. This is often company-specific software or an intranet.
Hybrid Cloud
The Hybrid Cloud is a mixed form. For example, certain services at public providers run over the Internet, while data-critical applications and data are operated and processed in the enterprise. This can save money because not all applications need to run over the expensive private cloud.
Community Cloud
The Community Cloud is very rare. These are multi-company infrastructures, for example in the context of a project that is operated jointly or between suppliers. This allows certain services to be shared. In summary, the following models can be derived:
Public Cloud: accessible to all
Private Cloud: only one company
Hybrid: Mixform
Community Cloud: selected companies
The cloud in the middle class
But has the cloud already prevailed in the middle class? It is often said that the trends around digitalization and Industry 4.0 are seen rather wait-and-see in small and medium-sized enterprises. In the following I list some facts from the study of the Crisp Institute (2015 – survey 222 medium-sized enterprises):
25.2% use the cloud productively
32.9% try out the cloud in the form of trial versions
27% are actively involved with the cloud
14.9% don't deal with the cloud
Furthermore, it is shown that the majority of medium-sized enterprises that use a cloud have a hybrid (25.9%) and public (27.5%) Cloud. Only 12.7% use a multi-cloud and 33.9% use a private cloud. The figures show that the middle class seems to notice a first small penetration of the cloud and it remains exciting how it will continue to establish itself in the future.
Conclusion: What is cloud computing?
Cloud computing is the virtual delivery of computing power. This can be done in 3 models (service models). A complete infrastructure, platform or software. These models can be delivered in 4 different clouds (delivery models). The public cloud for everyone who is private for a business, a cross-company (community), or a mixed form. Incidentally, I did not invent the subdivision according to service and delivery models myself, but was written in 2011 by the National Institute of Standards and Technology (NIST).
In the medium-sized business sector, the cloud is easily established, but still hesitant, which makes it exciting what will happen in the next few years in the middle class on the subject of the cloud. Below is a video with a pictorial explanation of the cloud.
Tip: Book suggestions on cloud computing
Genderhinweis: Ich habe zur leichteren Lesbarkeit die männliche Form verwendet. Sofern keine explizite Unterscheidung getroffen wird, sind daher stets sowohl Frauen, Diverse als auch Männer sowie Menschen jeder Herkunft und Nation gemeint.
Lesen Sie mehr dazu.
Falls es noch Fragen gibt, können Sie mich gerne anrufen. Hierzu einfach im Buchungssystem nach einen freien Termin schauen. Ich nehme mir jeden Monat einige Stunden Zeit um mit Lesern zu interagieren.
Helfen Sie meinem Blog, vernetzen Sie sich oder arbeiten Sie mit mir
Sie haben eigene, interessante Gedanken rund um die Themenwelt des Blogs und möchten diese in einem Gastartikel auf meinem Blog teilen? – Aber gerne! Sie können dadurch Kunden und Fachkräfte ansprechen.



Ich suche aktuell außerdem Werbepartner für Bannerwerbung für meinen Blog. Sollte es für Sie spannend sein Fachkräfte oder Kunden auf Ihre Seite zu leiten, dann bekommen Sie mehr Informationen hier.
Vernetzen Sie sich in jedem Fall auf
Xing
oder
LinkedIn
oder kontaktieren Sie mich direkt für einen Austausch, wenn Sie gleich mit mir ins Gespräch kommen wollen. Werfen Sie auch einen Blick in meine
Buchvorschläge zur Digitalisierung
, vielleicht wollen Sie mir auch ein Buch empfehlen?
Ich arbeite gerne mit Unternehmen zusammen. Sie können mich ebenfalls gerne bezüglich folgender Punkte anfragen:
Verwendete Quellen anzeigen