IT organization, also called IT management, is the abbreviation for information technology organization and describes the use and management of the same. IT organization is often only associated with the hardware and software used by companies, although in fact the users, i.e. the personnel or subordinate organizational departments, are also included. Since they not only use information technology, but also create and optimize it, they must also be taken into account by the IT organization. The use of information technology often pursues multiple goals that need to be reconciled by organizing good IT management.
Composition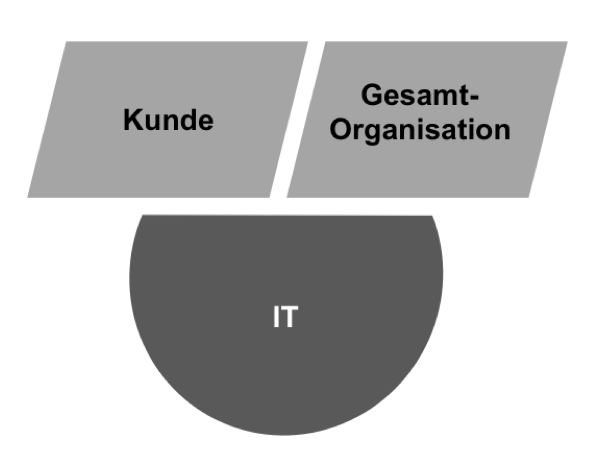 If you take a closer look at the organization of information technology, you can divide it into the following main groups, which are connected to IT in different ways. Your influence on and your requirements for information technology result in different areas of responsibility, the fulfillment of which is the main task of any IT organization and thus justifies the splitting of the categories.
Tasks
Figure 1 describes the relationship to the IT itself on the one hand and to the overall organisation and its customers on the other. External partners can also play a role here, which can also influence the IT organization. Between every kind of relationship from the company to third parties stands the quest for an optimal negotiation process and an intact value chain. This aspiration is usually fulfilled on the basis of efficient IT management, the success of which becomes apparent when all parts of the IT organization are reconciled and/or prioritized in a coordinated manner despite their interactions. In order to make this possible, it is important to know the functions and tasks of the individual categories, the context of which is shown in Figure 2.
IT Controlling is the focus of the individual core areas and serves to analyze company-relevant key figures from which future changes and processes can then be focused and planned using the IT strategy. Finally, these two categories result in the positions Of Enabling and Alignment, which are intended to show that the IT organization does not have a specific goal to achieve, but opens up various business opportunities for entrepreneurial management through the right application. Embedded in it are four specific IT functions that are directly related to IT users. In this way, IT Service Management serves to serve the wishes and requirements of the customer side in the best possible sense.
On the contrary, IT Resource Management, which is responsible for business matters, is on the contrary. This category can be used to control relevant resources such as hardware or software, the workforce, and information processing.
IT Governance, Risk and Compliance Management deals with risk factors by trying to identify and counteract them at an early stage, as well as with compliance with legal aspects.
Only when compliance with the law is granted can IT Portfolio Management apply and support the company in evaluating performance ideas.
All four areas are interconnected and influence each other, so that a balanced strategic focus on all areas is enormously important for the success of an IT organization. This is expressed by the term Enterprise Architecture Management. Finally, the whole concept is framed by the category cybersecurity, whose function is to meet the security and data protection requirements.
Instruments
In order to implement IT in their own company and to continuously optimize it later, many companies use different software solutions. Well-known IT management programs include ARIS and ALFABET from FIRMA Software AG, ADOit from BOC or Mega Suite from the manufacturer of the same name, as well as Troux Technologie's Troux Enterprise Suite and rimacon omniSuite from rimacon.
Putting it into practice
Companies often use so-called best practice examples to realize their IT organization. These are characterized by their adaptability and flexible transmission method. Many companies therefore take on this experience of other companies in dealing with IT management and optimize it for their own purposes. This has the advantage that the error rate is often significantly lower, the implementation time is significantly shortened and employees can be trained more quickly.
Well-known best practice examples for the IT organization are ITIL (Information Technology Infrastructure Library) and COBIT (Control Objectives for IT) which are regularly made publicly available as sample versions of central organizations and are continuously optimized in a contemporary way.
Genderhinweis: Ich habe zur leichteren Lesbarkeit die männliche Form verwendet. Sofern keine explizite Unterscheidung getroffen wird, sind daher stets sowohl Frauen, Diverse als auch Männer sowie Menschen jeder Herkunft und Nation gemeint.
Lesen Sie mehr dazu.
Falls es noch Fragen gibt, können Sie mich gerne anrufen. Hierzu einfach im Buchungssystem nach einen freien Termin schauen. Ich nehme mir jeden Monat einige Stunden Zeit um mit Lesern zu interagieren.
Helfen Sie meinem Blog, vernetzen Sie sich oder arbeiten Sie mit mir
Sie haben eigene, interessante Gedanken rund um die Themenwelt des Blogs und möchten diese in einem Gastartikel auf meinem Blog teilen? – Aber gerne! Sie können dadurch Kunden und Fachkräfte ansprechen.



Ich suche aktuell außerdem Werbepartner für Bannerwerbung für meinen Blog. Sollte es für Sie spannend sein Fachkräfte oder Kunden auf Ihre Seite zu leiten, dann bekommen Sie mehr Informationen hier.
Vernetzen Sie sich in jedem Fall auf
Xing
oder
LinkedIn
oder kontaktieren Sie mich direkt für einen Austausch, wenn Sie gleich mit mir ins Gespräch kommen wollen. Werfen Sie auch einen Blick in meine
Buchvorschläge zur Digitalisierung
, vielleicht wollen Sie mir auch ein Buch empfehlen?
Ich arbeite gerne mit Unternehmen zusammen. Sie können mich ebenfalls gerne bezüglich folgender Punkte anfragen:
Verwendete Quellen anzeigen