For many citizens, public authorities and, in general, administrations are associated with the words boring, dusty and slowly. There are probably also few of my readers who are looking forward to going to the registration office or longing for the next course of the administration.
This is, of course, a clear feature of public authorities and their service providers, which is why, on the one hand, digitalization is being strongly promoted in public authorities and more and more IT consultants are being sought for the public sector, and on the other hand, agile methods are becoming increasingly important and the position of agile coach in the public sector is now more than in demand. In this article, I take a closer look at the keywords agile administration and digital administration.
Agile management
In the first Google search, I found a page that deals comprehensively with the topic of agile management. In this blog you will find the drivers and reasons for agile administration, which I summarize briefly in 3 key points:
large number of refugees,
authorities as service providers and
new technological possibilities.
It is not an open secret that no one really likes to go to an authority and the potential for agility here is very high. The blogsays:
A central cultural pattern of our administrations is thinking into responsibilities. Each task has a competent administrative level and a competent authority, office or subject area. Complex tasks – approval of commercial settlements, care of young people in socially weak families, last reception and integration of refugees – are divided as best as possible into individual bites, which are tailored to the responsibilities (agile-verwaltung.org)
The blog also gives an example, which I would like to quote: In one state, the Land Environment Agency is responsible for the approval of applications for the construction of larger wind farms. However, a further 12 authorities are to be involved in this. The questions arising from the application are divided into 13 seemingly independent packages and assigned to 13 clerks. As a rule, these clerks never see each other.
But the article did not provide me with a lot of answers, which is why I kept searching. On Bearingpoint's blog, I found a white paper that provides 5 levers for agile management. These are:
strategic management and resource management
flexible and adaptive organizational structures
strategic human resources management
adaptable and customer-oriented IT
Culture and ability to change
In the first point, the white paper calls for strategic and holistic thinking. As an example, the white paper mentions the following: With its continuous goal and task control, the Federal Insurance Office introduced an instrument that has been successfully applied for several years. In an annual cycle, tasks are critically considered on the basis of defined goals and optimization measures are agreed upon. The implementation is monitored in an implementation controlling.
In the second point, the white paper recommends that the objectives set by point 1 also be implemented quickly. Here's an example in the white paper: In the National Process Library, administrative processes are included and made available to other authorities for similar tasks. In this way, best practice solutions can be used to learn from each other.
The third point deals with human resources management. From recruitment to qualification, typical HR topics are covered. Example: The Foreign Office recruits, develops and qualifies personnel and plans to deploy staff on the basis of requirements and competence profiles. Requirement profiles describe what performance can be expected from a job holder and to what degree for which task. The competence profile shows to what extent the requirements are met, in which area there is still potential.
Furthermore, adaptable IT is available, which is however addressed in the next paragraph and focuses on the culture of changeability. For more information, you can look at the white paper or my book recommendations on digital change. In the following figure I briefly summarized the drivers and fields of action.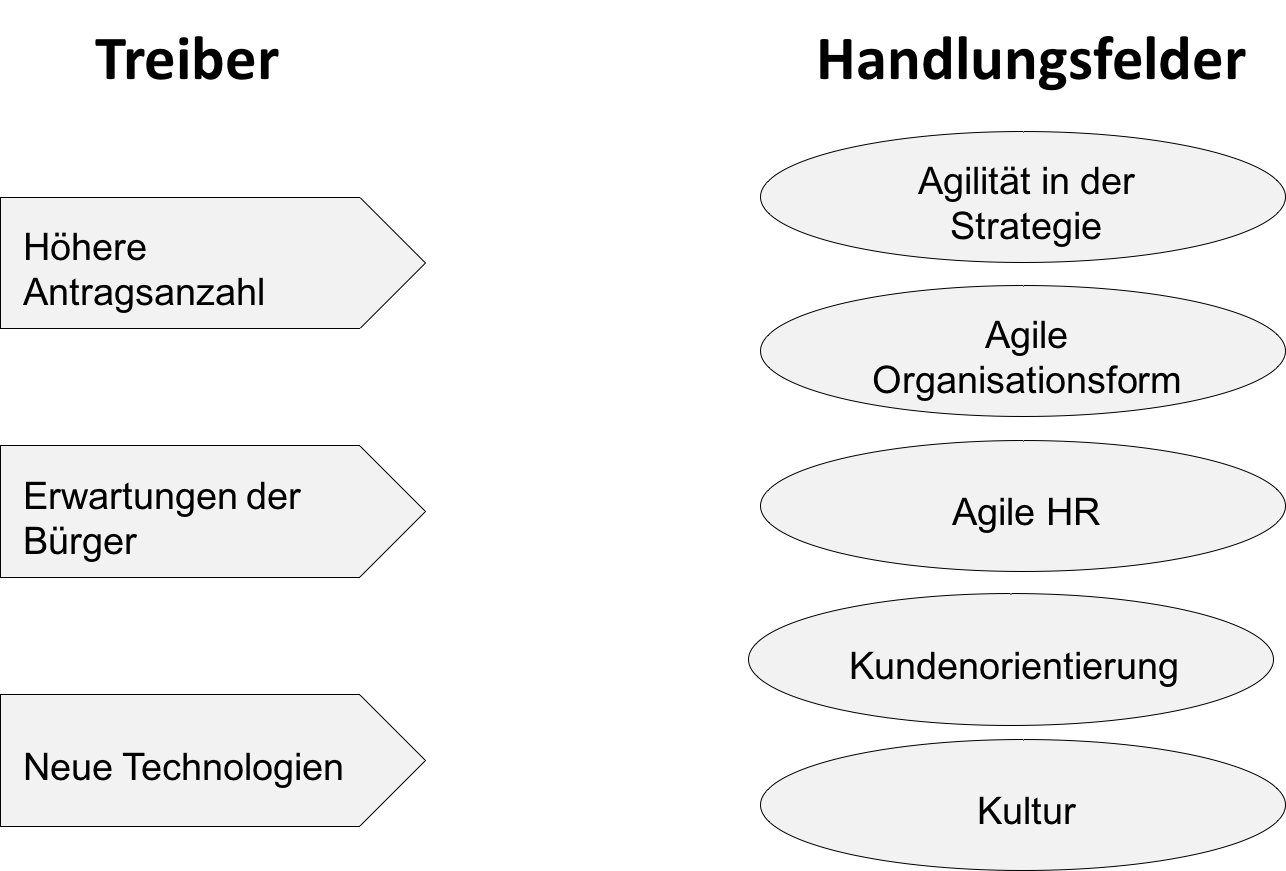 Digital management
We are on the road from the knowledge age to the digital age. Everywhere you see advertising and case studies for IT and digitalization in the public sector. That's why I took a closer look at the keyword: digital administration.
To this end, the government's Digital Administration 2020 programme is quickly found. Here, authorities are supported by the state in the process of digitisation. According to the homepage of the Federal Government, the following projects are currently being promoted:
the portal network with the aim of providing citizens and businesses with easy-to-find, secure access to administrative services on the network;
the introduction of electronic files (e-files),
the receipt and processing of electronic invoices,
the digitization of the federal government's procurement processes,
the cross-organic digitisation of the legislative process,
Open Data.
The following page also contains an evaluation report on the progress and success of the state initiaitve. But it remains unclear for me and certainly for you as a reader what exactly a digital administration is. The management consultancy T-Systems provides solutions for digital administration with so-called E-Governement. Here's what the advice says in your blog: New services such as the electronic identity card (nPA), online citizen service portals or electronic files (e-files), as well as collaborative projects between different areas such as the police or the judiciary, are already providing valuable approaches. The objective is clear: simpler and more user-friendly management services and more efficient public administration processes that save costs and time. Citizens, businesses and administrations benefit equally. Within a digital administration, information is always up-to-date, individual procedures can be processed much faster, inter-agency cooperation is simplified.
But what does this look like in concrete terms? In the blog kammunal.de I found a nice example of a digital administration: A vision for digital management: A private buyer buys a car from a private seller. The seller logs in to the website of the car authority, selects his registered car and presses "sell". Then he uploads the purchase contract and registers the buyer. The buyer is invited by e-mail to confirm the purchase by means of a digital signature and to pay the administrative costs online. Now the seller has to confirm the process again and the next day the vehicle papers for the new car owner end up in the post office. The administrative burden for buyers and sellers is about ten minutes.
So there is a lot of potential for digitalisation in consulting and numerous digital tools are intended to better process applications and improve the service for the citizens of our country. Of course, I also thought about it and changed the model of Consulting 4.0 a little bit. I believe that virtual chats, full automation and online self-services are a great solution for me in the long run. Especially a chat would be great, because you could save yourself government procedures and the online recording of applications would be comfortable at the same time. There are some recommendations in the figure.

Conclusion: There is no shortage of ideas
The above example of car purchase is much more than a fictitious scenario – but already a reality in Estonia. But if you look at Google, you will find similar sentences as in the blog Kommunal.de:
IT expenditure for public administration is very high. But it is precisely in the area of digital services for the citizen that this is of no interest (Kommunal.de).
These and similar sentences are heard as soon as people are asked about digitization in public authorities. On the one hand, it may be due to headlines such as ROBASO in the Federal Employment Agency (60 million euros project stop) or the high daily rates of McKinsey interns in the Federal Office for Migration and Refugees (2700 Euros daily rate), on the other hand I have no insight and do not know exactly the processes and hurdles of authorities. However, I think that in addition to the headlines, the efforts will show up and we will see more agility and digitisation in administrations. Certainly, internal processes need to be broken up and IT systems must be deployed for a high scalability of millions of applications and documents. This is certainly not easy and there is also a shortage of skilled workers, which often forces service providers to resort to it. Also, issues such as the refugee crisis will certainly have taken up many resources, which were not normally planned for this purpose and which German authorities have had to overcome really high challenges in the last year. However, I am confident that we will soon establish the new topics such as e-files etc. in Germany and that significant changes will occur.
Finally, answer me a short question: What do you think is more important at the moment: Will increased digitization become more agility in public authorities or do you believe that greater agility should be created in order to tackle digitalization?
Genderhinweis: Ich habe zur leichteren Lesbarkeit die männliche Form verwendet. Sofern keine explizite Unterscheidung getroffen wird, sind daher stets sowohl Frauen, Diverse als auch Männer sowie Menschen jeder Herkunft und Nation gemeint.
Lesen Sie mehr dazu.
Falls es noch Fragen gibt, können Sie mich gerne anrufen. Hierzu einfach im Buchungssystem nach einen freien Termin schauen. Ich nehme mir jeden Monat einige Stunden Zeit um mit Lesern zu interagieren.
Helfen Sie meinem Blog, vernetzen Sie sich oder arbeiten Sie mit mir
Sie haben eigene, interessante Gedanken rund um die Themenwelt des Blogs und möchten diese in einem Gastartikel auf meinem Blog teilen? – Aber gerne! Sie können dadurch Kunden und Fachkräfte ansprechen.



Ich suche aktuell außerdem Werbepartner für Bannerwerbung für meinen Blog. Sollte es für Sie spannend sein Fachkräfte oder Kunden auf Ihre Seite zu leiten, dann bekommen Sie mehr Informationen hier.
Vernetzen Sie sich in jedem Fall auf
Xing
oder
LinkedIn
oder kontaktieren Sie mich direkt für einen Austausch, wenn Sie gleich mit mir ins Gespräch kommen wollen. Werfen Sie auch einen Blick in meine
Buchvorschläge zur Digitalisierung
, vielleicht wollen Sie mir auch ein Buch empfehlen?
Ich arbeite gerne mit Unternehmen zusammen. Sie können mich ebenfalls gerne bezüglich folgender Punkte anfragen:
Verwendete Quellen anzeigen
https://www.bearingpoint.com/de-de/unsere-expertise/insights/fuenf-hebel-fuer-eine-agile-verwaltung/
Business image created by Asier_relampagoestudio – Freepik.com

https://agile-verwaltung.org/agilitaet-in-der-verwaltung-eine-einfuehrende-uebersicht/
https://www.bundesregierung.de/Content/DE/Artikel/2017/05/2017-05-17-evaluierung-regprogramm-dig-verw-2020.html
https://www.t-systems.com/de/de/branchen/public/themen/behoerden/digitale-verwaltung-239204
https://agile-verwaltung.org/was-bedeutet-agile-verwaltung/was-heisst-agile-verwaltung/