Digital change is more than working with Internet access. It is changing our world of work at a rapid and unstoppable pace. Where once in organizations with control bodies and managers was often communicated analogously, there are now networked and project-oriented companies that communicate with each other on the basis of technology. There is the buzzword of e-leadership.
Definition of e-leadership
Electronic leadership or e-leadership does not mean a concrete leadership approach, specific contextual conditions of leadership and related special requirements for leadership strategies. This chapter does not include a individual management concept, but discussed several management strategies, suitable for electronically mediated cooperation (Hertel and Lauer).
Zeichhardt also provides an e-leadership definition: Leadership takes place in organizations at various hierarchical levels and ranges from top management to middle management to departmental and team management. Compared to classic leadership, which is mainly realized in direct face-to-face interaction, e-leadership differs in particular in terms of parameters: digitality, leadership and performance.
E-Leadership in a Nutshell
The definitions are quite similar. It means, for example, that a team leader increasingly communicates with his partners and employees through electronic media. It sits almost like in a small virtual cell.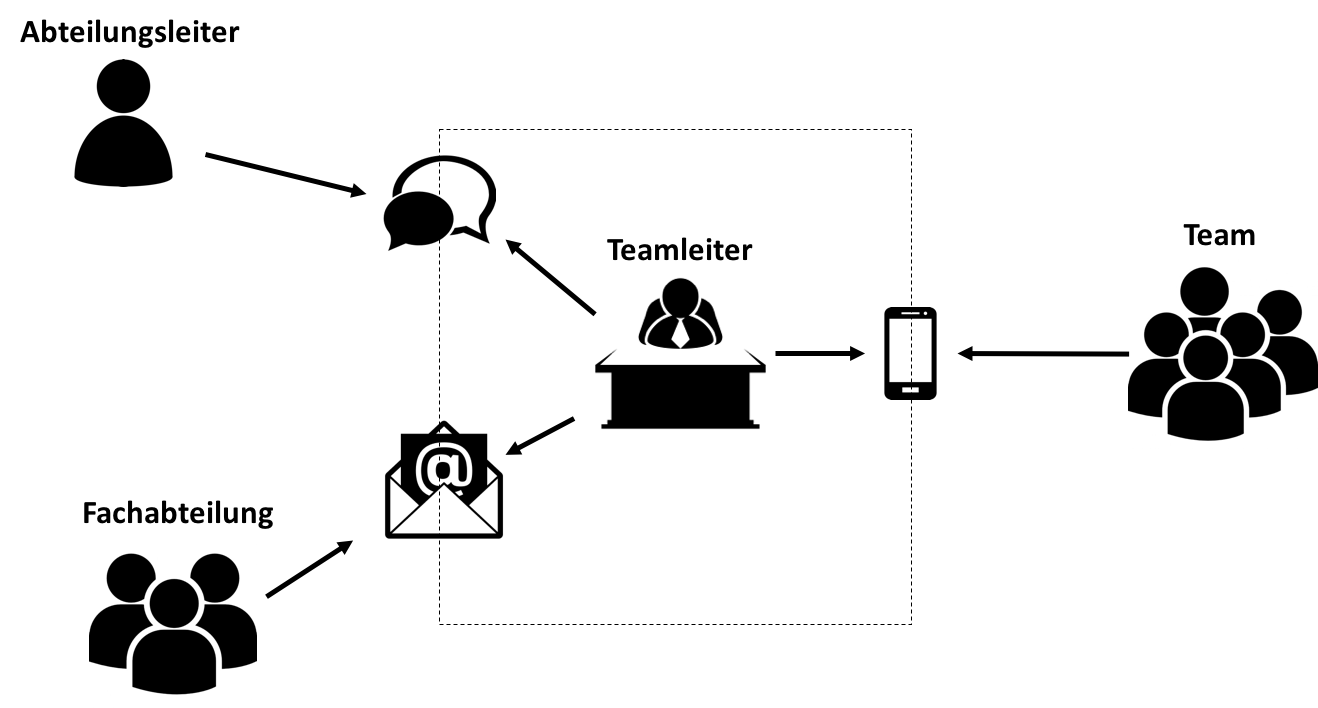 Digital self-organization
Organizations as we know them are often equipped with typical top-down processes. Now this gives way to a digital self-organization. Here's how Zeichhardt says: A look at practice shows that digitality is increasingly leading to a change in a traditional understanding of hierarchical organizational structures and a softening of legitimation or even the otherway. Some modern executives in the digital economy even deliberately renounce legitimacy power to encourage their employees to perform. A vivid example of such an e-leader is the founder of WordPress, Matt Mullenweg. Its employees work mobile and project-based without limits on time and space: there are no offices, no fixed working hours and internal communication is done via a company-owned chat system and blogs.
This also shows my picture above exactly. According to Zeichhardt, such tool landscapes in particular can also promote grassroots democracy in the company. This is how it was discussed in my article with Dr. Andreas Zeuch. Swarm intelligence is also possible through digital technologies and networking. Of course, there are also risks, among other things, from the abuse of the transparency of these technologies. Read more in my articles on the digital workplace.
E-leadership in practice
What is e-leadership like in practice? What skills and abstinence does such an e-leader need? I found the following with Hertel and Lauer. So this is how these digital leaders should behave in order to meet the definition above. These are recommendations for which executives should help.
Change from a directive to a participatory and supportive attitude of managers.
Increasing importance of socio-emotional relationship management; for the timely detection of wrong developments.
Promoting the independence of employees also in the sense of responsible self-management.
media literacy, in particular with regard to electronic communication media; it is not only a question of how different tools work technically, but also, above all, of their socio-emotional effects; i.e. how and when they should be used sensibly.
Interest in technological developments and openness to new forms of work – not at any price, but after critical consideration of time and costs (including for employees) and potential profits.
Conclusion: E-leadership still in its infancy
At the moment, e-leadership is still in its infancy and we need to see if this term really prevails or whether it becomes digital leadership. According to Hertel and Lauer, however, the rapid development and differentiation of new forms of work requires very flexible management strategies, whichmake different strategies seem reasonable depending on the nature and expression ofvirtuality.
In the end, Laudon sums it up very well: To the same extent that digitalization is completely upside down with the business models of traditional industries, the understanding of the leadership and management skills behind it must also change. In addition to the modified technical approach, the new competence requirements for management behaviour should be given the same importance.
According to Laudon, it is therefore advisable to ask the following questions:
How do I "disturb" a complacent rest in the status quo?
Do I approach every task with a clear agenda of things that need to be done better, to do it differently?
You can see that something is changing. This change is being encouraged by digital technologies and we are talking about a digital transformation that also affects leadership. E-leadership deals with one aspect of change: the increasing networking via mobile technologies, which leads to digital leadership or even e-leadership. Here are links to the two books used:
Lesen Sie mehr dazu.
Falls es noch Fragen gibt, können Sie mich gerne anrufen. Hierzu einfach im Buchungssystem nach einen freien Termin schauen. Ich nehme mir jeden Monat einige Stunden Zeit um mit Lesern zu interagieren.
Helfen Sie meinem Blog, vernetzen Sie sich oder arbeiten Sie mit mir
Sie haben eigene, interessante Gedanken rund um die Themenwelt des Blogs und möchten diese in einem Gastartikel auf meinem Blog teilen? – Aber gerne! Sie können dadurch Kunden und Fachkräfte ansprechen.



Ich suche aktuell außerdem Werbepartner für Bannerwerbung für meinen Blog. Sollte es für Sie spannend sein Fachkräfte oder Kunden auf Ihre Seite zu leiten, dann bekommen Sie mehr Informationen hier.
Vernetzen Sie sich in jedem Fall auf
Xing
oder
LinkedIn
oder kontaktieren Sie mich direkt für einen Austausch, wenn Sie gleich mit mir ins Gespräch kommen wollen. Werfen Sie auch einen Blick in meine
Buchvorschläge zur Digitalisierung
, vielleicht wollen Sie mir auch ein Buch empfehlen?
Ich arbeite gerne mit Unternehmen zusammen. Sie können mich ebenfalls gerne bezüglich folgender Punkte anfragen:
Source: People photo created by freepik – de.freepik.com
Verwendete Quellen anzeigen