Digitisation is now everywhere and is spreading like wildfire.
I am therefore writing a series of articles on the subject of digitalisation. My motivation is that digitalization means something different for every industry and type of company and I want to work out these differences. For an illustration of the differences in different industries, see the following figure.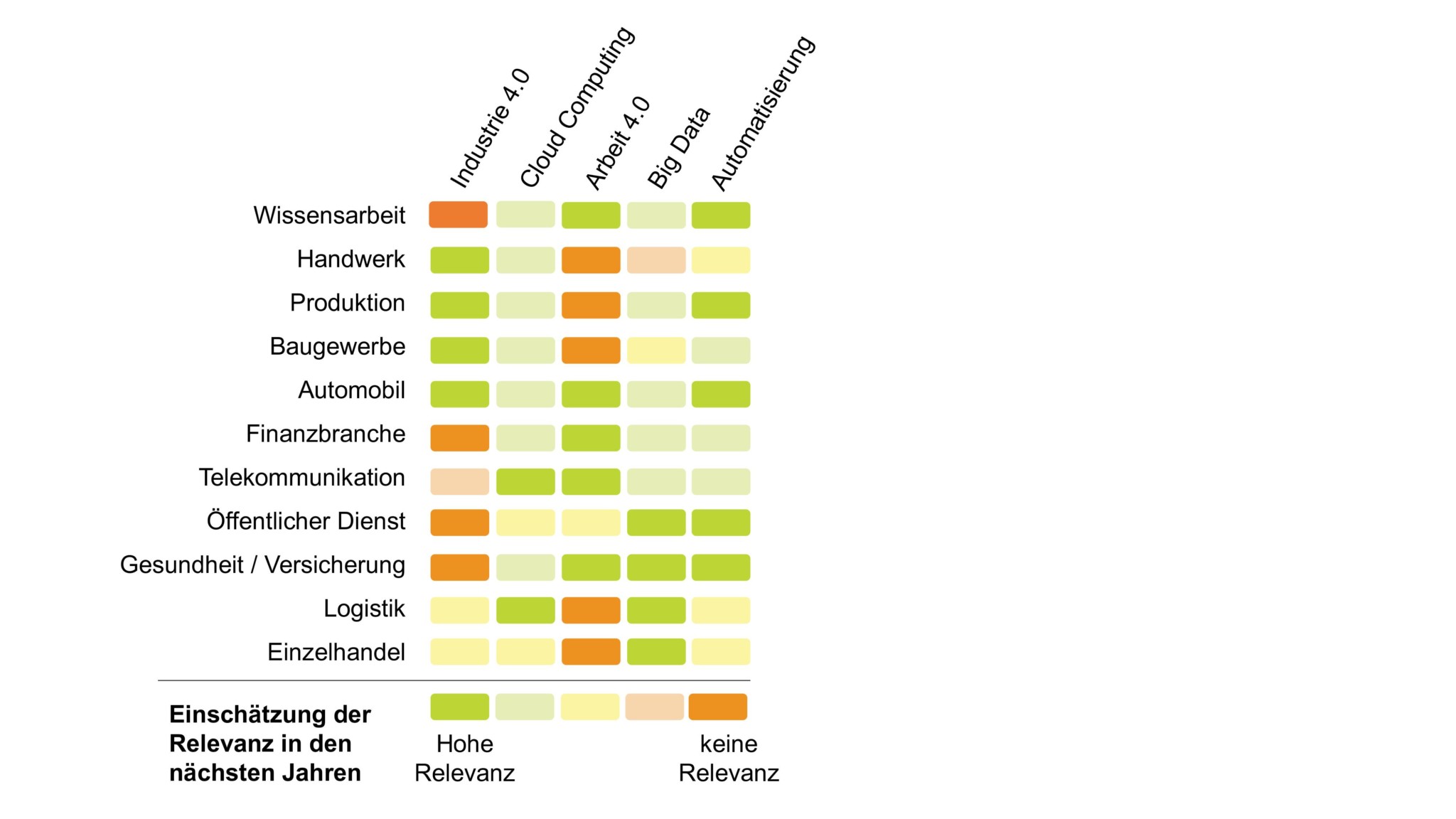 In this section, I would like to discuss the very essence of this article and illustrate the digitalisation in the telecommunications industry.

Characteristics of the industry

The telecommunications sector is defined by fixed and mobile networks, as well as internet access services and the provision of radio signals.
Nevertheless, despite smartphones and co, the actual use of the phone for the purpose of making calls is steadily decreasing. But classic products such as broadband also show declining growth rates. Instead, customers are increasingly relying on a digital voice-over-IP stream by switching their port to IP telephony. Classic contracts and services within the telecommunications industry need to be increasingly converted to new business models in the field of Internet of Things (IoT).
This means that the industry can no longer rely solely on tried-and-tested channels. Instead, it must offer its customers cloud-based services that make the full benefits of the Internet accessible. The telecommunications industry has long been regarded as a pioneer in the field of digitalization. Increasingly, however, it had to face stiff competition from internet companies such as Amazon and Facebook. Although agile methods were also introduced on the basis of improved communication and flat hierarchies, they have long been neglected, especially in the area of customer service. In the battle for customers, however, agile methods, cloud computing and work 4.0 are now gaining ground. They are intended to make internal processes and communication more flexible and tailor them to the customer.
The current digitalization in the telecommunications industry
Digitalization has already had a major impact in the telecommunications industry in particular. Thanks to smartphones, tablets and co, services in this industry can now be used from anywhere and anytime. They are also often in direct contact with online-based shortcuts such as apps or clouds. In the past, traditional telecommunications services have also been expanded by technological innovations. For example, video telephony, IPTV, video on demand or music streaming. Nevertheless, they are still lagging behind the offer of Internet service providers. Because, thanks to digitalization in this industry, customers have so far been supplied with an expanded product range, but this is still heavily dependent on the telecommunications provider. Services often have to be booked cumbersomely instead of with one click. This still makes the telecommunications industry less flexible than Internet companies, despite strong digitalisation.
But digitalization has also taken the form of online contracts or exchanges via chat bots, for example, in the area of customer service.
Benefits of digitalization in the telecommunications industry
The increasing digitalization offers the telecommunications industry great opportunities to better serve customers in the future. More agile communication with the customer and new, technologically based business models are intended to make information available to the customer at any time and anywhere. Especially in the area of IT for customer service, digitalization will increasingly move in in order to sustainably promote new systems such as customer journey management. Thanks to agility and technological innovations, the customer can therefore be accompanied from need to purchase and subsequent use from every stage and also throughout the entire process. On the basis of this development, existing customers can be better held in the future and the profit of new customers can be made possible.
Tip:
If you are as enthusiastic about this topic as I am, then you can find the entire series of articles here!

Genderhinweis: Ich habe zur leichteren Lesbarkeit die männliche Form verwendet. Sofern keine explizite Unterscheidung getroffen wird, sind daher stets sowohl Frauen, Diverse als auch Männer sowie Menschen jeder Herkunft und Nation gemeint.
Lesen Sie mehr dazu.
Falls es noch Fragen gibt, können Sie mich gerne anrufen. Hierzu einfach im Buchungssystem nach einen freien Termin schauen. Ich nehme mir jeden Monat einige Stunden Zeit um mit Lesern zu interagieren.
Helfen Sie meinem Blog, vernetzen Sie sich oder arbeiten Sie mit mir
Sie haben eigene, interessante Gedanken rund um die Themenwelt des Blogs und möchten diese in einem Gastartikel auf meinem Blog teilen? – Aber gerne! Sie können dadurch Kunden und Fachkräfte ansprechen.



Ich suche aktuell außerdem Werbepartner für Bannerwerbung für meinen Blog. Sollte es für Sie spannend sein Fachkräfte oder Kunden auf Ihre Seite zu leiten, dann bekommen Sie mehr Informationen hier.
Vernetzen Sie sich in jedem Fall auf
Xing
oder
LinkedIn
oder kontaktieren Sie mich direkt für einen Austausch, wenn Sie gleich mit mir ins Gespräch kommen wollen. Werfen Sie auch einen Blick in meine
Buchvorschläge zur Digitalisierung
, vielleicht wollen Sie mir auch ein Buch empfehlen?
Ich arbeite gerne mit Unternehmen zusammen. Sie können mich ebenfalls gerne bezüglich folgender Punkte anfragen:
Image source: pixabay.com