Digitisation is now everywhere and is spreading like wildfire.
I am therefore writing a series of articles on the subject of digitalisation. My motivation is that digitalization means something different for every industry and type of company and I want to work out these differences. For an illustration of the differences in different industries, see the following figure.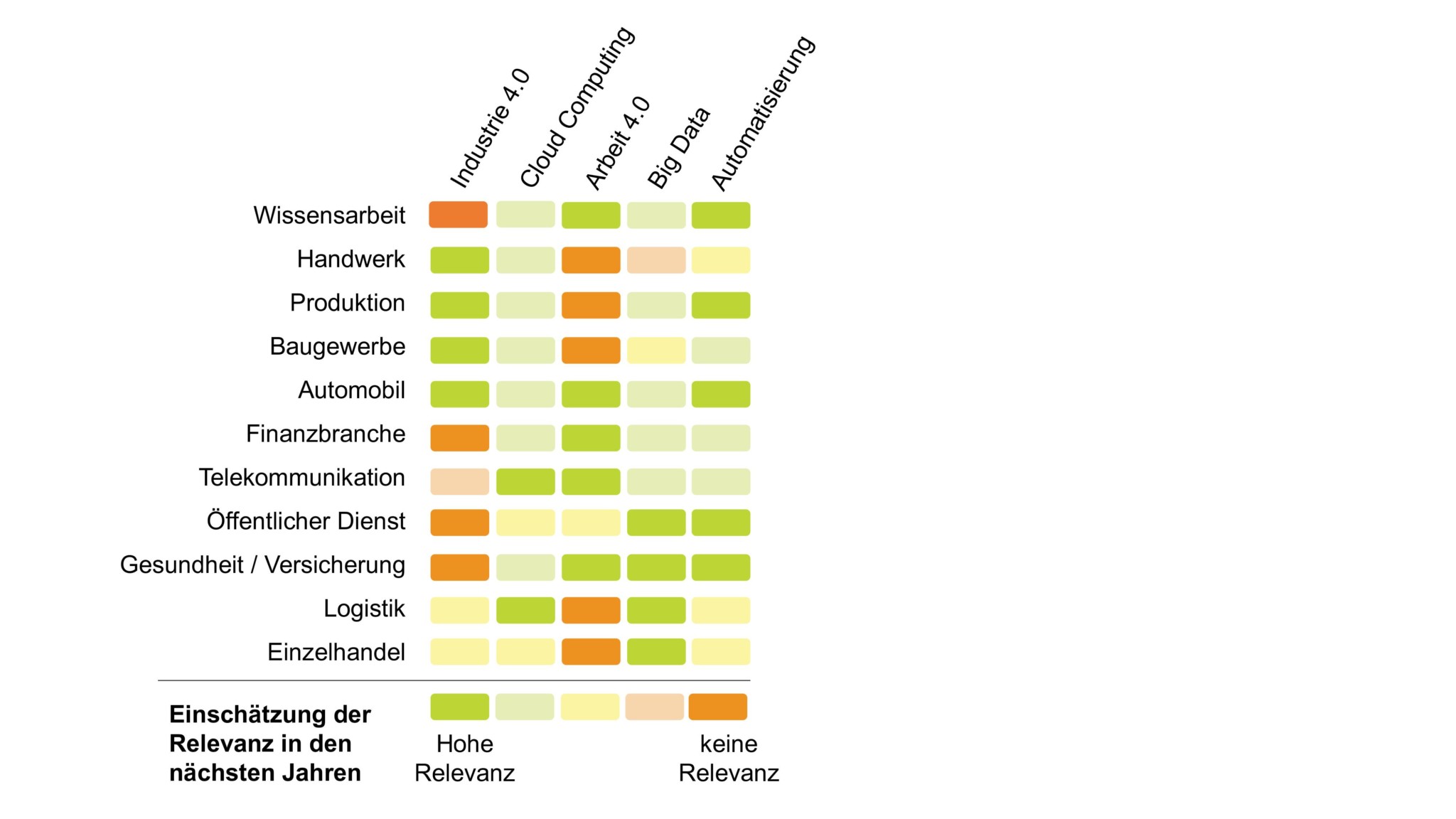 In this section, I would like to go into the very essence of this article and illustrate the digitalisation in the real estate and construction sectors.
Characteristics of the industry
The real estate and construction industry clearly focuses on the economic asset. Such as, for example, the property or the land to be built on. The industry is known for its low flexibility and lack of dynamic processes. As a result, digitization and agile methods towards a more vibrant business have so far received little entry. This is mainly due to the fact that many executives in this industry are still members of the so-called baby boomers. They still trust their old value system instead of opening up to the opportunities and opportunities of digitalization. This is partly due to the low relevance of Work 4.0 in this area.
Furthermore, the business with the construction and management of buildings is usually based on many small areas. These also contribute to the rigidity of the industry. In the field of construction alone, many parties, such as architects or project developers, are often involved. However, they do not yet fully exploit an overarching technological change. At the same time, however, the real estate and construction industry thus offers a more than suitable basis for the introduction of digitalization towards Industry 4.0, which could significantly promote communication between the individual parties.
The current digitalization in the real estate and construction industry
While global online companies such as Airbnb and WeWork have already achieved great success thanks to digitalization, the use of technological aid in the traditional real estate and construction industry is slow. While most companies already have the ability to connect online, the majority of companies in the industry still do not employ a digital executive.
Only a few innovative companies have so far used digitalisation in the form of, for example, crowdfunding on the Internet. Some also rely on the digital collection of data on buildings and land. They use them to analyze their internal decisions or to provide the customer with important information in advance.
Despite the advantage of this approach, most project developers usually have to compile this data themselves due to the lack of agile methods.
Benefits of digitalization in the real estate and construction industry
The aim of digitalization in the real estate and construction industry will be, among other things, to consolidate one's own market position and to assert between competitors. In addition, it is hoped that technological measures will improve company key figures, such as increased sales. In the area of agile corporate management, however, digital leaders are increasingly needed to drive flexibility and technological transformation.
In addition, the future of construction will be shaped by digital innovations such as 3D printing, virtual reality and blockchain. This should support the industry especially in the area of planning, construction, sales and rental.
In the real estate business, smart homes will continue to gain in importance and will also enable the customer to network his own four walls. All in all, building information modeling software will also be used to optimize tasks such as the planning, execution and operation of buildings and real estate.
Tip:
If you are as enthusiastic about this topic as I am, then you can find the entire series of articles here!

Genderhinweis: Ich habe zur leichteren Lesbarkeit die männliche Form verwendet. Sofern keine explizite Unterscheidung getroffen wird, sind daher stets sowohl Frauen, Diverse als auch Männer sowie Menschen jeder Herkunft und Nation gemeint.
Lesen Sie mehr dazu.
Falls es noch Fragen gibt, können Sie mich gerne anrufen. Hierzu einfach im Buchungssystem nach einen freien Termin schauen. Ich nehme mir jeden Monat einige Stunden Zeit um mit Lesern zu interagieren.
Helfen Sie meinem Blog, vernetzen Sie sich oder arbeiten Sie mit mir
Sie haben eigene, interessante Gedanken rund um die Themenwelt des Blogs und möchten diese in einem Gastartikel auf meinem Blog teilen? – Aber gerne! Sie können dadurch Kunden und Fachkräfte ansprechen.



Ich suche aktuell außerdem Werbepartner für Bannerwerbung für meinen Blog. Sollte es für Sie spannend sein Fachkräfte oder Kunden auf Ihre Seite zu leiten, dann bekommen Sie mehr Informationen hier.
Vernetzen Sie sich in jedem Fall auf
Xing
oder
LinkedIn
oder kontaktieren Sie mich direkt für einen Austausch, wenn Sie gleich mit mir ins Gespräch kommen wollen. Werfen Sie auch einen Blick in meine
Buchvorschläge zur Digitalisierung
, vielleicht wollen Sie mir auch ein Buch empfehlen?
Ich arbeite gerne mit Unternehmen zusammen. Sie können mich ebenfalls gerne bezüglich folgender Punkte anfragen:
Image source: pixabay.com