Digitisation is now everywhere and is spreading like wildfire.
I am therefore writing a series of articles on the subject of digitalisation. My motivation is that digitalization means something different for every industry and type of company and I want to work out these differences. For an illustration of the differences in different industries, see the following figure.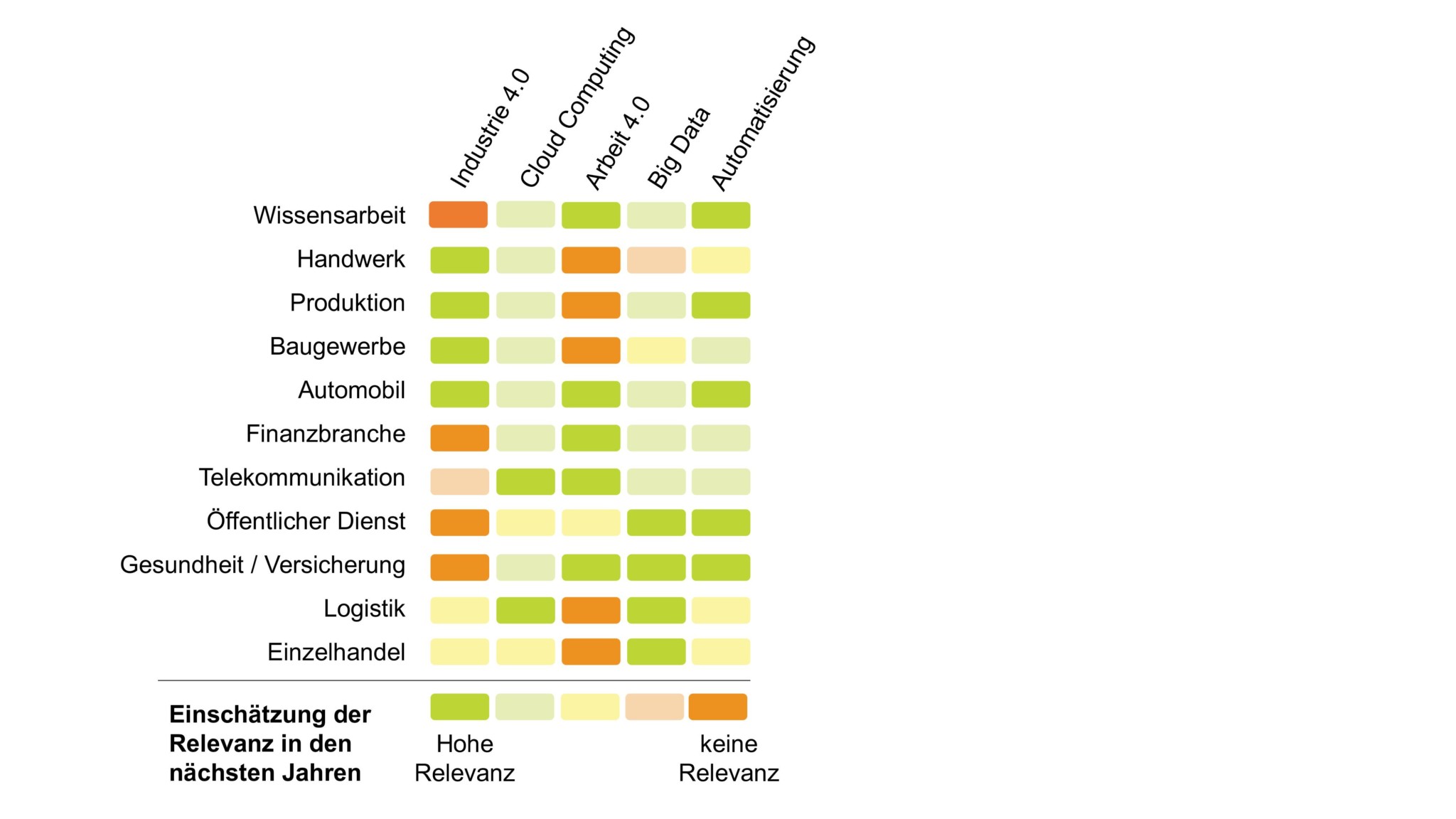 In this section, I would like to go into the very essence of this article and illustrate the digitalization in the automotive industry.
Characteristics of the industry
In the automotive industry, the focus is clearly on the production of vehicles. For a long time, IT, like agility, played rather in the background, as the focus was more on production and lean principles. At the same time, mechanical and design-related innovations have long been leading the way in the car. Nevertheless, in recent decades, the industry has increasingly become one of the most important pioneers in terms of innovative ideas and product technology innovations. Especially in the areas of Industry 4.0, Automation and Work 4.0, digitalization is particularly promoted and promoted.
The current digitalization in the automotive industry
But even if digitization and agility played only a minor role for a long time. The industry is now in a state of upheaval and agile methods and electromobility are on the rise. New features and digital services in the car have also become increasingly important. Furthermore, the shortage of skilled workers also forces new work 4.0 models. But Industry 4.0 scenes also play a major role due to their proximity to production. Accordingly, when it comes to digitalization in the automotive industry, a clear distinction must be made between digitalization in the car and in production.
In the area of the car itself, the trend is increasingly towards car sharing. But also for autonomous driving and intelligent, self-driving vehicles.
In production, software and application development is increasingly being used. But the use of assistance systems such as robots or computer-based 3D models is also becoming increasingly important. IT and its associated specialists are becoming increasingly important for manufacturers in the automotive industry, as they can take advantage of digitalization as a competitive advantage with the right measures.
Benefits of digitalization in the automotive industry
Customers are no longer charging for applications such as apps only for their smartphones, but increasingly also beyond. Thanks to digitalization, these can also be introduced into the vehicle itself. But the general possibility of networking in the vehicle is also gaining in value for the end customer and is becoming an important part of the purchase decision. As a view, digitalization will also shift market shares in the industry in the future, which will benefit some manufacturers as trendsetters and later best practice examples.
Tip:
If you are as enthusiastic about this topic as I am, then you can find the entire series of articles here!

Genderhinweis: Ich habe zur leichteren Lesbarkeit die männliche Form verwendet. Sofern keine explizite Unterscheidung getroffen wird, sind daher stets sowohl Frauen, Diverse als auch Männer sowie Menschen jeder Herkunft und Nation gemeint.
Lesen Sie mehr dazu.
Falls es noch Fragen gibt, können Sie mich gerne anrufen. Hierzu einfach im Buchungssystem nach einen freien Termin schauen. Ich nehme mir jeden Monat einige Stunden Zeit um mit Lesern zu interagieren.
Helfen Sie meinem Blog, vernetzen Sie sich oder arbeiten Sie mit mir
Sie haben eigene, interessante Gedanken rund um die Themenwelt des Blogs und möchten diese in einem Gastartikel auf meinem Blog teilen? – Aber gerne! Sie können dadurch Kunden und Fachkräfte ansprechen.



Ich suche aktuell außerdem Werbepartner für Bannerwerbung für meinen Blog. Sollte es für Sie spannend sein Fachkräfte oder Kunden auf Ihre Seite zu leiten, dann bekommen Sie mehr Informationen hier.
Vernetzen Sie sich in jedem Fall auf
Xing
oder
LinkedIn
oder kontaktieren Sie mich direkt für einen Austausch, wenn Sie gleich mit mir ins Gespräch kommen wollen. Werfen Sie auch einen Blick in meine
Buchvorschläge zur Digitalisierung
, vielleicht wollen Sie mir auch ein Buch empfehlen?
Ich arbeite gerne mit Unternehmen zusammen. Sie können mich ebenfalls gerne bezüglich folgender Punkte anfragen:
Image source: pixabay.com