The large accumulation of data continues to grow. In the meantime, it is even said that data is the new oil. A new profession is also coming along. The name of the data scientist appears more and more. As the portal SASsays: "Who knows how strategically important knowledge can be drawn from large amounts of data, and can convey this, has a key position in the company as a consultant for top management."
But if you look at the job advertisements, you can find a lot about it and you wonder: What does a data scientist do? This article is intended to provide information.
Reading Tip: What is Big Data
What should a data scientist be able to do?
If you look at the job advertisements, a data scientist should usually be able to:
Analytical talent
Expertise
Communication
Research urge
Coordination talent
On the one hand, the scientist must be able to recognize connections in large amounts of data and analyze them. He will also have business and expertise to understand the problems of the departments. With the help of his communication skills, he can talk to them extensively and be in permanent contact. His research urge also allows him to solve serious problems and work with the help of hypotheses. But he is also a project manager and needs to expand, manage and maintain the data set.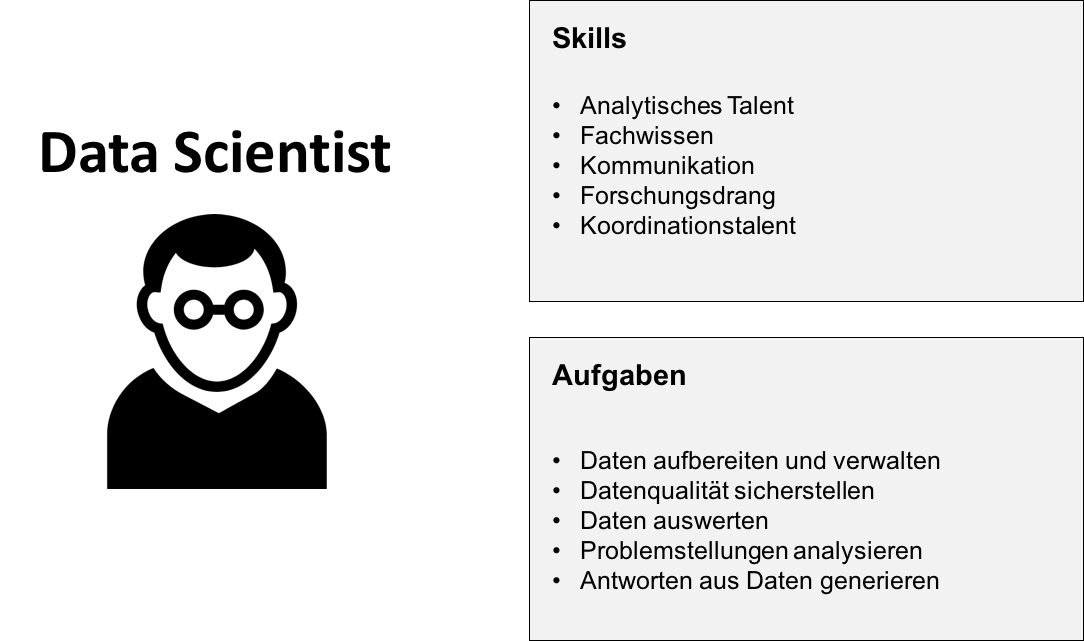 What does a data scientist do?
There are many names for the new professions. Computer Week has already broken down some of it and defines it as follows:
The (big) data engineer is the master of data supply.
The Management Scientist is the mediator between the departmental worlds.
The Data Scientist provides answers to analytical questions based on data.
The Data Steward is responsible for monitoring data quality and integrity.
Thus, the data engineer is responsible for merging the data and knows where the data is and how to merge it. The management scientist then analyzes this data and defines the actual problems. As for the Data Scientist, Computer Wochesays: "The core task of the Data Scientist is to generate answers to analytical questions from data – using analytical methods from fields of statistics, machine learning or operations research." The data steward monitors data going and ensures professional correctness.
In the end, therefore, there are many occupational profiles and these terms are not always used and clearly separated. That is why this is only an orientation. I don't think every company separates this so strictly, and often everything is summarized under the upper hand of the data scientist or data analyst. The following figure shows the application fields and answers the question: What does a data scientist do.

Conclusion: What does a data scientist do?
There are numerous terms and answers to the question: What does a data scientist do, but it turns out to be an abstract image in the end. On the one hand, the Data Scientist is a scientist who solves business problems with data and on the other hand, he is a project manager who manages the data set in the company.
I hope to have shed some light on this article and look forward to comments on what the data scientists are doing around you. I have also worked with some of them during my consulting days and I also see what my big data colleagues are researching at the chair. I, too, learned something from you and used quantitative analysis using data in my phD.
Tip: Book suggestions for big data
Genderhinweis: Ich habe zur leichteren Lesbarkeit die männliche Form verwendet. Sofern keine explizite Unterscheidung getroffen wird, sind daher stets sowohl Frauen, Diverse als auch Männer sowie Menschen jeder Herkunft und Nation gemeint.
Lesen Sie mehr dazu.
Falls es noch Fragen gibt, können Sie mich gerne anrufen. Hierzu einfach im Buchungssystem nach einen freien Termin schauen. Ich nehme mir jeden Monat einige Stunden Zeit um mit Lesern zu interagieren.
Helfen Sie meinem Blog, vernetzen Sie sich oder arbeiten Sie mit mir
Sie haben eigene, interessante Gedanken rund um die Themenwelt des Blogs und möchten diese in einem Gastartikel auf meinem Blog teilen? – Aber gerne! Sie können dadurch Kunden und Fachkräfte ansprechen.



Ich suche aktuell außerdem Werbepartner für Bannerwerbung für meinen Blog. Sollte es für Sie spannend sein Fachkräfte oder Kunden auf Ihre Seite zu leiten, dann bekommen Sie mehr Informationen hier.
Vernetzen Sie sich in jedem Fall auf
Xing
oder
LinkedIn
oder kontaktieren Sie mich direkt für einen Austausch, wenn Sie gleich mit mir ins Gespräch kommen wollen. Werfen Sie auch einen Blick in meine
Buchvorschläge zur Digitalisierung
, vielleicht wollen Sie mir auch ein Buch empfehlen?
Ich arbeite gerne mit Unternehmen zusammen. Sie können mich ebenfalls gerne bezüglich folgender Punkte anfragen:
Verwendete Quellen anzeigen