In times of digital transformation, the buzzword is restructuring on everyone's mouth. For the workforce, this means more pressure and fear of losing their jobs. "I was brought in to restructure here," it says from the mouths of many bosses. Even I am currently experiencing a constant change in my professional life. But change does not have to be bad, because as has already been said in the 3rd Roundtable:
People are not fundamentally opposed to change. You just don't want you to be changed.
Thus, it is not necessary to change people through cost savings or more pressure, but to adapt the organisation to the workforce. Currently, many magazines talk about an agile and digital organizational development. In the article I will try to describe both terms and see how such an organizational development could develop.
Agile organizational development
Agile organizational development should provide an answer to how it is possible to reduce hierarchies, streamline processes, promote innovation and make employees happier. For this purpose, a concept was developed by the participants in the 2nd Roundtable. So it is said that areas with less agility inside the company as a central service provide fairly standardized services for the rest of the organization.
Furthermore, all participants agree that agility cannot scale and becomes almost always inflexible after a certain size. All other areas should therefore be divided into smaller teams. Thus, from a certain diminishing flexibility, a new fresh team can be formed, which is networked with all other teams. But what comes next? Many small teams that are almost impossible to control by management? Control itself does not have to be bad, because in addition to a high level of trust, it is still important to ensure that the teams act in accordance with the company's goals. According to the participants, digital organizational development provides an answer.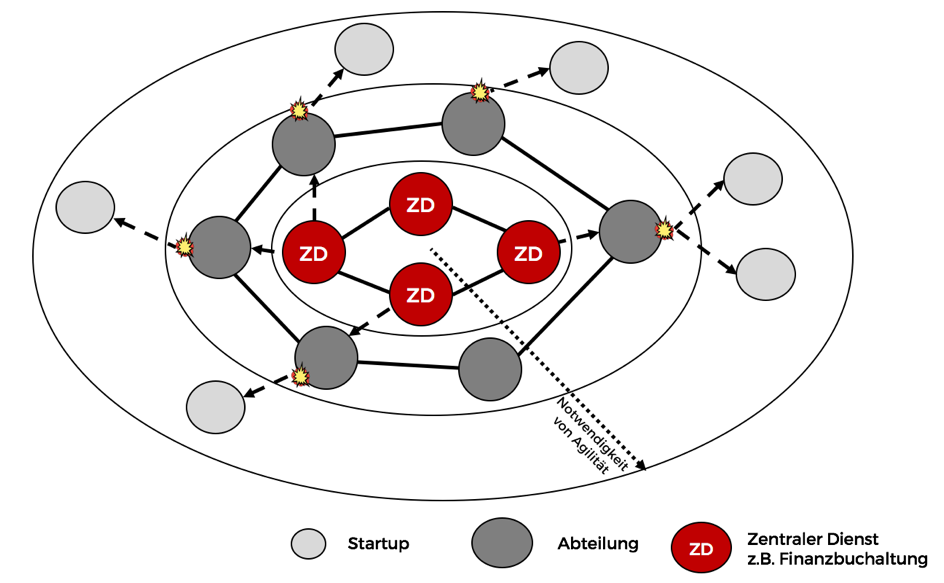 Digital organizational development
In their contribution to the knowledge work place of the future Urbach and Ahlemann (2016) say: Since the knowledge workplace of the future has far-reaching consequences for IT management, its realization requires structured change management at all levels. Both employees and management are affected, both on the IT and business side. Management must understand and accept that social media and new communication and coordination mechanisms in particular can lead to a loss of control. Not everything can be planned and controlled any more, and a strong (trust) culture should replace formal rules and processes.
Furthermore, Urbach and Ahlemann (2016) describe the model as follows: For IT management, the changes are even more far-reaching. A variety of structures and processes have to be converted or re-established, which requires risk-taking and entrepreneurial thinking and action. Employees must also be ready for change. In business, the new forms of cooperation as well as the higher degree of autonomy require trust in management and IT. In addition, it is good for employees to accept that there can also be failures in the initial phase of the change process. The same applies to IT staff; Here, too, the willingness is expected to become involved in new processes and technologies.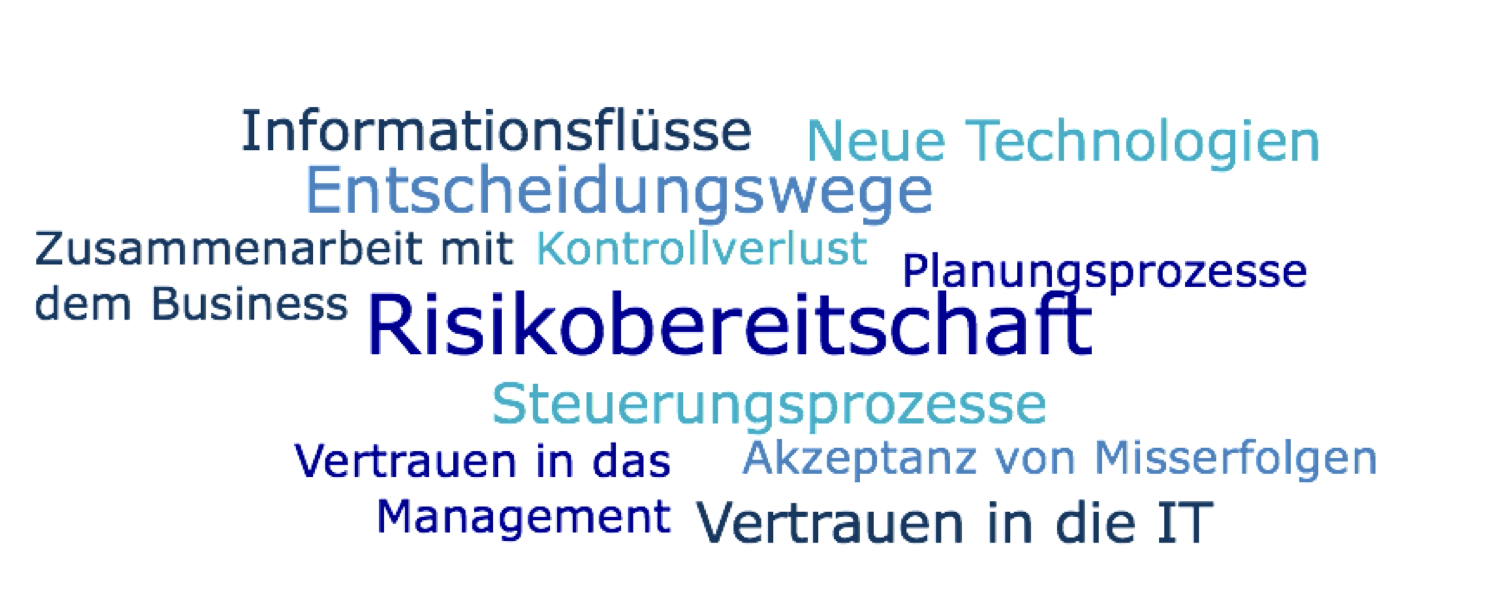 Urbach and Ahlemann (2016) have also developed a model for the development of a roadmap for digital organizational development and describe it as follows: To this end, we propose a three-stage approach. The first step is to optimize the existing architecture. For this purpose, no major changes to the organizational and IT architecture have to be made. Rather, it is first of all a matter of realising "quick wins", i.e. projects that quickly and with little effort lead to visible and improved results. This could include, for example, the harmonisation of identity management, specific improvements of user interfaces in the area of critical systems or the introduction of a bring-your-own-device approach.
Only in the second step is the establishment of new architectures, structures and processes in the foreground. To this end, an overarching strategy for the knowledge workplace of the future must first be developed and appropriate governance principles defined. Another focus in this phase is the definition and establishment of new development and management processes.
In order to continuously develop the knowledge workplace of the future, the implementation of innovation management is also recommended. The third step then involves ongoing innovation. Within this framework, continuous monitoring of technology development and monitoring of user behaviour takes place. Additional requirements are made in dialogue with users. The information obtained is then used to create a proactive, fast and continuous supply of workplace-related IT services. Take a look at the book by Niels Urbachfor more.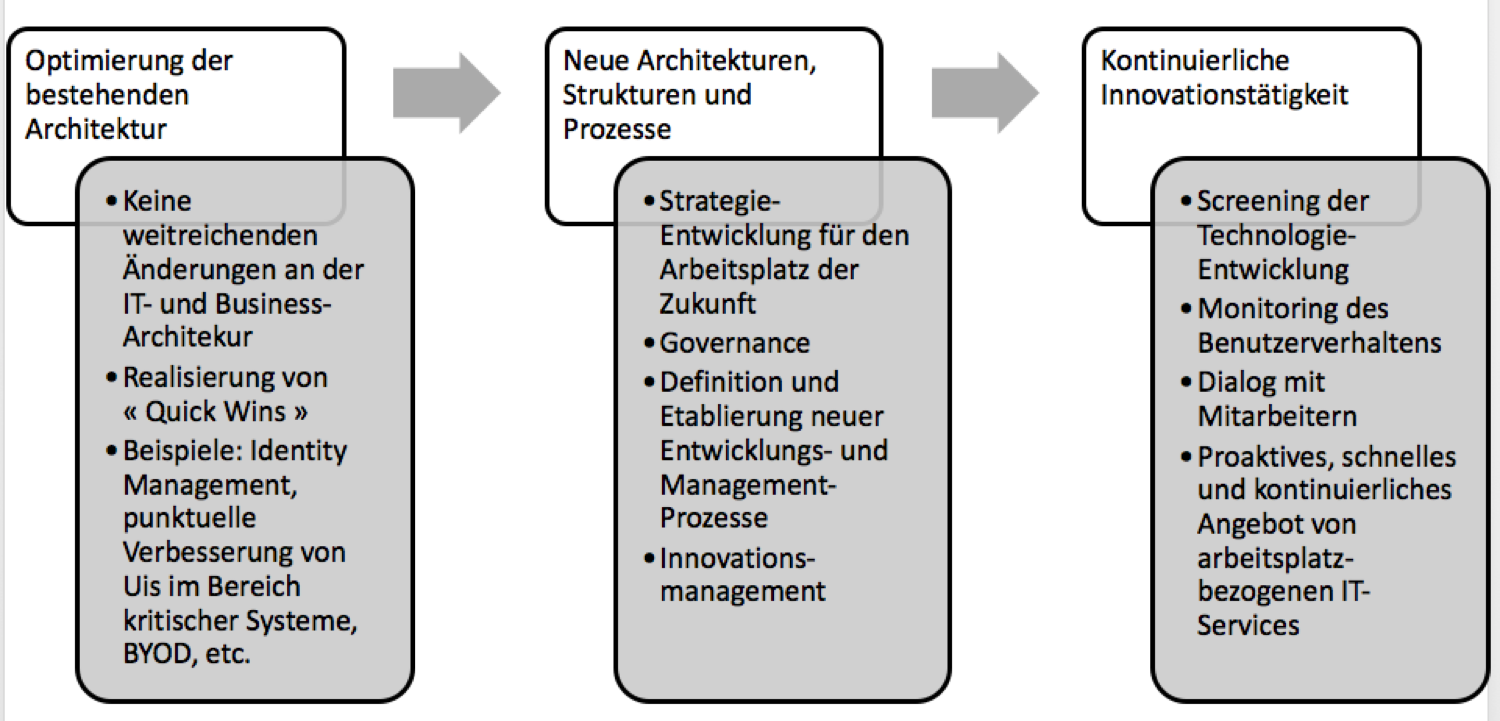 FaZit: IT as an enabler for agility
Whether agile, digital or holistic. In the modern age, humans should be at the center of an organization and technology should support it as an enabler for agility. Companies, like cells, should consist of many small units that divide permanently. I am often asked how a company can grow without losing agility and building up too much bureaucracy. My answer is summarized here in the article and says: Then we will not let it become so big, but share it in advance. We achieve control and networking through the targeted use of digital technologies.
Genderhinweis: Ich habe zur leichteren Lesbarkeit die männliche Form verwendet. Sofern keine explizite Unterscheidung getroffen wird, sind daher stets sowohl Frauen, Diverse als auch Männer sowie Menschen jeder Herkunft und Nation gemeint.
Lesen Sie mehr dazu.
Falls es noch Fragen gibt, können Sie mich gerne anrufen. Hierzu einfach im Buchungssystem nach einen freien Termin schauen. Ich nehme mir jeden Monat einige Stunden Zeit um mit Lesern zu interagieren.
Helfen Sie meinem Blog, vernetzen Sie sich oder arbeiten Sie mit mir
Sie haben eigene, interessante Gedanken rund um die Themenwelt des Blogs und möchten diese in einem Gastartikel auf meinem Blog teilen? – Aber gerne! Sie können dadurch Kunden und Fachkräfte ansprechen.



Ich suche aktuell außerdem Werbepartner für Bannerwerbung für meinen Blog. Sollte es für Sie spannend sein Fachkräfte oder Kunden auf Ihre Seite zu leiten, dann bekommen Sie mehr Informationen hier.
Vernetzen Sie sich in jedem Fall auf
Xing
oder
LinkedIn
oder kontaktieren Sie mich direkt für einen Austausch, wenn Sie gleich mit mir ins Gespräch kommen wollen. Werfen Sie auch einen Blick in meine
Buchvorschläge zur Digitalisierung
, vielleicht wollen Sie mir auch ein Buch empfehlen?
Ich arbeite gerne mit Unternehmen zusammen. Sie können mich ebenfalls gerne bezüglich folgender Punkte anfragen:
Verwendete Quellen anzeigen
Urbach, N., & Ahlemann, F. (2016). The knowledge workplace of the future: trends, challenges and implications for strategic IT management. HMD – Practice of Business Informatics, 53(1), 16-28.