As part of the blog, I often take part in expert interviews to help students and other researchers. I am often asked about my assessment of the following question:
How agile / digital do companies become?
The question often aims at 5 or even 15 years. On the other hand, The question is also asked to me in a different form:
Will only agile companies survive?
Do all companies need to become agile?
Furthermore, the blog parade by Andre Häusling with the question: "Is agility a discontinued or future model?" and the hashtag AgileDeadOrAlive animated me to this article.
I would therefore like to write a blog article with my assessment. I would like to go a little further and give a concrete answer. However, this is only my personal opinion.
2 Theses on the agility and digitalization of companies
In my doctorate I did a roundtable. It brought together 12 board members from medium-sized companies and corporations. We were able to agree on two theses:
Not every area in the company needs agility/digitalization
Not all employees want to work agile/digital
This means, therefore, that, on the one hand, skilled workers do not always always prefer this type of work and not every sector is dependent on it. On Thesis 1, the board of the data center says in the roundtable: "We have highly creative areas where collaboration has to constantly reinvent itself every day when new requirements come in. But on the other hand, the classic data center, where it really goes: One has to do some electrics, that's repetitive."
The manager of the pharmaceutical company also adds to Thesis 2 that not every employee wants to work agilely: "And they don't want to be inspired at all and organize themselves and so on. But […]: I'm doing my job! Tell me what to do! And then I go home!" Tip: Ask me about my study: Lindner and Leyh (2018).
Of course, we should coach employees in agile methods and the use of technology, but there are still employees who simply do not want agility. If you put too much pressure on, they will simply cancel. On the other hand, you will continue to have enough areas that work great without a high degree of agility or digitization.
It is therefore necessary to determine the degree of agility/digitalization required in every area and to let only those employees who want to work there.

Forecast: Hybrid form between agile and classic
Of course, the question of agility and digitalization is becoming more and more important. However, it is important to define in concrete terms: how important is this for each area? Companies have often been successful in the market for many years and only a few adjustment screws are often necessary for a continuation of the success.
The balance between tradition and change must therefore be found. This is also the belief of my participants in the roundtable: "And the problem [sind] of clear processes, security processes that are supposed to be very static and, on the other hand, flexible cloud technologies that change every day" (CEOof the IT data center). The board of directors of the consulting company sees this similarly: "Because we've been in the company for thirty years, [heißt es:] I've always done it that way. And on the other hand, we have things that are extremely new. And finding the right balance is quite an exciting thing."
Practical tip: A,B and C employees and areas
A small impulse comes from Steve Jobs. He divided Apple's employees into A, B, and C employees. You can also divide the areas and employees into A,B, and C. I would like to present this with the example of employees and the necessary agility. These are defined as follows:
A-employees: Take responsibility and make sure the company works. They develop ideas and strategies, strive for more and ultimately guarantee the success of the company (Source: Mindsetmagazin)
B-employees: These employees are neither positive nor negative. You know exactly what your job is and you do it. B employees are often known as "NINE-TO-FIVER" or service by regulation.
C-employees: Internally sacked, grim – even towards his colleagues, his work makes him lacklustre, mistakes are always factored in, but not avoided. They are often known as underperformers or low performers. (Source: ABC Personal)
Every healthy company has at least 20% (best 30%) A-employees, who, according to Steve Jobs, are making significant progress in the company. These are important but also difficult to manage. The reason is that A-employees always need exciting projects, feedback and actions.
Also, they are often quickly bored of routine and there is unfortunately also a lot of work in the company, which also "must be done simply". B-employees (mostly 80 – 60%) often do exactly this work. You need little guidance and the quality of the work is usually great!
C employees (10 – 30%) According to Steve Jobs, the company is disrupted and requires a high level of leadership. However, they will never own 0% of them, especially in the case of skills shortages (except perhaps micro-enterprises).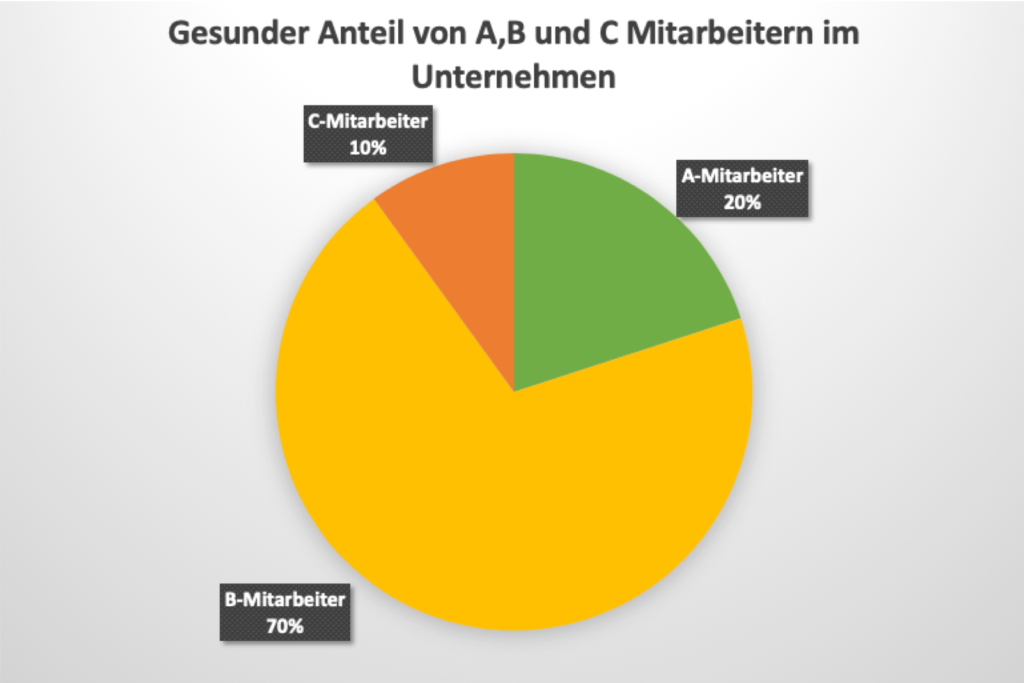 My practical tip: Now it might make sense that you prefer to use A-employees with some B-employees in agile methods and highly creative areas. All stable areas with moderate need for agility (e.g. uncomplex customer orders with a long contract period) could preferably be supplied with B-employees. C employees should place you in stable areas and coach accordingly.
Forecast 2019: At least 30% agile and digital
I believe that at the moment almost every company should have at least 30% of the departments or teams agile and have a corresponding digital maturity, without fear of dissatisfaction or loss of revenue. Of course, there are industries that demand much more or less agility. For example, small rural farms could probably do without agile methods for a long time. However, I take the assessment from the average.
However, if you look at the many SMEs that have long-term supply contracts and often good customer relationships: I believe that a slightly increased agility is often sufficient. DAX companies are also turning their IT departments into agile methods (about 30%) To. Many departments are still classically positioned, but this is often enough to cover current projects.
Another point is that the advantage of classical methods is stability. Especially for the many B-employees, a stable core in the company is required. It is therefore important to find the balance between stable departments and flexible teams.
My prediction for this here and now is that companies should have positioned certain dynamic business areas more agile and digital in order to be future-proof. This is about 30%.
Forecast 2024: 50-80% agile and digital
I believe that change will continue over the next 5 years and that agility and digitalisation will continue to be introduced. After the highly critical areas, it is important to continue to be flexible and re-positioning. Subsequently, some central services such as accounting or travel booking as well as classic services remain, which do not have to become highly agile or digital.
Conclusion and limitation
I believe that agility and digitalisation are very important and should find a place in dynamic core areas of the company. The world is becoming faster and more dynamic, and professionals are demanding agile methods and digital work models such as home office and new work. However, the balance between constructive agility and actionism should also be maintained.
Genderhinweis: Ich habe zur leichteren Lesbarkeit die männliche Form verwendet. Sofern keine explizite Unterscheidung getroffen wird, sind daher stets sowohl Frauen, Diverse als auch Männer sowie Menschen jeder Herkunft und Nation gemeint.
Lesen Sie mehr dazu.
Falls es noch Fragen gibt, können Sie mich gerne anrufen. Hierzu einfach im Buchungssystem nach einen freien Termin schauen. Ich nehme mir jeden Monat einige Stunden Zeit um mit Lesern zu interagieren.
Helfen Sie meinem Blog, vernetzen Sie sich oder arbeiten Sie mit mir
Sie haben eigene, interessante Gedanken rund um die Themenwelt des Blogs und möchten diese in einem Gastartikel auf meinem Blog teilen? – Aber gerne! Sie können dadurch Kunden und Fachkräfte ansprechen.



Ich suche aktuell außerdem Werbepartner für Bannerwerbung für meinen Blog. Sollte es für Sie spannend sein Fachkräfte oder Kunden auf Ihre Seite zu leiten, dann bekommen Sie mehr Informationen hier.
Vernetzen Sie sich in jedem Fall auf
Xing
oder
LinkedIn
oder kontaktieren Sie mich direkt für einen Austausch, wenn Sie gleich mit mir ins Gespräch kommen wollen. Werfen Sie auch einen Blick in meine
Buchvorschläge zur Digitalisierung
, vielleicht wollen Sie mir auch ein Buch empfehlen?
Ich arbeite gerne mit Unternehmen zusammen. Sie können mich ebenfalls gerne bezüglich folgender Punkte anfragen:
Image source: Pixabay.com