I have been working for IT service providers in medium-sized companies since the beginning of my career and often work in conjunction with other service providers for changing DAX companies. In doing so, I experience that it is particularly difficult to control the service providers for the end customer. I would therefore like to give some tips and present my findings. This is in the classic organization, if you want to know how to control service providers by agile methods, then read my article on Scrum of Scrums.
Set the boundary between service provider and customer
First of all, you should know exactly how much I really want to give away. If the service provider wants to do everything himself and I just want a service that works like a mail account or do I want an individual development and have to supply and control the service provider permanently requirements.
In the case of the mail account, it is a managed service. You use the service and have no insight or very little how it works and usually this is hardly relevant for you. This case is easy to coordinate and good for areas where you don't want to build up knowledge internally.
Especially if your project has less budget for your IT, as your core competencies are in other areas, you can benefit from managed services. Disadvantages, however, are the loss of knowledge and the dependence on the provider. It is therefore necessary to carefully weigh up the advantages and disadvantages.
Flexible work packages and acceptance criteria
Let's take the second case that you are carrying out a large complex project such as an app development and need three service providers to do so. This app is important and should also be further developed internally by you.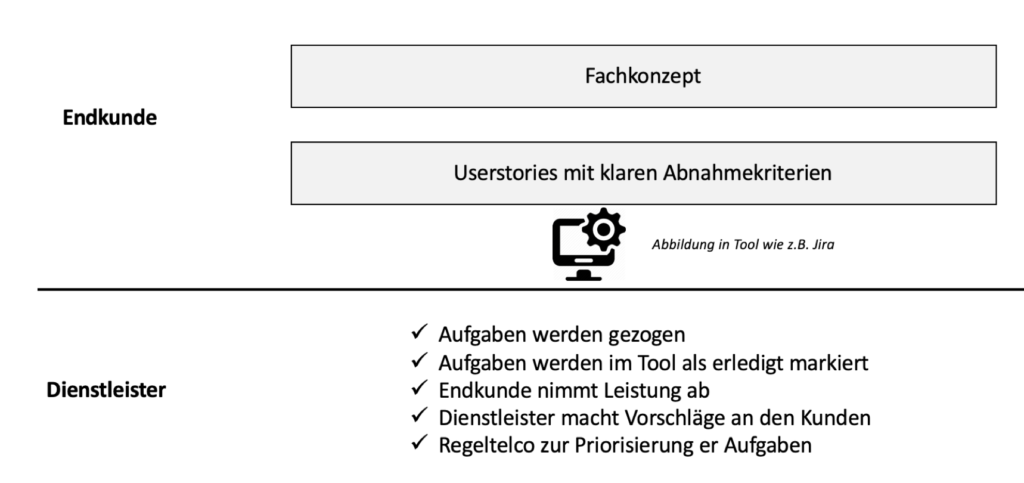 In this case, you should therefore provide your service providers with concepts and specifications. To do this, create a concept and cut it into small tasks that have clear acceptance criteria. This is important because this is the only way you can retain the sovereignty of knowledge.
After you have divided the tasks neatly, the service providers can draw them themselves. Clear acceptance criteria are important for the delegation. The job is hard but the effort is worth it and since project is very easy to control. You can use project management software to cleanly map and monitor the tasks.
Conclusion
As soon as a project becomes more complex, you have to tightly bind the project management as an end customer and make the project controllable. This is achieved by a clear decomposition of a concept into tasks with clear acceptance criteria. The effort is high at first, but it is worthwhile in the course of the project and prevents the loss of knowledge or the excessive dependence on a service provider.
Image source: Shop photo created by freepik – de.freepik.com
Genderhinweis: Ich habe zur leichteren Lesbarkeit die männliche Form verwendet. Sofern keine explizite Unterscheidung getroffen wird, sind daher stets sowohl Frauen, Diverse als auch Männer sowie Menschen jeder Herkunft und Nation gemeint.
Lesen Sie mehr dazu.
Falls es noch Fragen gibt, können Sie mich gerne anrufen. Hierzu einfach im Buchungssystem nach einen freien Termin schauen. Ich nehme mir jeden Monat einige Stunden Zeit um mit Lesern zu interagieren.
Helfen Sie meinem Blog, vernetzen Sie sich oder arbeiten Sie mit mir
Sie haben eigene, interessante Gedanken rund um die Themenwelt des Blogs und möchten diese in einem Gastartikel auf meinem Blog teilen? – Aber gerne! Sie können dadurch Kunden und Fachkräfte ansprechen.



Ich suche aktuell außerdem Werbepartner für Bannerwerbung für meinen Blog. Sollte es für Sie spannend sein Fachkräfte oder Kunden auf Ihre Seite zu leiten, dann bekommen Sie mehr Informationen hier.
Vernetzen Sie sich in jedem Fall auf
Xing
oder
LinkedIn
oder kontaktieren Sie mich direkt für einen Austausch, wenn Sie gleich mit mir ins Gespräch kommen wollen. Werfen Sie auch einen Blick in meine
Buchvorschläge zur Digitalisierung
, vielleicht wollen Sie mir auch ein Buch empfehlen?
Ich arbeite gerne mit Unternehmen zusammen. Sie können mich ebenfalls gerne bezüglich folgender Punkte anfragen: