Design science is a problem-solving approach and actually originates in engineering. The procedure is that you solve a problem by developing a prototype. Action research is the solution to a problem through observation, action and evaluation. Action research is also such an approach and also aims to solve problems. This is done through an analysis, action, evaluation and customization in different iterations. I have recently seen action research especially for the examination of theories in practice, but it can also be used for prototypes. Caregivers often like to reject the design science methodology, as it is still controversial and American-influenced. It is then recommended to use action research.
Both methods present a counter-type to classical research. They make concrete interventions in the environment and use new methods to solve problems. Actually research is not data collection, but the way to solve or develop the prototype. At the same time, however, this is also the great criticism: they produce a solution quite subjectively and strongly tailored to a problem.
In business informatics, it is usually used to develop a software prototype. If you are programming software, then the approach may be useful.
Methodof
Design Science consists of two processes: Build and Evaluate. The background is the creation of a prototype or software. Before performing The Design Science, you should plan a system concept and the test environment.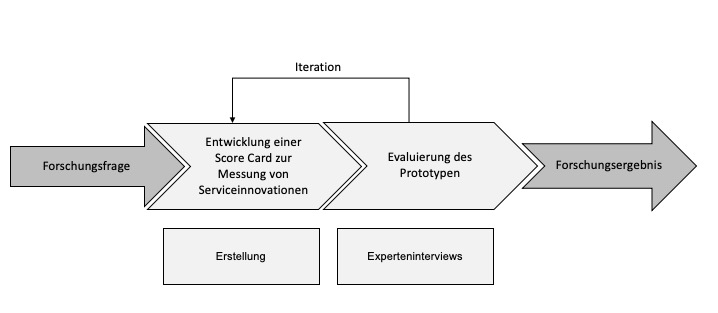 In this example of the illustration, we want to develop a software for measuring service innovations, which was my bachelor's thesis. What is important is not the prototype, but the way to get there. So the search process for the solution. By the way, Design Science can include a small literature analysis in advance, if necessary. The figure shows that the procedure often contains different iterations. In bachelor's theses, however, I often experience that it is just an iteration.
To evaluate the software, you should combine another procedure such as interviews or interviews. In this way, the solution competence of the prototype can be ensured and feedback can be collected. They usually take place in iterations: Prototype -> Feedback -> Prototype -> Feedback etc.
Conclusion
Clearly, both methods are very suitable if you want to develop a prototype or software in the thesis. Criticism lies in the "hands-on" mentality of the approach as a less-defined scientist and rather practical approach. Some researchers reject the Design Science methodology for this reason. I then recommend phasing out more established action research.
Both methods aim to solve problems through analysis, action, evaluation and customization in different iterations. An alternative could also be used in action research in the examination of theories in practice by a prototype.
For savvy programmers, creating software is a good way to get away from classical research methods in their thesis and also create something "to touch" but still use a scientific method.
Source: https://pixabay.com/de/photos/jung-bibliothek-studium-der-1822682/
Gibt es noch Fragen?
Falls es noch Fragen gibt, habe ich zwei Tipps. Ich habe meine Erfahrung aus 5 Jahren in der Betreuung von Abschlussarbeiten im Buch: "Empfehlungen für die Bachelor- und Masterarbeit" zusammengefasst. Dieses gibt es bei Springer und Amazon seit August 2020. Das Buch ist ein offzielles Fachbuch in kann damit zitiert werden. Weiterhin können Sie mich gerne mal anrufen. Hierzu einfach im Buchungssystem nach einen freien Termin schauen. Ich nehme mir jeden Monat einige Stunden Zeit um Studenten zu helfen.
Mein Tipp vor der Abgabe Ihrer Abschlussarbeit
Es lohnt sich immer eine Abschlussarbeit professionell Korrekturlesen oder auf Plagiat prüfen zu lassen. Der Vorteil ist, dass Sie dabei auch Feedback erhalten und den akademischen Sprachstil verbessern. Anbieter wie bspw. Scribbr helfen mit guten Preisen bei der Abschlussarbeit.
Genderhinweis: Ich habe zur leichteren Lesbarkeit die männliche Form verwendet. Sofern keine explizite Unterscheidung getroffen wird, sind daher stets sowohl Frauen, Diverse als auch Männer sowie Menschen jeder Herkunft und Nation gemeint.
Lesen Sie mehr dazu.