"Society is constantly changing and is undergoing fundamental changes in ever shorter periods. What was unthinkable not so long ago has long been a reality or is imminent – from internet-enabled smartphones to self-driving cars to refrigerators, which itself provides supplies. Artificial intelligence is making its way into our everyday lives and changing the way we work and live"," the Otto Group said in a blog call for a blog parade. I would like to participate and see how digitalisation could change our world of work.
Roundtable on Work 4.0
In order to better understand the world of work 4.0, I have gathered several experts and debated on this topic over 4h. In the following I would like to show the results and support them with quotations from the participants. More about the Roundtable can be found here. The following table shows the participants.
| | | |
| --- | --- | --- |
| Company | Position | Number of MA |
| Union | Board of Management (IT) | – |
| IT service providers (e-commerce) | Management | 80 |
| Manufacturing | Supervisory board | 110 |
| IT service provider (data center) | Board | 180 |
| Group (IT) | Agile Coach | 7000 |
| Group (IT) | Manager | 7000 |
| Group (Sport) | Board | 55 000 |
The Work 4.0
The future of work is discussed under the umbrella term Work 4.0. There is no direct definition of this, but the term is also often used in marketing. In a roundtable on work 4.0, I defined with the participants initial guidelines how the work should look in the course of digitization and there were the following results:
Work 4.0 must be agile!
Agility needs freedom!
Good work is based on voluntary work!
The concept of "leadership" must give way to a "guide"!
Work will become more dynamic and short-cycle in the future!
Work 4.0 is supported digitally!
This means that issues such as agility, freedom and volunteering characterise the new world of work. One participant said: "So for me, the first association with work 4.0 is the change from 'work as a duty/must' to 'I can design something, I feel a sense'". Also, the new work will be digitally supported. One participant: "So digitalization favors speed. If we still had pencil, paper and mail, it wouldn't have been." agile methods should help to make work more dynamic and short-cycle, according to the participants:So I also think that the issue of scrum has contributed enormously to this." This means that, unlike in the past, there will be many small and fast-changing work items. For example, a team leader used to give one employee 5-10 standard tasks per month, which is now more likely to be divided into 100 small tasks. To better understand this, I would like to explain in more detail the concepts behind Work 4.0 and give a few quotes from my participants from the Roundtable.
Reading tip: What is work 4.0
New Work – Local and Time Flexible Work
Another point is the work, which is flexible in time and time. Here's what a participant says: "So 30% are on average [im Home Office] . And […] Home Office [ist] of course no problem is often also [und …] approved. And working hours are also relaxed for us. There is no core working time, you can come whenever you want with us." So it is possible that work can be done from any place and at any time. This is what the union's board of directors says in my roundtable: "Work wherever you want. So with mobile devices, this is no longer a problem at all. We have also created the company agreement in such a way that working time is recognised from any place, in theory also from the swimming pool. It is documented. You can work from any place. Mobile work is an important topic."
So it seems that with a view to the future, we can work from any place and at any time. This is often described with the vision of new work, which is shown in the following figure.
Reading Tip: What is New Work
New and agile office complexes
There are also new office concepts. For example, a workplace should exist for each activity. Different zones in the office are to be set up for, for example, quiet and creative work. I know many medium-sized companies as well as corporations that are currently rebuilding their buildings. As one participant said in my roundtable: "Every table is available, it is not booked in advance, because at the end of the day it makes the system even more complex if I had to think about every evening: Where do I sit tomorrow? That would just be too much effort. And so every workplace is basically free for everyone. I can sit where I want." So the classic desk dies out, according to the participants. In the following illustration, a possible interpretation of the new office models is illustrated using the example of noris network from Nuremberg, who kindly released the pictures to me. In the future, therefore, we will not only work at any time and in any place, but also in the "right place" for every activity.
Reading Tip: What is Futurework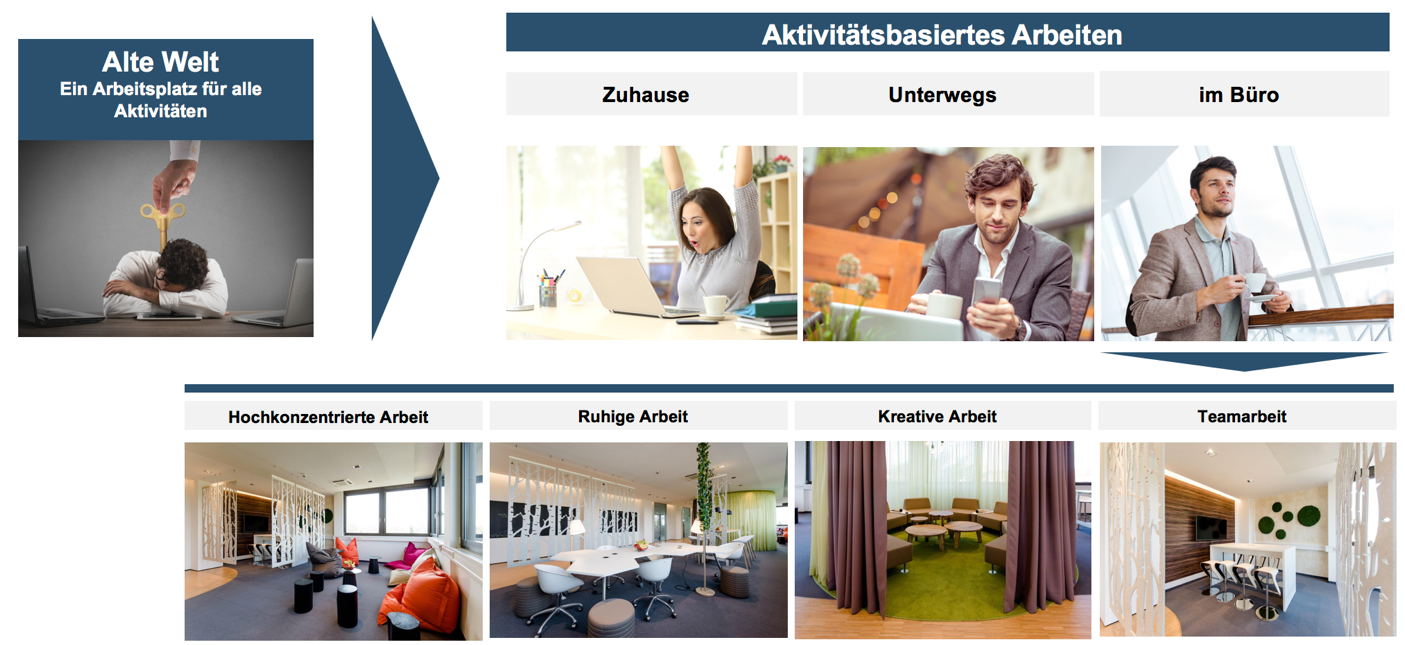 Agile Teams
Furthermore, these new working models should not run under traditional methods, but agile teams should self-organize, arrange holidays with each other and even hire employees together in some companies. It remains exciting how this trend develops. Already in agile scrum teams (mostly in IT) the first effects of this finding are apparent.
Reading tip: What is agile?
Conclusion
Within the roundtable, it became clear that the goal of the projects around Work 4.0 is increased agility and volunteering. Work 4.0 is to be digitally supported, guided and more dynamic and short-cycle than current work. Work should also become more time- and location-flexible.
Overall, the Roundtalbe showed that the need for novel concepts and models with which companies meet the design of Work 4.0 has been there for some time. But it is only today that the framework conditions and the degree of digitization have been created to actually implement these changes. Previously, the new office complexes were not yet planned and on the other hand mobile technology (laptops and smartphones) and secure access essays as well as valid operating agreements for mobile work as well as home office were missing. So it remains exciting!
Genderhinweis: Ich habe zur leichteren Lesbarkeit die männliche Form verwendet. Sofern keine explizite Unterscheidung getroffen wird, sind daher stets sowohl Frauen, Diverse als auch Männer sowie Menschen jeder Herkunft und Nation gemeint.
Lesen Sie mehr dazu.
Falls es noch Fragen gibt, können Sie mich gerne anrufen. Hierzu einfach im Buchungssystem nach einen freien Termin schauen. Ich nehme mir jeden Monat einige Stunden Zeit um mit Lesern zu interagieren.
Helfen Sie meinem Blog, vernetzen Sie sich oder arbeiten Sie mit mir
Sie haben eigene, interessante Gedanken rund um die Themenwelt des Blogs und möchten diese in einem Gastartikel auf meinem Blog teilen? – Aber gerne! Sie können dadurch Kunden und Fachkräfte ansprechen.



Ich suche aktuell außerdem Werbepartner für Bannerwerbung für meinen Blog. Sollte es für Sie spannend sein Fachkräfte oder Kunden auf Ihre Seite zu leiten, dann bekommen Sie mehr Informationen hier.
Vernetzen Sie sich in jedem Fall auf
Xing
oder
LinkedIn
oder kontaktieren Sie mich direkt für einen Austausch, wenn Sie gleich mit mir ins Gespräch kommen wollen. Werfen Sie auch einen Blick in meine
Buchvorschläge zur Digitalisierung
, vielleicht wollen Sie mir auch ein Buch empfehlen?
Ich arbeite gerne mit Unternehmen zusammen. Sie können mich ebenfalls gerne bezüglich folgender Punkte anfragen: