"In order to survive and compete, every company must become a digital company. Technology is now the defining factor of differentiation – in retail, finance, manufacturing, public administration, and even the pharmaceutical industry. Every company needs to become digital. This is the only way to make it better and more innovative. However, innovation means more than simply investing in new technologies." Salesforce in a news article. So digital companies seem to be becoming "dangerous" to traditional companies and radically changing customer behavior. But what is such a digital company and how can this be established? For example, is a company with its own app already a digital company?
Look up?
The magazine T3N already considered in 2015 whether the ideas of digital companies can also be applied to the hairdresser next door or the bakery around the corner. We are certainly not realising any noticeable effects at the moment. What we perceive, however, are requests for change in traditional companies. A change in work, business models, leadership and structure seems to be imminent or has already begun. But how does the transformation to a digital company succeed? Further approaches can be found in an article on digital change.
Goal, Digital Strategy & Business Model
For example, Petry (2016) already notes that, like all other changes in companies, digital transformation needs a strategy. He uses the words: digital strategy, digital vision and digital goals. He may be right, because without a direction and a broadly coordinated approach, changes in companies are often difficult. In the following figure, he has divided digital strategies into different categories. So it fundamentally distinguishes two types of digital companies: digitization to better meet customer needs and digitalization to improve the organization. According to Petry (2016), if both are to be pursued, a completely new business model is necessary. If only superficially digitized, e.g. with the introduction of a wiki, which nobody uses properly, then according to Petry no digitization takes place, but it remains business as usual. Read more in my article on digital strategy.
Organisation and control in the digital age
To implement such a strategy, Petry (2016) recommends the "Structure follows Strategy" approach. This means that, as a result of the digitisation measures, changes in the structure must also follow. This raises the question of digital roles and structures in companies. But how do they fundamentally differ from other models such as scrums or frameworks such as holacracy? Petry gives some examples.
Digital committees
The task of such committees is to take decisions and to initiate issues. Such a committee therefore has a specific issue, such as the digital car, and drives it forward together and decides on the way forward on this issue.
Steering Committee (Volvo)
Innovation Committee (Thomas Cook)
Digital Advisory Board (General Electric)
Digital rolls
The aim of the digital roles is to advance topics. Unlike the committee, they do not usually make decisions, but are drivers of the issue. Certainly this varies from company to company and I give only two small examples here, but the idea behind the roles should be clear.
Chief digital Officer (Starbucks)
Digital Champion (Nestle)
Digital units
Digital units are responsible for the implementation of digital projects. This includes the digital factories or the digital labs,which I explained in another article. Recently, more and more such units are forming and seem to be the most popular approach in Germany.
Digital Unit (EON)
Center of digital expertise (Telecom)
Start Ups (Axel Springer)
Digital Projects & DIGITAL COMMUNITiES
A small execution of these digital units are digital projects, which in my opinion are not very different from normal projects. They are just pursuing a digital theme. The digital communities serve to network, generate ideas and "contribute" to the organization.
Summary: digital companies
In summary, it shows that companies are changing digitally or are in the process of doing so. Initial structural approaches were explained in this article. Of course, there are many other examples, but I think that would go beyond the scope of the article. In any case, there is a first orientation on how this change is taking place structurally in companies. What is clear, however, is that it is no longer possible without a little digitalisation. That's why I want to conclude with a comparison of steaming and CD's that shows the advantages of analog music compared to digital. What do you think? What approach do you think is more successful in the modern world?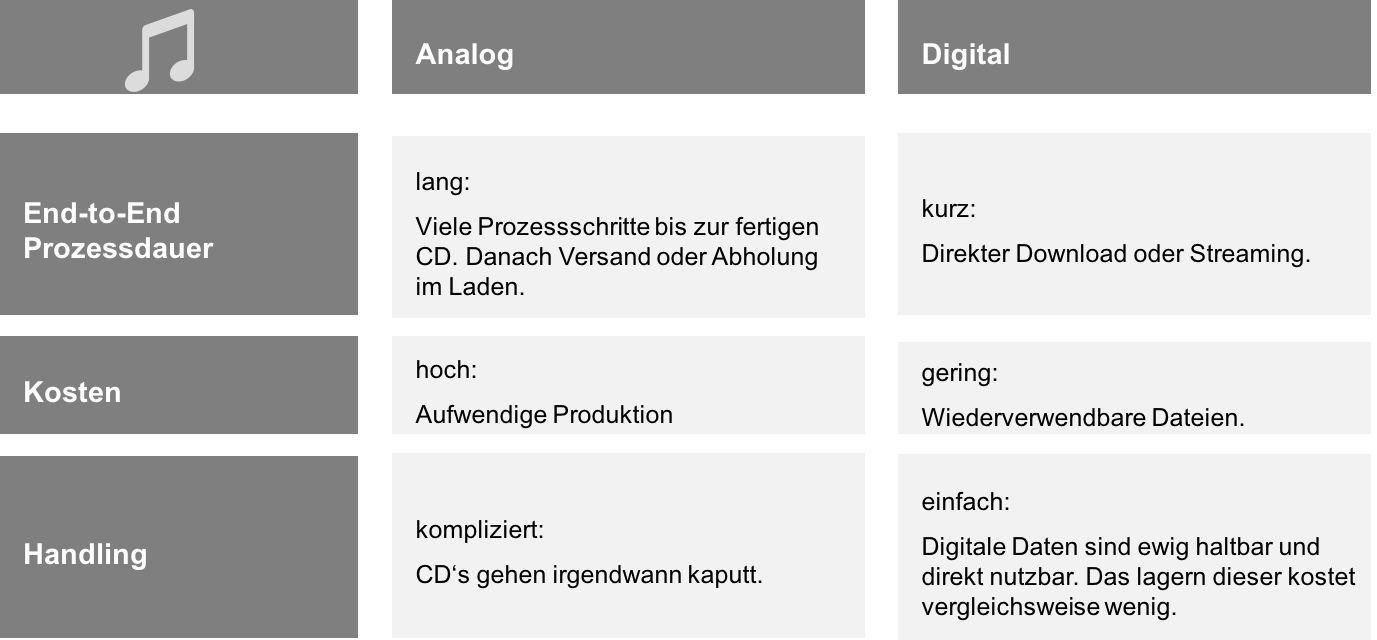 Genderhinweis: Ich habe zur leichteren Lesbarkeit die männliche Form verwendet. Sofern keine explizite Unterscheidung getroffen wird, sind daher stets sowohl Frauen, Diverse als auch Männer sowie Menschen jeder Herkunft und Nation gemeint.
Lesen Sie mehr dazu.
Falls es noch Fragen gibt, können Sie mich gerne anrufen. Hierzu einfach im Buchungssystem nach einen freien Termin schauen. Ich nehme mir jeden Monat einige Stunden Zeit um mit Lesern zu interagieren.
Helfen Sie meinem Blog, vernetzen Sie sich oder arbeiten Sie mit mir
Sie haben eigene, interessante Gedanken rund um die Themenwelt des Blogs und möchten diese in einem Gastartikel auf meinem Blog teilen? – Aber gerne! Sie können dadurch Kunden und Fachkräfte ansprechen.



Ich suche aktuell außerdem Werbepartner für Bannerwerbung für meinen Blog. Sollte es für Sie spannend sein Fachkräfte oder Kunden auf Ihre Seite zu leiten, dann bekommen Sie mehr Informationen hier.
Vernetzen Sie sich in jedem Fall auf
Xing
oder
LinkedIn
oder kontaktieren Sie mich direkt für einen Austausch, wenn Sie gleich mit mir ins Gespräch kommen wollen. Werfen Sie auch einen Blick in meine
Buchvorschläge zur Digitalisierung
, vielleicht wollen Sie mir auch ein Buch empfehlen?
Ich arbeite gerne mit Unternehmen zusammen. Sie können mich ebenfalls gerne bezüglich folgender Punkte anfragen:
Verwendete Quellen anzeigen