Building a meaningful IT infrastructure for virtual collaboration is particularly important in times of COVID-19. But this is not easy in practice: old IT infrastructure has to be replaced and replaced by new ones and processes efficiently mapped digitally. In this article I want to show how I built an IT infrastructure in 4 phases.
First of all, a limitation: I do not discuss the change process of the employees in this article. Especially in IT, it is important to pick people up and create an acceptance for IT. In this article, however, I would like to focus on the pure structure of IT. There are two articles on the topic of people and change management:
New Work Nucleus
For a better overview, use the Gartner Digital Workplace Nucleus as the basis. Gartner says the following components are fundamental to a digital workplace:
Task Management:It's all about scheduling and managing tasks. It is roughly about project management function, which can be woven with communication channels.
Content Collaboration:Employees often need to be able to access and share documents immediately. Today's best tools enable integration with file and document management tools. This allows you to embed these materials directly in discussions and store them in a central location for easy look-up.
Meeting Solutions: The days of long face-to-face meetings are over. Meetings and briefings take place via voice, video, and screen sharing. These meetings can be tied to specific task-based channels.
Email, chat and calendarr: I don't think much needs to be said about it. Communication and scheduling are and remain the be-all and end-all before and after COVID-19.
Phase 1: Select software
The first thing to do is to select sensible software. To do this, I selected three tools per category and tested them as free trials with the employees. It was important to me: which tool we can use best and fastest. For this purpose, it is necessary to test and also to look at 2-3 months in a meaningful way: Which tool the employees accept most quickly and the tool corresponds roughly to the processes of the company. After 2-3 months, reduce the number per category to 1 tools.
Phase 2: Software finetuning
Now you have set yourself to 1 tools each. For example, I have Zoom for Video Conferencing, ownCloud for Content, Jira for Task Management, and OX with Rocketchat for Mail and Chat. Now it is important to configure the tools cleanly. In concrete terms, this means setting the correct settings in the respective options and installing the systems in a stable manner, setting up accesses and setting up the respective workflows in the tools. New software is often not nice and only after some time of setup really efficient and makes employees fun. This took another 3 months.
Phase 3: Linking Software
Now it is important to get a link beyond the tools in order to increase the efficiency of the employees even more. For this purpose, own interfaces are automatically programmed or plugins are installed. For example, Rocketchat can be integrated with Jira. For example, a new task will write a message directly to the chat or how about it: You make an appointment in the calendar with OX and a zoom link is inserted directly into it. Such links are the real efficiency. This often takes another 6 months and requires internal resources or external service providers.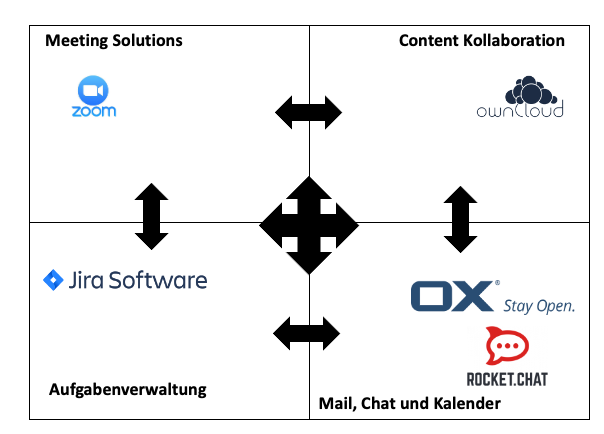 Phase 4: Retrospectives and Tuning
Now the digital workplace is not finished and it is now necessary to evaluate the tools and interfaces regularly with the employees. They are now working step by step on the new infrastructure every month and making it better by the day. Ask your employees and listen actively! This is a managerial role.
Reading tip: Why executives become admins
Conclusion
Building a clean infrastructure takes some time and involves a lot of trying. With this structured process, a meaningful IT infrastructure for the digital workplace can be built up for months in times of COVID-19. It starts with trying out many tools, including setting up each tool for itself, with the subsequent link to permanent improvement. Try it!
Image source: https://pixabay.com/de/photos/laptop-im-büro-schreibtisch-1967479/
Genderhinweis: Ich habe zur leichteren Lesbarkeit die männliche Form verwendet. Sofern keine explizite Unterscheidung getroffen wird, sind daher stets sowohl Frauen, Diverse als auch Männer sowie Menschen jeder Herkunft und Nation gemeint.
Lesen Sie mehr dazu.
Falls es noch Fragen gibt, können Sie mich gerne anrufen. Hierzu einfach im Buchungssystem nach einen freien Termin schauen. Ich nehme mir jeden Monat einige Stunden Zeit um mit Lesern zu interagieren.
Helfen Sie meinem Blog, vernetzen Sie sich oder arbeiten Sie mit mir
Sie haben eigene, interessante Gedanken rund um die Themenwelt des Blogs und möchten diese in einem Gastartikel auf meinem Blog teilen? – Aber gerne! Sie können dadurch Kunden und Fachkräfte ansprechen.



Ich suche aktuell außerdem Werbepartner für Bannerwerbung für meinen Blog. Sollte es für Sie spannend sein Fachkräfte oder Kunden auf Ihre Seite zu leiten, dann bekommen Sie mehr Informationen hier.
Vernetzen Sie sich in jedem Fall auf
Xing
oder
LinkedIn
oder kontaktieren Sie mich direkt für einen Austausch, wenn Sie gleich mit mir ins Gespräch kommen wollen. Werfen Sie auch einen Blick in meine
Buchvorschläge zur Digitalisierung
, vielleicht wollen Sie mir auch ein Buch empfehlen?
Ich arbeite gerne mit Unternehmen zusammen. Sie können mich ebenfalls gerne bezüglich folgender Punkte anfragen: