What does the employee need and what does the situation require? If you want to achieve goals, you have to be able to control people flexibly, says Computerwoche. Because not only the employees are very different, but also the tasks that have to be mastered in the company's everyday life. Accordingly, the behaviour of managers must be flexible when running their areas and employees, the magazine continues.
The more flexible the boss, the better the employees
This is the title of an article in the worldthat says that the more flexible they are in their daily business, the more successful managers are. Sometimes it's time to praise employees, to rebuke them. Sometimes active support is the right thing to do, sometimes the manager has to consciously withdraw.
Furthermore, the magazine says: In everyday business life, leadership is often reduced to giving instructions and giving feedback. The targeted development of the employees is left behind. And with that begins a vicious cycle. Because if managers do not always promote their employees, they cannot transfer more and more complex tasks to them over time.
Situational leadership = digital or agile employee leadership?
This situational or agile employee management has 4 styles, between which the manager has to "jump" permanently. It therefore depends on the degree of maturity of the employee. There are 4 levels (source: The World):
Level 1: When confronted with a new task, the employee is neither able nor willing to solve it (for example, because he or she still lacks the necessary skills).
Stage 2: The employee is ready to tackle the new challenge, but he lacks the necessary competence to do so.
Level 3: The employee has the necessary skills for the new task, but he lacks the necessary motivation – for example, because he is still unsure.
Level 4: The employee has (for example, because he has mastered similar challenges more often) the skills to solve the task independently and is also ready to do so.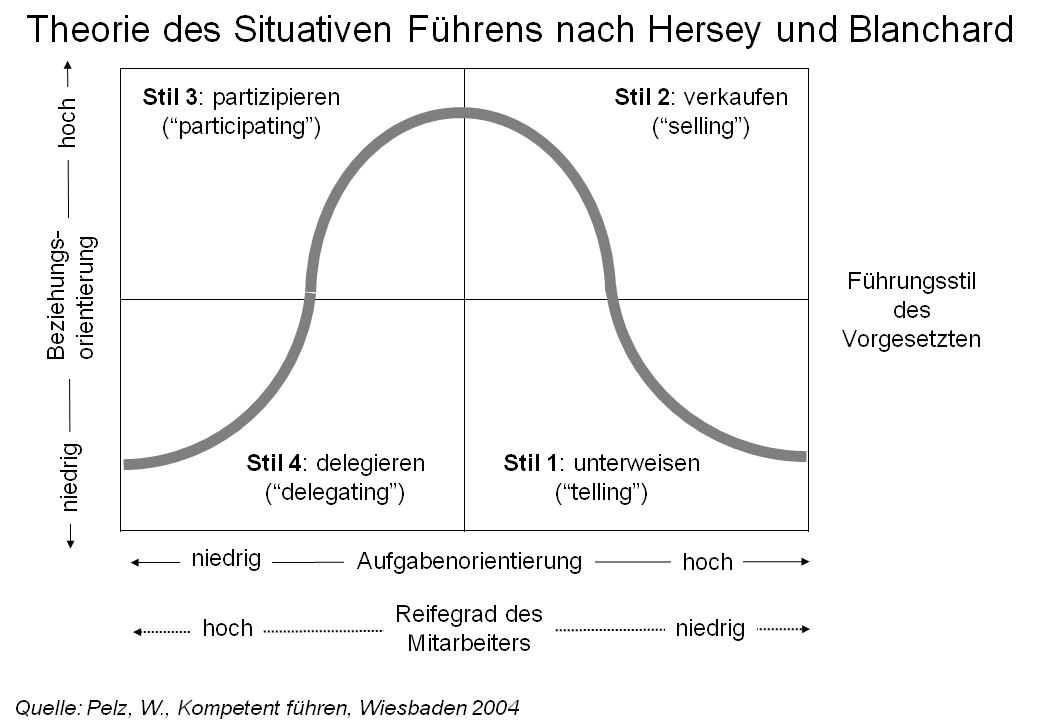 A leader should therefore choose a different management method, depending on the degree of maturity of the employee. This means gradually deviating from The Command & Control and convincing the employee. If you look at Wikipedia, the 4 styles are described as follows:
Leadership style 1: With a low maturity of the employees, a high task orientation and at the same time low relationship orientation is recommended. In other words, the supervisor should teach ("telling").
Leadership style 2: If the employee has developed further (low to moderate maturity), it is recommended that the manager simultaneously applies a highly employee-related and task-related management style. It is important to convince the employees ("selling").
Leadership style 3: With moderate to high maturity of his employees, the manager should be highly employee-related and at the same time less task-related and involve them in the objective or in decisions ("participating").
Leadership style 4: Very "mature" employees do not need a special attention from the manager, nor do they need to be given detailed instructions regarding their tasks and behaviour. In this case, responsibility should be delegated ("delegating").
Is this digital or agile employee management?
After this model has been explained in detail, the question arises again and again: Is this agile and does this make us fit for the future in the digital transformation? The first can certainly be answered with a yes, since a framework has now also been created for the manager. There are 4 styles in which a leader can move. It is not possible to say exactly whether it will make us fit for the future, but it shows that flexible management also makes employees more flexible. So it certainly cannot be counterproductive.
Over the next few months, I will publish a few follow-up articles with concrete examples of how such leadership can be shaped. I also explain Leadership 4.0 and the concept of digital leadership. Also, check again and again in the category "Digital Leadership" if new articles are available.
Genderhinweis: Ich habe zur leichteren Lesbarkeit die männliche Form verwendet. Sofern keine explizite Unterscheidung getroffen wird, sind daher stets sowohl Frauen, Diverse als auch Männer sowie Menschen jeder Herkunft und Nation gemeint.
Lesen Sie mehr dazu.
Falls es noch Fragen gibt, können Sie mich gerne anrufen. Hierzu einfach im Buchungssystem nach einen freien Termin schauen. Ich nehme mir jeden Monat einige Stunden Zeit um mit Lesern zu interagieren.
Helfen Sie meinem Blog, vernetzen Sie sich oder arbeiten Sie mit mir
Sie haben eigene, interessante Gedanken rund um die Themenwelt des Blogs und möchten diese in einem Gastartikel auf meinem Blog teilen? – Aber gerne! Sie können dadurch Kunden und Fachkräfte ansprechen.



Ich suche aktuell außerdem Werbepartner für Bannerwerbung für meinen Blog. Sollte es für Sie spannend sein Fachkräfte oder Kunden auf Ihre Seite zu leiten, dann bekommen Sie mehr Informationen hier.
Vernetzen Sie sich in jedem Fall auf
Xing
oder
LinkedIn
oder kontaktieren Sie mich direkt für einen Austausch, wenn Sie gleich mit mir ins Gespräch kommen wollen. Werfen Sie auch einen Blick in meine
Buchvorschläge zur Digitalisierung
, vielleicht wollen Sie mir auch ein Buch empfehlen?
Ich arbeite gerne mit Unternehmen zusammen. Sie können mich ebenfalls gerne bezüglich folgender Punkte anfragen:
Source: People photo created by freepik – de.freepik.com