You certainly know the saying: self-organization needs leadership – surely, as a professional or manager, you try to introduce it more and more in the company, but it really doesn't want to spark. The employees keep asking for a boss and it really doesn't work out. Unfortunately, situations like this one in the picture are not uncommon.
But why does it fail? Basically, based on my research, I can say that in every company a certain number of employees simply does not want to organise themselves. "Tell me what to do and I'll do it in the 9-5p period." Most of the time, these employees are very diligent and important for the company. In my experience, it even correlates with The Theory of Rogers in the picture.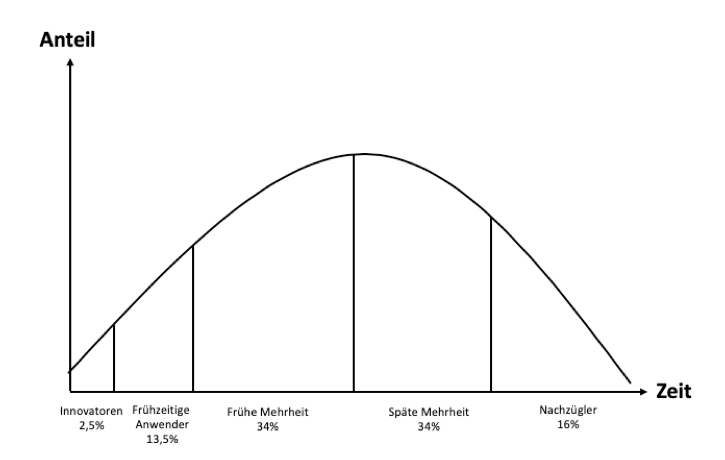 If you want to increase self-organization in the company, this is usually done by 2.5% of the employees on their own and often invest 13.5% with self-organization. This is often easy – now follow the first 34%, which you can often move with coaches or some pressure. Now comes the peak: It is usually worth taking the late majority in the company with you, because the coaching effort is too high for the benefit and often it is also ok when half of the company moves along, there are always enough areas that come to an end without self-organization.
Conclusion: Self-organization needs to be responsible!
Now to the conclusion and my tips how a high self-organization can still be achieved. Take a look at the following picture: Nobody really takes responsibility. What is wrong here?
What is a project leader without a sense of responsibility, a support worker who ignores emails, and a product owner who doesn't really "own" his product? Definitely not self-organized! So, as an executive, look at your employees taking their own work into their own hands and taking responsibility. The attitude is to turn "Isn't my company and the boss will judge it, deserve enough" into a positive attitude, because we are all a company and it is important to make the world a little bit together!
Image source: https://pixabay.com/de/photos/laptop-frau-bildung-studie-jung-3087585/
Genderhinweis: Ich habe zur leichteren Lesbarkeit die männliche Form verwendet. Sofern keine explizite Unterscheidung getroffen wird, sind daher stets sowohl Frauen, Diverse als auch Männer sowie Menschen jeder Herkunft und Nation gemeint.
Lesen Sie mehr dazu.
Falls es noch Fragen gibt, können Sie mich gerne anrufen. Hierzu einfach im Buchungssystem nach einen freien Termin schauen. Ich nehme mir jeden Monat einige Stunden Zeit um mit Lesern zu interagieren.
Helfen Sie meinem Blog, vernetzen Sie sich oder arbeiten Sie mit mir
Sie haben eigene, interessante Gedanken rund um die Themenwelt des Blogs und möchten diese in einem Gastartikel auf meinem Blog teilen? – Aber gerne! Sie können dadurch Kunden und Fachkräfte ansprechen.



Ich suche aktuell außerdem Werbepartner für Bannerwerbung für meinen Blog. Sollte es für Sie spannend sein Fachkräfte oder Kunden auf Ihre Seite zu leiten, dann bekommen Sie mehr Informationen hier.
Vernetzen Sie sich in jedem Fall auf
Xing
oder
LinkedIn
oder kontaktieren Sie mich direkt für einen Austausch, wenn Sie gleich mit mir ins Gespräch kommen wollen. Werfen Sie auch einen Blick in meine
Buchvorschläge zur Digitalisierung
, vielleicht wollen Sie mir auch ein Buch empfehlen?
Ich arbeite gerne mit Unternehmen zusammen. Sie können mich ebenfalls gerne bezüglich folgender Punkte anfragen: