The term Industry 4.0 is on everyone's mouth. For example, a survey by Telekomshows that among more than 500 executives, almost 70% know and follow the term. 22% (of 70%) meant to follow this intensively and 35% on the margins.
However, if one looks at the current situation in small and medium-sized enterprises, the study of the Nuremberg Chamber of Commerceshows that German companies are following Industry 4.0 but are still waiting for implementation. For example, more than 70% of the 350 SMEs surveyed described themselves as waiting or did not yet say they had implemented Industry 4.0 scenes. Only 13% said they are currently making their first attempts and 16.5% say they see themselves as pioneers. So it seems that the disadvantages of Industry 4.0 are deterring entrepreneurs. In addition to many positive ones, there are of course also disadvantages of Industry 4.0, which are to be addressed in this article.
Reading tip: What is Industry 4.0
Privacy
It is clear to us, of course, that data protection is arguably the biggest issue in Industry 4.0. It clearly lists the disadvantages of Industry 4.0 in many studies. Since networked machines are supposed to produce a large amount of data and send it across the world, they must logically also be adequately protected.
On the one hand, there is a risk of misuse of this data and, on the other hand, a company could incur high and hardly calculable costs for the encryption and securing of this data. The question may also be: is this safe now? never be answered.
Lack of acceptance
You know this: What's the point of the best tool if no one uses it? On the one hand, we mention customers who do not want to use the great tools and dashboards, and on the other hand, suppliers who do not offer suitable interfaces and the expensive infrastructure becomes useless, so to speak. This can be a danger that every manager should be aware of. An acceptance check should therefore be carried out as a matter of urgency.
High costs
And how much does it cost me now? Service providers around Industry 4.0 will often hardly be able to answer this question. In addition to the tool costs, you can also receive consulting and introductory costs, which are hardly calculable. If you look at the studies, these are currently the biggest obstacles of Industry 4.0 for SMEs.
Hasty implementation and expectations
Another point is a hasty implementation. In addition to the human factor, production processes must also be radically changed and possible processes with suppliers and possibly even with customers must be changed. These are important points in Industry 4.0. However, this point seems to be less weighted, as small and medium-sized enterprises are already very much waiting for Industry 4.0.
However, I think that there is certainly a lot of planning that Industry 4.0 really needs to implement and not just introduce a tool quickly. Nor should expectations be too high. It will not solve all the problems. This point is arguably the more significant one in the wait-and-see attitude or disappointment of some entrepreneurs.
Human factor
What would a factory be without people? Probably quite lonely and highly automated. Since the factory without people is still a vision of the future, managers have to pick up their employees and train them in the new possibilities and tools.
On the other hand, IT-savvy employees are also certainly needed, which will be difficult to find in view of the shortage of skilled workers. Often these have to be recruited and are therefore expensive. You can find out how to get some skilled workers in my article on the shortage of skilled workers.
Reading tip: Skills shortage in small and medium-sized enterprises!
Conclusion: Disadvantages of Industry 4.0
Industry 4.0 is on everyone's mouth and offers numerous risks. So it is logical why the German middle class is still waiting. In addition to data protection, high costs, excessive expectations, a lack of acceptance and the human factor, however, as always, not everything is only associated with risks.
Reading tip: Book tips for Industry 4.0
So not only are there disadvantages of Industry 4.0, but there are also numerous opportunities in Industry 4.0 that you should weigh with the risks. Therefore, read not only the advantages of Industry 4.0.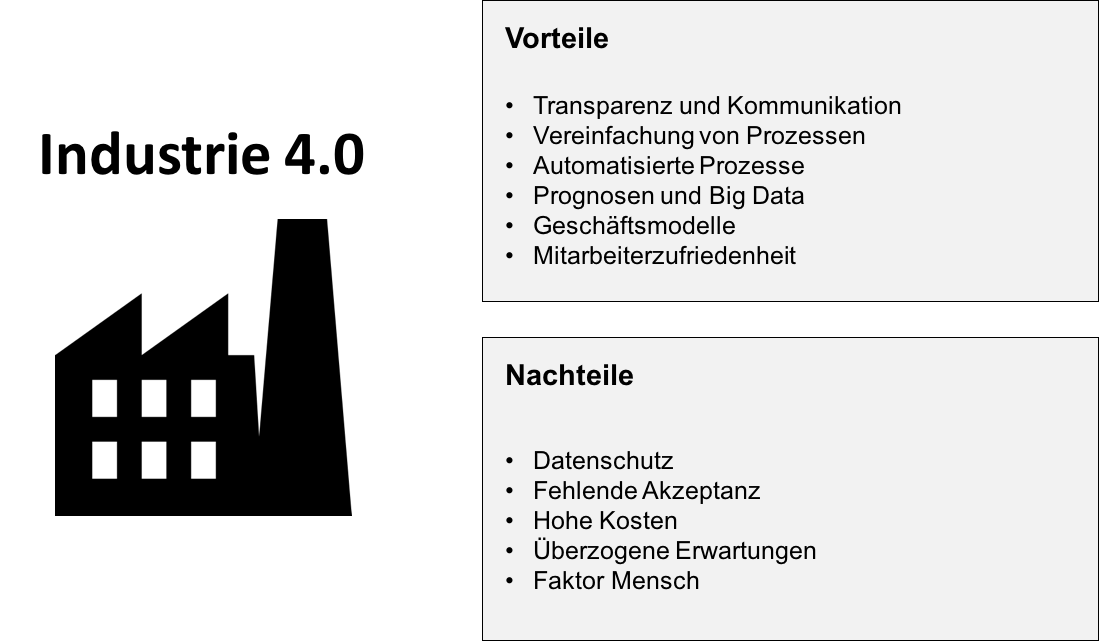 Gender note: I have used the male form for easier reading. If no explicit distinction is made, women, miscellaneous and men as well as people of any origin and nation are always meant.
Read more.
If there are still questions, you are welcome to call me. Just look in the booking system for a free appointment. I take a few hours every month to interact with readers.
Help my blog, network or work with me
You have your own interesting thoughts about the topics of the blog and would like to have them in a Share guest article on my blog? - But with pleasure! This way you can address customers and professionals.



I am also currently looking for advertising partners for banner ads for my blog. If it should be exciting for you to lead specialists or customers to your site, then you get more information here.
In any case, please connect on
Xing
or
LinkedIn
with me or contact me directly for an exchange if you want to talk to me. Please also take a look at my
book suggestions for digitization
, maybe you want to recommend a book to me?
I like working with companies. You can also ask me about the following points:
Verwendete Quellen anzeigen