"Cloud computing includes technologies and business models to dynamically provide IT resources and bill their use using them using flexible payment models. Instead of operating IT resources, such as servers or applications, in company-owned data centers, they are available on demand and flexibly in the form of a service-based business model over the Internet or an intranet." (Source Gabler Lexicon).
Cloud computing seems to offer endless possibilities as a trend term, but it also offers numerous risks and disadvantages, which are to be addressed in this article. In the end, I will also show a further article on the opportunities of cloud computing.
Work speed depends on the Internet
Of course, if you work in the cloud, you're working online. Working online inevitably means that you need a fast Internet connection. Even though our government is negotiating broadband expansion, many rural areas do not yet have suitable infrastructure for the cloud, and even during the train journey, many notice that sometimes it is not even possible to make a continuous telephone call.
Privacy
Another point, of course, is data protection. Since there are no uniform standards for the cloud, it cannot be assumed that it is completely secure. Hackers can read, manipulate, or otherwise use sensitive data to harm businesses. It is therefore necessary to evaluate precisely whether the provider can offer sufficient security. This point is also discussed in all sources as one of the biggest drawbacks of cloud computing.
Dependence on the cloud provider
You need to find a suitable IT service provider for your cloud. The cloud thus has another disadvantage: dependence on a service provider. The portal AstMasterssays: "When renting services of all kinds, there is basically a dependency. Once you have rented the services and the provider will eventually raise prices, moving to a new provider will cost a lot of time and money: there are no uniform standards for cloud computing, and your own IT is set up to the standards of the now more expensive provider."
Loss of knowledge
Another disadvantage of dependence is the loss of knowledge. Because if you don't do something yourself, you don't learn anything from it. Surely you know the saying that you don't learn to drive as a passenger. As the portal AStMasterssays: "They do not need IT knowledge in their own company. If the provider's services fail, you either have no or not enough staff to compensate for this. If you already have your own IT department, your employees may not be very motivated to accompany the transition, where implementation problems can occur."
Conclusion
It turns out that behind Cloud, in addition to the big topic of data protection, there are of course also a lot of other risks. A special point is the loss of knowledge and loss of control due to dependence on the cloud provider. This should therefore be given special consideration in the selection process and measures should be taken proactively against it. One possible solution may be the careful selection of a suitable cloud provider.
Tip: Book suggestions on cloud computing
Of course, as always, not everything is bad and cloud computing also brings many advantages. There will soon be a follow-up article, which will be linked here in the blog. In the illustration, you'll see a preview of the benefits and a summary of the drawbacks of cloud computing.
Tip: Benefits of Cloud Computing (from 29.01.2018)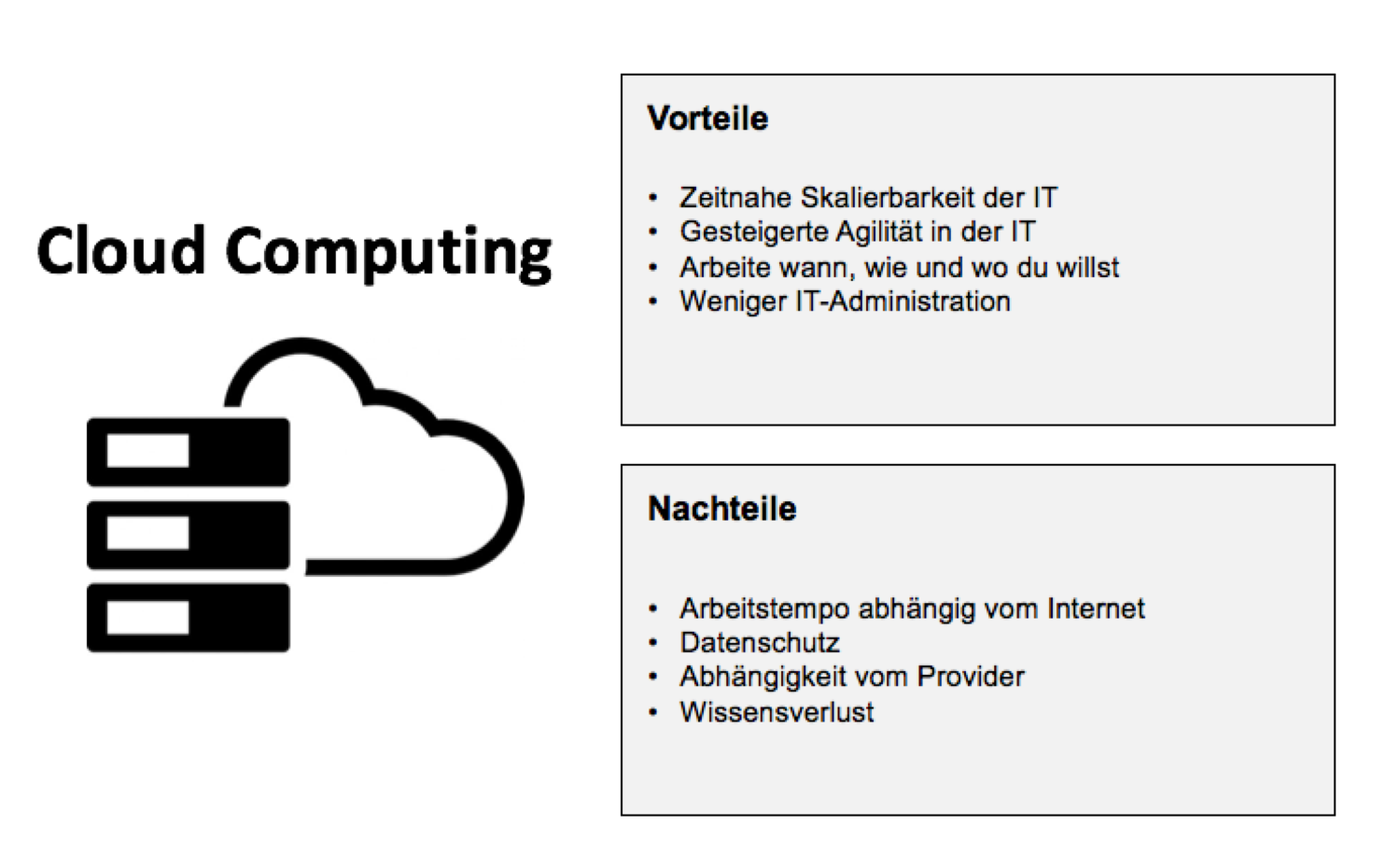 Genderhinweis: Ich habe zur leichteren Lesbarkeit die männliche Form verwendet. Sofern keine explizite Unterscheidung getroffen wird, sind daher stets sowohl Frauen, Diverse als auch Männer sowie Menschen jeder Herkunft und Nation gemeint.
Lesen Sie mehr dazu.
Falls es noch Fragen gibt, können Sie mich gerne anrufen. Hierzu einfach im Buchungssystem nach einen freien Termin schauen. Ich nehme mir jeden Monat einige Stunden Zeit um mit Lesern zu interagieren.
Helfen Sie meinem Blog, vernetzen Sie sich oder arbeiten Sie mit mir
Sie haben eigene, interessante Gedanken rund um die Themenwelt des Blogs und möchten diese in einem Gastartikel auf meinem Blog teilen? – Aber gerne! Sie können dadurch Kunden und Fachkräfte ansprechen.



Ich suche aktuell außerdem Werbepartner für Bannerwerbung für meinen Blog. Sollte es für Sie spannend sein Fachkräfte oder Kunden auf Ihre Seite zu leiten, dann bekommen Sie mehr Informationen hier.
Vernetzen Sie sich in jedem Fall auf
Xing
oder
LinkedIn
oder kontaktieren Sie mich direkt für einen Austausch, wenn Sie gleich mit mir ins Gespräch kommen wollen. Werfen Sie auch einen Blick in meine
Buchvorschläge zur Digitalisierung
, vielleicht wollen Sie mir auch ein Buch empfehlen?
Ich arbeite gerne mit Unternehmen zusammen. Sie können mich ebenfalls gerne bezüglich folgender Punkte anfragen:
Verwendete Quellen anzeigen