"It's a trend that is gaining more and more followers, both in the private and business sectors: outsourcing IT services such as data storage, computing power or application software, so you don't have to work with your own hardware and software,"" he said. Articles on Heise. Cloud computing is: "Generally, the provision and use of IT infrastructure such as storage space, computing power or software over the Internet. The idea is to make these IT infrastructures available via a computer network, so that they do not have to be installed on local computers." (Heise).
Cloud computing is a hype topic, especially in small and medium-sized enterprises, and offers numerous opportunities and benefits. Already in my study on the digital workplace, all participants were interested in the topic of cloud. This article discusses the opportunities and benefits of cloud computing. In the end, you will also find a more advanced article on the risks of cloud computing.
Timely scalability of IT
With cloud computing, resources that are needed at the moment can be quickly posted. As an example, Scheible IT The Flickr platform: "Small businesses don't have to build infrastructure, they use the services of the cloud. And this allows them to post required resources as needed. For example, Flickr, the photo sharing platform, stores all the data in Amazon's cloud. This allowed developers to focus on programming the system, and Flickr was able to grow continuously without a storage capacity bottleneck." This is definitely one of the biggest benefits of cloud computing.
Increased agility in the IT organization
Of course, there is an increased agility in the organization of IT. This allows infrastructures to be customized and new software to be introduced more quickly. It can therefore even be a decisive competitive advantage. Short-term capacity bottlenecks can also be directly compensated without large investment costs.
Work when, where and how you want!
Furthermore, the vision of New Work: Work when, where and how you want can be implemented through mobile hardware and software. Work 4.0 allows to access the data and work indefinitely at any time from the home office, cafe or swimming pool. On the one hand, skilled workers can work together worldwide and the workplace can also be adapted more individually to the needs of the specialists. I see this as one of the greatest opportunities and benefits of cloud computing.
Less IT administration
Another advantage is the saving of personnel and administration, as the infrastructure is managed and maintained by the service provider. As already mentioned, an entrepreneur can concentrate on his core business. For example, a doctor's office should focus on healing patients rather than solving complex IT problems.
Conclusion: Scalability and Agility
The opportunities and benefits of cloud computing are numerous and I can certainly list only a few here. In addition to scalability, costs and personnel can be saved, agility increased and the attractiveness of skilled workers increased.
Reading Tip: Risks of Cloud Computing
Of course, as always, not everything is good and there are also numerous drawbacks of cloud computing. Therefore, read my other article on cloud computing to get to know the other side of the coin. This allows you to get a comprehensive picture of cloud computing.
Tip: Book suggestions on cloud computing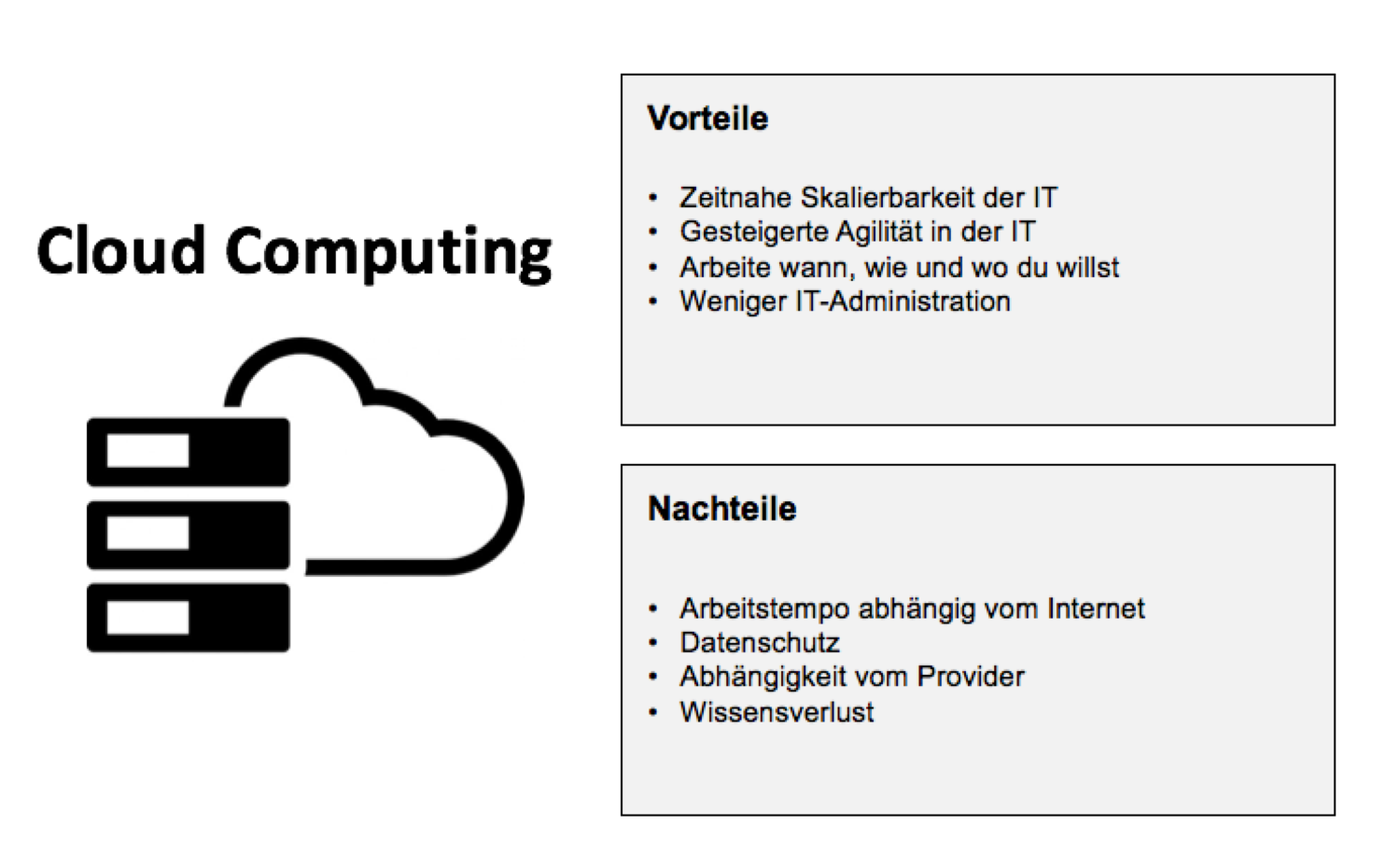 Genderhinweis: Ich habe zur leichteren Lesbarkeit die männliche Form verwendet. Sofern keine explizite Unterscheidung getroffen wird, sind daher stets sowohl Frauen, Diverse als auch Männer sowie Menschen jeder Herkunft und Nation gemeint.
Lesen Sie mehr dazu.
Falls es noch Fragen gibt, können Sie mich gerne anrufen. Hierzu einfach im Buchungssystem nach einen freien Termin schauen. Ich nehme mir jeden Monat einige Stunden Zeit um mit Lesern zu interagieren.
Helfen Sie meinem Blog, vernetzen Sie sich oder arbeiten Sie mit mir
Sie haben eigene, interessante Gedanken rund um die Themenwelt des Blogs und möchten diese in einem Gastartikel auf meinem Blog teilen? – Aber gerne! Sie können dadurch Kunden und Fachkräfte ansprechen.



Ich suche aktuell außerdem Werbepartner für Bannerwerbung für meinen Blog. Sollte es für Sie spannend sein Fachkräfte oder Kunden auf Ihre Seite zu leiten, dann bekommen Sie mehr Informationen hier.
Vernetzen Sie sich in jedem Fall auf
Xing
oder
LinkedIn
oder kontaktieren Sie mich direkt für einen Austausch, wenn Sie gleich mit mir ins Gespräch kommen wollen. Werfen Sie auch einen Blick in meine
Buchvorschläge zur Digitalisierung
, vielleicht wollen Sie mir auch ein Buch empfehlen?
Ich arbeite gerne mit Unternehmen zusammen. Sie können mich ebenfalls gerne bezüglich folgender Punkte anfragen:
Verwendete Quellen anzeigen