Learning is like rowing against the tide. If you stop doing it, you drive back.

Laozi – Chinese philosopher
Learning is becoming increasingly important in companies. Especially in times of increasing digitalization, it is important to ensure one's own job security through lifelong learning and not to be left behind. A survey of more than 1,000 employees shows that 72 percent of those under 35 and 42 percent of those over 55 want to train more regularly. A large percentage would even train in leisure time and at weekends. This article deals with three possible types of training for enterprises.
Frontal lessons: predictable and homogeneous
We all know him very well from school: the frontal lessons. And also in the company you have certainly already attended one or the other seminar with this teaching format. The advantage is that you have regular times and predictability. Direct questions, networking – at least during breaks and little discipline – are also an advantage.
Disadvantages lie in the fatigue caused by listening as well as the high dependence of the teacher and the often missing interactive or individual needs.
E-learning: When, where and how I want!
The term e-learning refers to forms of learning in which electronic or digital media are used to support learning processes.
E-learning has many faces in practice. I know the format, for example, under short explanatory films for everyday life. Surely each of you has watched a cooking video, a tie tutorial or a do-it-yourself on Youtube. There are also virtual classrooms.
According to a survey of 200 companies, 61 percent are already using this new form of learning and only 23 are fundamentally excluded. The advantages lie in a location- and time-flexible learning, cost savings and individual courses with the same quality by the independent to the teacher. Disadvantages can be seen in the lack of questioning possibilities, much-needed self-discipline, isolation of participants and fatigue due to screen work.
Blended Learning: Simple, fast and structured
A fairly new species is blended learning, which unites both species. In addition to presence days, there are also virtual learning units. I have often experienced this in part-time studies. In this way, they combine both advantages of the learning types. The disadvantage is that this type is difficult for service providers to organize and therefore the concept is not so widespread yet but for me represents the future.
Learning in the context of Generation X,Y and Z
Every person and every generation learns differently. With regard to the three learning formats, I gave a lecture at an event at the Innovation Office for Professionals (DIHK). An artist (Jana Kreisl) drew the following picture at the event, which summarizes learning very well in the context of the generations.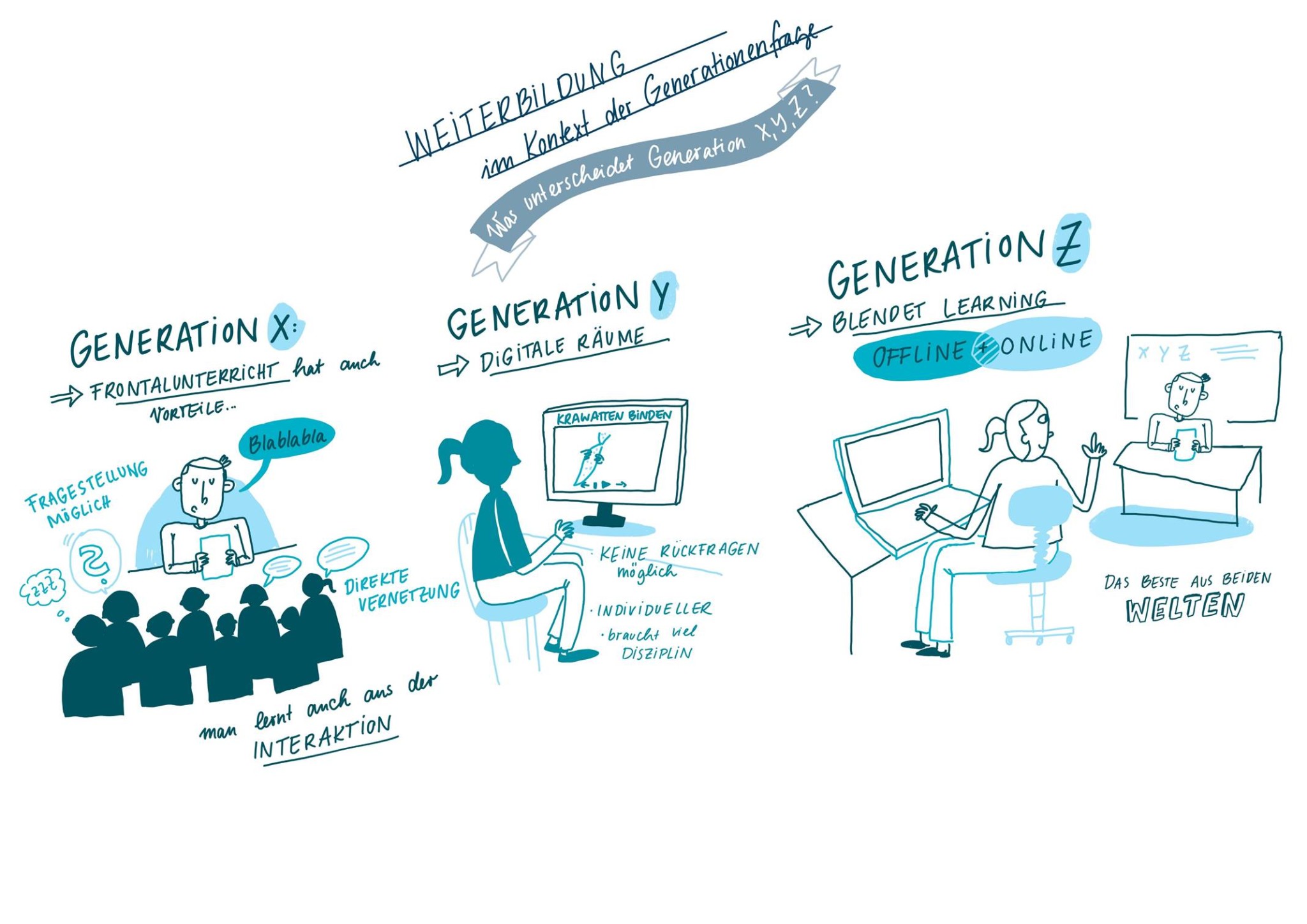 It shows that a Generation X has long relied on the tried and tested frontal teaching. Subsequently, e-learning was developed for Generation Y, which should enable learning at any time in any place. In the context of Generation Z, which wants the full range of possibilities, concepts of blended learning fit.
Conclusion
According to current statistics, more than 13 million jobs are at risk from digitalisation and further training is needed. Learning is therefore not only important, but decisive for the future. This article analyzed three types of learning. It's up to you how you want to learn. The only important thing is that you train regularly.
Image source: Pixabay
Genderhinweis: Ich habe zur leichteren Lesbarkeit die männliche Form verwendet. Sofern keine explizite Unterscheidung getroffen wird, sind daher stets sowohl Frauen, Diverse als auch Männer sowie Menschen jeder Herkunft und Nation gemeint.
Lesen Sie mehr dazu.
Falls es noch Fragen gibt, können Sie mich gerne anrufen. Hierzu einfach im Buchungssystem nach einen freien Termin schauen. Ich nehme mir jeden Monat einige Stunden Zeit um mit Lesern zu interagieren.
Helfen Sie meinem Blog, vernetzen Sie sich oder arbeiten Sie mit mir
Sie haben eigene, interessante Gedanken rund um die Themenwelt des Blogs und möchten diese in einem Gastartikel auf meinem Blog teilen? – Aber gerne! Sie können dadurch Kunden und Fachkräfte ansprechen.



Ich suche aktuell außerdem Werbepartner für Bannerwerbung für meinen Blog. Sollte es für Sie spannend sein Fachkräfte oder Kunden auf Ihre Seite zu leiten, dann bekommen Sie mehr Informationen hier.
Vernetzen Sie sich in jedem Fall auf
Xing
oder
LinkedIn
oder kontaktieren Sie mich direkt für einen Austausch, wenn Sie gleich mit mir ins Gespräch kommen wollen. Werfen Sie auch einen Blick in meine
Buchvorschläge zur Digitalisierung
, vielleicht wollen Sie mir auch ein Buch empfehlen?
Ich arbeite gerne mit Unternehmen zusammen. Sie können mich ebenfalls gerne bezüglich folgender Punkte anfragen: