Really good leadership has always been a challenge. This was the case even before the digital transformation. Digitalization adds new requirements: unconditional openness, maximum agility, meaningful networking and high participation. This is the leadership in the digital age: high dynamism and complexity. Under the hashtag Leadership 4.0 you will find concepts around the digital leader. But what is behind it and what does leadership mean in the digital age?
Leadership 4.0
How digital is the leadership? Leadership 4.0 investigates this new behavior of executives. There are currently numerous tips for leadership in digital change. For example, Haufe shows a mission statement for a digital executive:
Openness and trust – I trust my employees and am open. Openness refers both to the open handling of information, as well as to the openness to new things and the joy of experimentation.
Speed through digital networking – I use and demand digital media to enable speed, agility and flexibility in my organization. This includes connecting people with people (social networks), people with information (wikis, blogs) and information with information (links, tags).
Using the best knowledge – I make sure that the best possible level of knowledge is always applied in all activities. This can be done, for example, by flexible documentation of processes and tasks in wikis, the application of the Working Out Loud method, or by applying the Plan-Do-Check-Act approach.
Develop employees – I accompany my employees in their self-directed, lifelong learning. This can be done by sending them to training and learning events (formal learning), but also through informal learning opportunities such as Communities of Practice, Moocs, Barcamps, online videos and cetera. Of course, I also practice lifelong learning myself.
Organization as a community – I meet all employees offline and online – on an equal footing and never from above. Visions and goals are developed together and participatory. In this community, the best arguments and ideas count, not other factors such as age, gender, origin or position. Social networks help us to strengthen cohesion and a sense of community.
Transparency in responsibilities and tasks – I make sure that the responsibilities and tasks of all stakeholders are transparent. This can be done, for example, by mapping RACI matrices (Responsible, Accountable, Consulted, Informed) in wikis with decentralized maintenance. Instead of micro-management, I rely on the autonomy of the knowledge workers.
Leading Out Loud – I make my own work visible and continuously tell us about my leadership and learning process offline and online. In this way, I communicate information to the broad spectrum (from the principle "need to know" to "open by default"), receive valuable feedback and at the same time am a role model for the "Working Out Loud" of all employees.
High Tech and High Touch – I don't control the individual person, but take care of the design of the overall system. This includes physical infrastructure (offices, workplace of the future, coworking space, innovation lab, barcamps) as well as digital infrastructure (social intranets, social networks, Enterprise 2.0, wikis, blogs, podcasts, video portals).
Leadership in the digital age
Capgemini shows some skills for a digital leader. In addition to traditional leadership skills (leadership behaviour), new skills are added: on the one hand, digital skills, such as the use of digital tools for decision-making. On the other hand, digital behaviour, such as professional presence on digital platforms. As explained above, the personality and thus the attitude of a leader plays an immensely important role in the digital age. If a manager's attitude does not fit, it will not be successful in the long run. It will not be able to set a role model (or a negative one) and will not be able to motivate employees for change.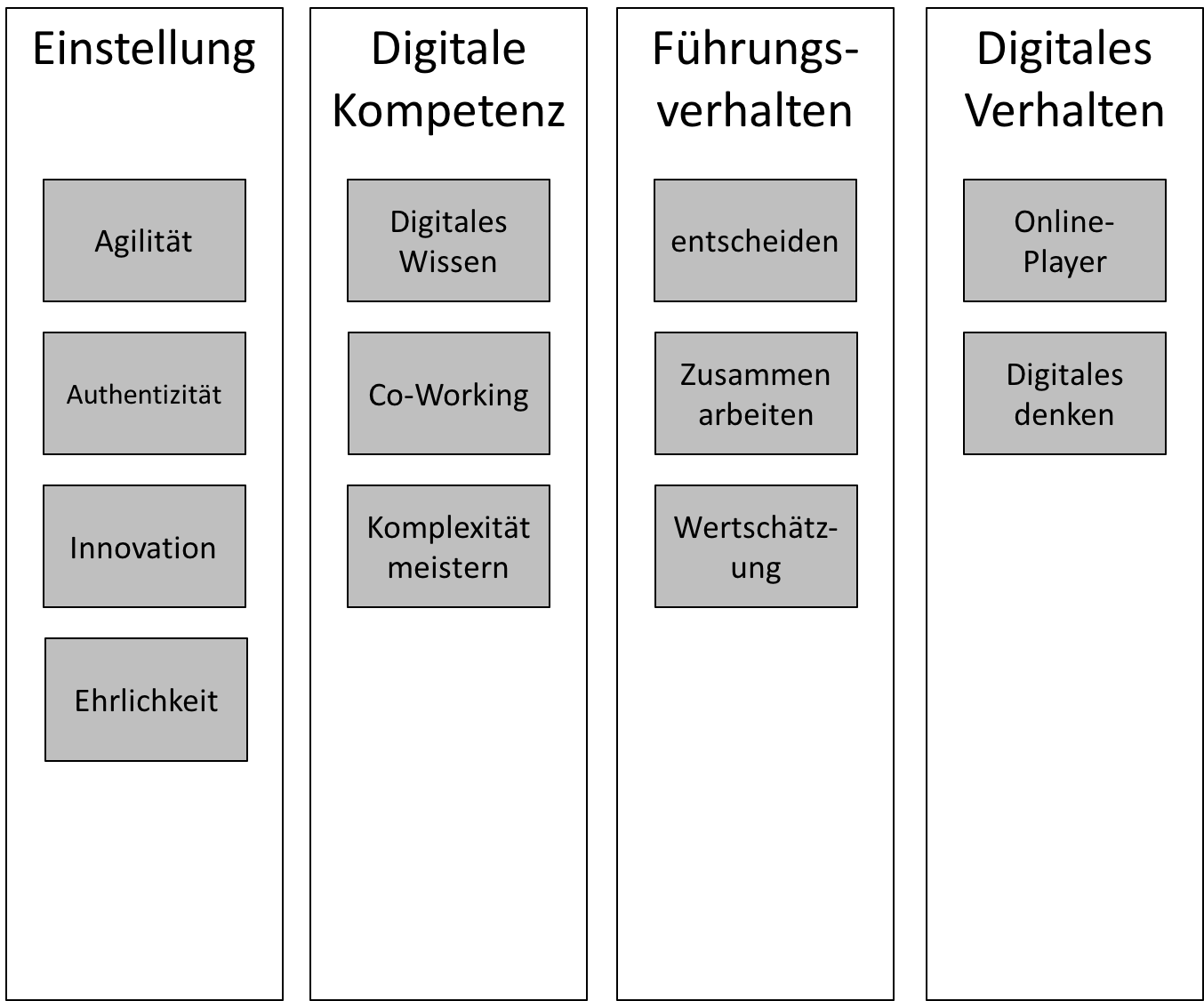 Conclusion
So it turns out that there is more to Leadership 4.0 than just a minor adjustment of leadership. In this article, only a few things I found on Google were touched upon. Especially in my article on leadership in technological change, it goes much deeper into what technology really makes of executives. If you look at Capgemini's study, at first glance, it's a pinch of agility with digital expertise. What I miss are issues such as the conflict of generations, leadership at a distance, situational leadership and also the role of the use of technology in leadership. Therefore, read my article on situational guidance.
Genderhinweis: Ich habe zur leichteren Lesbarkeit die männliche Form verwendet. Sofern keine explizite Unterscheidung getroffen wird, sind daher stets sowohl Frauen, Diverse als auch Männer sowie Menschen jeder Herkunft und Nation gemeint.
Lesen Sie mehr dazu.
Falls es noch Fragen gibt, können Sie mich gerne anrufen. Hierzu einfach im Buchungssystem nach einen freien Termin schauen. Ich nehme mir jeden Monat einige Stunden Zeit um mit Lesern zu interagieren.
Helfen Sie meinem Blog, vernetzen Sie sich oder arbeiten Sie mit mir
Sie haben eigene, interessante Gedanken rund um die Themenwelt des Blogs und möchten diese in einem Gastartikel auf meinem Blog teilen? – Aber gerne! Sie können dadurch Kunden und Fachkräfte ansprechen.



Ich suche aktuell außerdem Werbepartner für Bannerwerbung für meinen Blog. Sollte es für Sie spannend sein Fachkräfte oder Kunden auf Ihre Seite zu leiten, dann bekommen Sie mehr Informationen hier.
Vernetzen Sie sich in jedem Fall auf
Xing
oder
LinkedIn
oder kontaktieren Sie mich direkt für einen Austausch, wenn Sie gleich mit mir ins Gespräch kommen wollen. Werfen Sie auch einen Blick in meine
Buchvorschläge zur Digitalisierung
, vielleicht wollen Sie mir auch ein Buch empfehlen?
Ich arbeite gerne mit Unternehmen zusammen. Sie können mich ebenfalls gerne bezüglich folgender Punkte anfragen: