The acceleration of markets and the increasing complexity of possibilities and requirements demand managers in an unprecedented form: In order to keep up with the new developments, the leadership culture must change, according to the Innovation Evangelists. Among other things, it is the task of managers to present, promote and communicate values. According to the Evangelist Innovation, these must also promote four criteria in order to be attractive for young professionals: good team work, (perceived) sense of work, work-life balance and personal development. The following article will shed light on how executives could create such a balancing act.
Employee autonomy under the maintenance of control and control
A special component, which is required by managers, should be trust. That is true, because permanent control is demotivating. Nevertheless, a manager must also maintain constructive control in order for activities to take place in accordance with the company's objectives. This balancing act is one of the heaviest. For example, Köffer and Urbach (2016) have already studied this in detail in the context of IT and say about maintaining control:
In particular, IT compliance studies emphasize that organizations have and must maintain control over the use of technology in the workplace. For safety-critical industries, such control is indispensable anyway. Anyone who threatens formal sanctions for IT compliance violations must be able to detect them and sanction them accordingly. Employees who realize that a violation of policies has no negative consequences are likely to maintain their behavior.
On the other hand, however, they criticise too large a set of rules and find that it is no longer optimal in the context of digital change.
"One-size does not fit all". This sentence appears in the literature on the related fields of research in the digital knowledge workplace. It illustrates that that approaches that treat all knowledge workers equally are increasingly are insufficient. Many studies call instead for an individual design digital knowledge workplaces.
Guildelines for Leadership 4.0
So how does a leadership manage such a balancing act? I have included some tips in various articles and also included some in my roundtable. In the following I show them as key points:
Generational diversity and globalization make it important to have a greater understanding of diversity that leaders need to promote
Results count, not the process! This rethinking is required by executives
Networking of employees, even across departmental boundaries, is becoming increasingly important for a common understanding
In a modern management culture, opportunities and margins are created instead of targets being made
Leadership must guide one and give way to the creation of visions
Appreciation and the meaning of the individual employee becomes important
Even a manager should reflect on himself and constantly improve
Situational leadership 4.0
A modern, digital world of work (Work 4.0) is emerging, with virtual teams, new tools, digital offices and more agile ways of working. This requires more personal responsibility and greater media literacy from employees. Managers need to create an appropriate working environment and choose the right models – as a key prerequisite for the long-term success of their company, according to Innovation Evangelists.

One approach to Leadership 4.0 could be situational leadership. The aim of situational leadership is to recognize and exploit the potential of each individual employee. Based on the degree of maturity of the employee, a certain management style should be practiced so the portal anleiten.de If you want to know more about it, read my article on situational leadership. In total, however, there are three steps to choose one of the correct leadership methods:
Identify the maturity of the employee
Select guidance method
Test and improve leadership method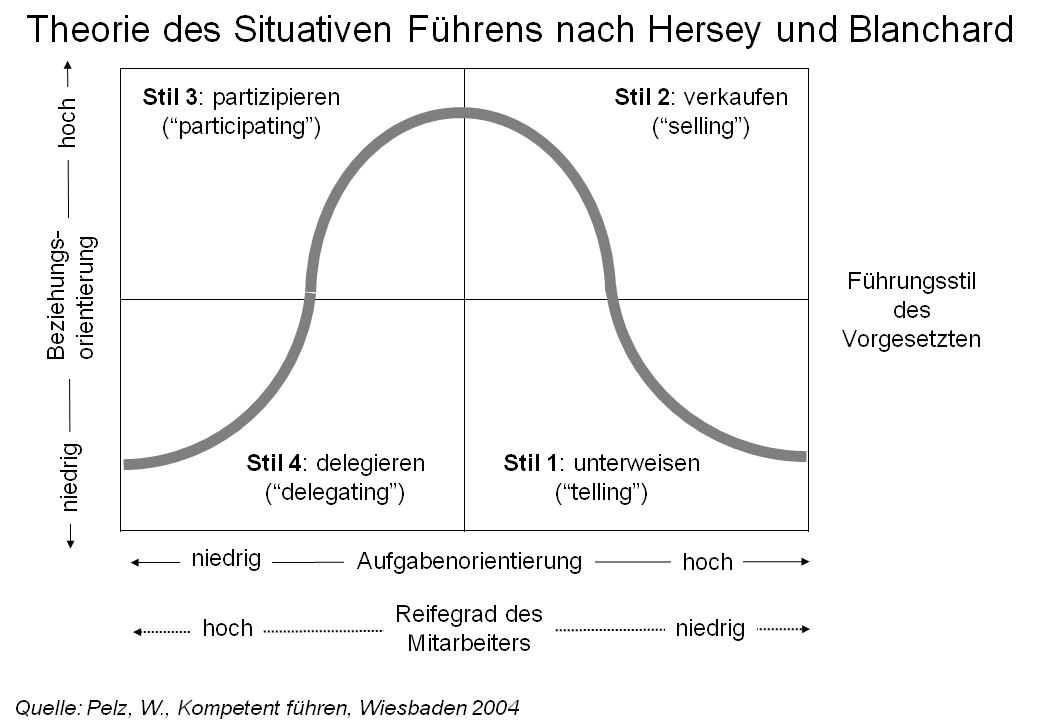 Five types of executives
In addition to this situational leadership, five types of executives can be classified, according to the study by Innovation Evangelists. I quoted the following paragraphs from the PDF in the link.
1. "Traditional safeguarding care" The traditional management culture gives its employees security and is aimed at the long-term stabilization of the company and the workplaces. Expertise and natural authority are the hallmarks of traditional leadership. Through her role model function, she gains the loyalty of her employees.
2. "Taxes by numbers" Maximizing profit and return is the goal of this leadership culture. Here, the executives should be able to organize the employees in such a way that the company generates the highest possible profits. Through a sophisticated strategy, goal management and number-based controlling, the company is to be brought forward in the competition for the largest profits. The overarching goal: Attractive returns for the owners of capital.
3. "Coaching cooperative teamwork" The transparency of knowledge and information, the reflection on the team and the use of the resulting synergy potentialwithin the company are the result of networked and flexible structures. A high degree of diversity brings different perspectives and perspectives into the development processes – but it also requires managers to be able to moderate conflicts and create room for manoeuvre.
4. "Stimulation of network dynamics" self-initiative and personal responsibility should be promoted through the networking of employees among themselves. Hierarchy resigns as an interaction mode between managers and employees. Instead, this leadership culture relies on cooperation, flexibility, and dynamism. This is also intended to take account of the complexity of the markets: this is where we have to react flexibly. This can only be achieved with flexible network structures in companies and corporate management.
5. "Solidarity stakeholder action" Solidarity and the balancing of different interests are lived in the value-oriented leadership culture. Employees are motivated by the usefulness of their task, appreciation, freedom in their daily work and the possibility of co-determination. The central goal of this leadership culture is to balance all stakeholder interests
Conclusion: Guided tour 4.0
Leadership 4.0 becomes more dynamic and complex. Here's what Manager Magazinesays: Depending on the team composition or work assignment of an employee, it is always necessary to decide again and again which manager is responsible for selection and supervision in the specific case. The disciplinary manager or the professional manager? Equally complex: Who is allowed to give instructions to which employee- or foreign – about the location, time and content of the activity?
Manager Magazine also continues to ask some exciting questions: Who monitors the employee in terms of content, quality and quantity of work? And if a computer has put together the team: Who is responsible for selection errors, should the employee cause damage and it is a matter of liability? This is the way forward: employees of a transnational single working group could be subject to different legal systems; Compensation differences in the team raise questions. From a legal point of view, there is not always a clear answer to these seemingly trivial questions alone.
All in all, it is clear that we still have many unanswered questions in the area of Leadership 4.0. What is clear, however, is that something will change and there are already initial approaches for executives. At the moment, it is important to simply try out these approaches and interpret them for themselves in small steps and to implement the working ones.
Genderhinweis: Ich habe zur leichteren Lesbarkeit die männliche Form verwendet. Sofern keine explizite Unterscheidung getroffen wird, sind daher stets sowohl Frauen, Diverse als auch Männer sowie Menschen jeder Herkunft und Nation gemeint.
Lesen Sie mehr dazu.
Falls es noch Fragen gibt, können Sie mich gerne anrufen. Hierzu einfach im Buchungssystem nach einen freien Termin schauen. Ich nehme mir jeden Monat einige Stunden Zeit um mit Lesern zu interagieren.
Helfen Sie meinem Blog, vernetzen Sie sich oder arbeiten Sie mit mir
Sie haben eigene, interessante Gedanken rund um die Themenwelt des Blogs und möchten diese in einem Gastartikel auf meinem Blog teilen? – Aber gerne! Sie können dadurch Kunden und Fachkräfte ansprechen.



Ich suche aktuell außerdem Werbepartner für Bannerwerbung für meinen Blog. Sollte es für Sie spannend sein Fachkräfte oder Kunden auf Ihre Seite zu leiten, dann bekommen Sie mehr Informationen hier.
Vernetzen Sie sich in jedem Fall auf
Xing
oder
LinkedIn
oder kontaktieren Sie mich direkt für einen Austausch, wenn Sie gleich mit mir ins Gespräch kommen wollen. Werfen Sie auch einen Blick in meine
Buchvorschläge zur Digitalisierung
, vielleicht wollen Sie mir auch ein Buch empfehlen?
Ich arbeite gerne mit Unternehmen zusammen. Sie können mich ebenfalls gerne bezüglich folgender Punkte anfragen:
Verwendete Quellen anzeigen
Köffer, S., & Urbach, N. (2016). The digitization of knowledge work – recommendations for action from business informatics research. HMD Practice of Business Informatics, 53(1), 5-15.