With the advent of digitalization, many new requirements arise for companies. One of them is the development of a suitable digital strategy. But what is the point? How important is the focus on such a digital strategy really? And above all: what about companies that place little value on this?
What is a digital strategy?
However, before going into more detail in this article on the subject and importance of a digital strategy for the individual areas of a company, I would first like to mention the definition of the term.
Many people often link the term "digital strategy" only to pure goals in the field of online marketing. This describes only a small part of this measure. Rather, the term is still about the development of a company into a holistic use of digital processes. In other words, the digital strategy describes the entire transformation of a company towards digitalization. This is why the synonym Digital Transformation is often used here.
The advantage of implementing a digital strategy is the possibility of an effective and trouble-free interaction between the data flow and the maintenance of the information entered into the internal data system. This allows companies to gain a competitive advantage in competition with competitors. This enables them to offer their customers and partners a smooth and less time-consuming service. At the same time, this is usually much more cost-friendly for the company.
What about the application of a digital strategy in German companies?
Although the definition of the digital strategy also shows the importance and necessity of implementation, many companies still refrain from investing in this measure. Even though, as the chart below shows, 40 percent of all German companies have implemented a digital strategy centrally and still a little more than 30 percent at least in approaches in individual divisions, however, more than a quarter of all companies in Germany say they do not apply one.
But what happens in companies that do without a digital strategy altogether?
The problem in the end is usually that it is not possible without a digital strategy. Instead of investing in this measure, however, many companies are developing a kind of patchwork in which they line up rows of ideas haphazardly, making it too impossible to pursue a uniform strategy (see picture).
This usually results in a poor digital process, as the following graphic shows. In this process, sub-areas are digitized, while others are still guided according to old structures and patterns. For employees, but especially for customers, this results in a veritable mix of digitized and non-digitized sub-processes. These can usually not be traced or used in a time- and cost-saving way.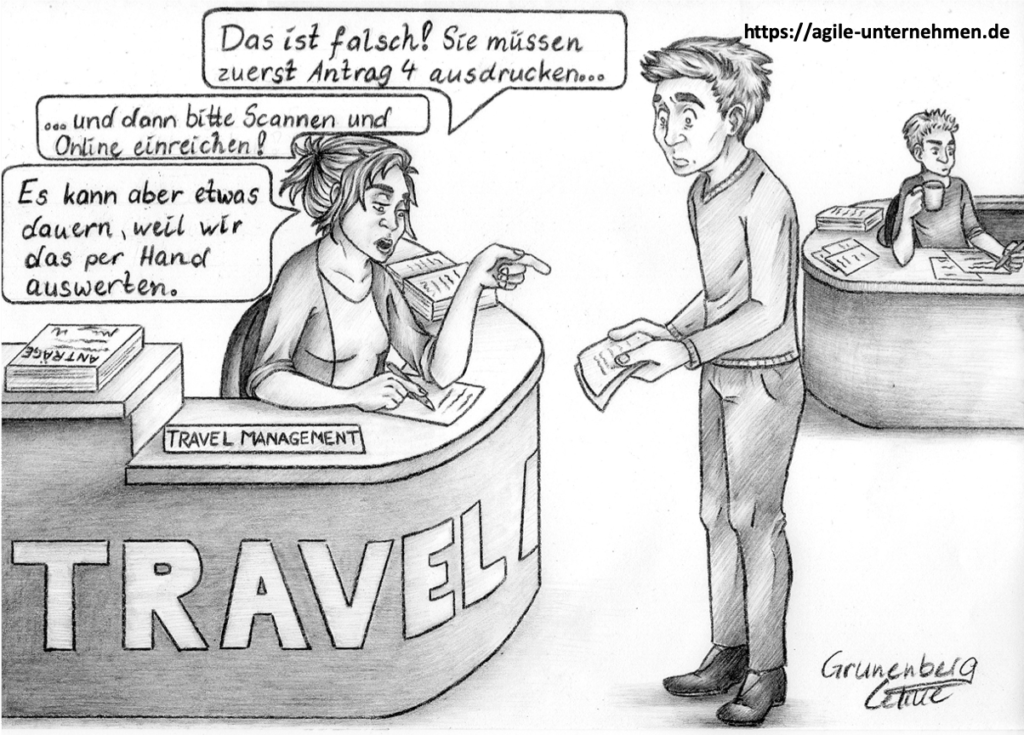 But how can a good digital strategy be implemented?
Many companies usually rely on well-known and time-tested methods to implement a digital strategy. For example, a digital transformation is usually derived from either cost or benefit leadership.
The latter usually focuses on the quality of a company's product or service. Within this framework, the digital strategy for benefit leadership focuses in particular on the expansion of the offer, a customer-friendly service as well as the targeted approach of its own target group. Based on this, all associated sub-processes are gradually digitized, resulting in a holistic digital strategy.
Cost leadership, on the other hand, as the name suggests, focuses not only on high returns but also on saving costs. In doing so, companies digitize individual sub-areas and processes in such a way that unnecessary interfaces are reduced and existing ones are still automated.
Conclusion
Even if more than 25 percent of all German companies still seem to think the opposite: a digital strategy should now be firmly part of the pool of measures of every business. After all, a good digital strategy promises not only more agility, but also better competitiveness in the market.
The best way for companies to link online and offline marketing together is to merge all channels and processes. In this way, it is possible to always be able to engage in active dialogue with customers, partners and service providers. In the long term, this not only increases sales and profits, but also stabilizes the bond with existing ones or is significantly supportive of attracting new customers.
Tip: Read my book: SMEs in digital transformation at Springer Gabler orbook me for a lecture.
Genderhinweis: Ich habe zur leichteren Lesbarkeit die männliche Form verwendet. Sofern keine explizite Unterscheidung getroffen wird, sind daher stets sowohl Frauen, Diverse als auch Männer sowie Menschen jeder Herkunft und Nation gemeint.
Lesen Sie mehr dazu.
Falls es noch Fragen gibt, können Sie mich gerne anrufen. Hierzu einfach im Buchungssystem nach einen freien Termin schauen. Ich nehme mir jeden Monat einige Stunden Zeit um mit Lesern zu interagieren.
Helfen Sie meinem Blog, vernetzen Sie sich oder arbeiten Sie mit mir
Sie haben eigene, interessante Gedanken rund um die Themenwelt des Blogs und möchten diese in einem Gastartikel auf meinem Blog teilen? – Aber gerne! Sie können dadurch Kunden und Fachkräfte ansprechen.



Ich suche aktuell außerdem Werbepartner für Bannerwerbung für meinen Blog. Sollte es für Sie spannend sein Fachkräfte oder Kunden auf Ihre Seite zu leiten, dann bekommen Sie mehr Informationen hier.
Vernetzen Sie sich in jedem Fall auf
Xing
oder
LinkedIn
oder kontaktieren Sie mich direkt für einen Austausch, wenn Sie gleich mit mir ins Gespräch kommen wollen. Werfen Sie auch einen Blick in meine
Buchvorschläge zur Digitalisierung
, vielleicht wollen Sie mir auch ein Buch empfehlen?
Ich arbeite gerne mit Unternehmen zusammen. Sie können mich ebenfalls gerne bezüglich folgender Punkte anfragen:
Image source: pixabay.com