Companies have always been constantly changing. Be it technological or in the organization. Now that agile methods have found their way into companies, the credo is to synchronize various agile and classic methods and break up classic hierarchies in order to make one's own organization faster and more flexible.
One approach to this can be the Spotify model, which has been gaining in importance since 2014. But German companies are characterized by special processes and a long tradition – in contrast to Spotify, which started on the green field.
So is it possible to simply copy the Spotify model? Certainly not! In this article I would like to show my experience in introducing and adapting the Spotify model for a fictitious German company and to back up with my experiences of the last 2 years from my professional practice with the Spotify model. For general information about the Spotify model, you can consider my reading tip, as I assume in this article that you are roughly familiar with the model.
Reading Tip: Spotify Model
The classic hierarchy: controllability and control
In most companies we find a so-called classical hierarchy, i.e. the division of work into small units with a focus on specialization. This is often reflected in the organization chart and is visible to departments and teams.
For example, a webshop department can be divided into the teams SEO, content marketing, purchasing and order processing. At the head is a department head, who receives information through a jourfix with the board and various management meetings and passes it on to the employees via the team leaders. Information and escalations from day-to-day business are escalated via the team leaders to the head of department.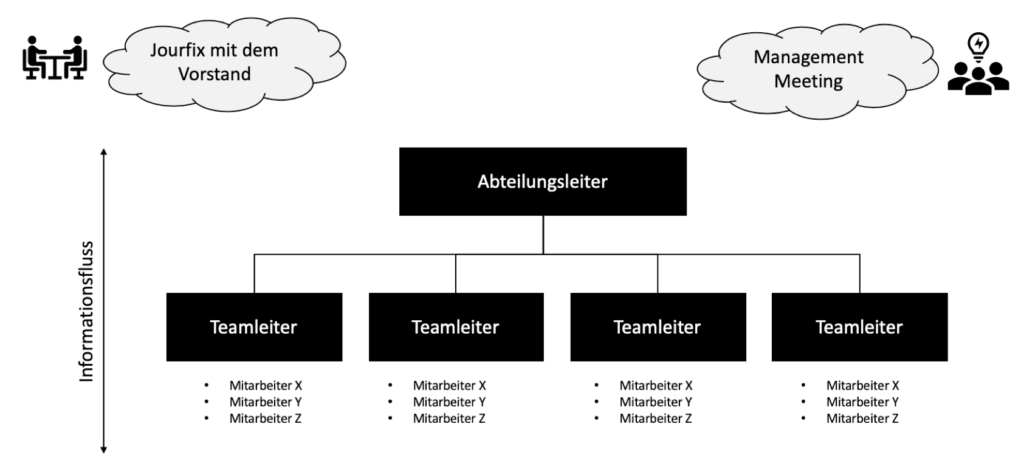 This type of organization is very stable, predictable and optimized for controllability and control. The disadvantages are the management of complexity and speed due to the lack of flexibility and the pressure of employees for self-organization as well as problems in compatibility with agile methods. The possible consequences are dissatisfaction of customers and employees.
Customer dissatisfaction due to slow processes
One consequence of optimizing controland and control is the structure of the teams and departments. Surely the following scenarios are familiar to them:
Tasks defined by processes are solved quickly
Tasks that require multiple teams or are not within the scope of one or the other team often remain for months.
In case of a specific demand, you hear phrases such as: this is not my area, I am not responsible for that and there is no process for that. The team leaders are also primarily concerned about their own area. This is constantly being strengthened, protected and expanded. The consequence is strong silos.
Dissatisfaction of employees due to lack of perspective
Has a service provider terminated you before? This can hit companies painfully. A linkedIn study surveyed more than 10,000 workers about their reasons for changing jobs. More than 45% reported a lack of perspective in the company.
Careers in the classical hierarchy are often difficult. Employees have to wait for a job to become vacant and responsibility can often only be assumed as team or department head. As an employee, you get your clearly defined area of responsibility.
A powerful instrument of power is the jourfixes and meetings with other managers and boards, i.e. information. These meetings seem like clouds to ordinary employees, which are visible to you but unreachable. Those who sit in this meeting or manage to be invited may soon join the narrow circle of leadership.
The boss has more experience, more information and more power than his employees. The employees are therefore more dependent on their boss than vice versa the boss is dependent on them.

Dr Marcus Raitner
From the classic hierarchy to the Spotify model
Radical change to the likes of Scrum of Scrums or LeSS often makes no sense or really helps businesses. I therefore recommend breaking up hierarchy slowly and constructively and increasing the satisfaction of customers and employees.
Reading tip: Agile framework from my doctoral thesis
One way to make an organization fit for digital change is to adopt some ideas of the Spotify model and adapt them to your own company. I recommend that we do so after four steps.
Reading tip: Change management according to Kotter
Step 1: Divide the department into squads and change leadership
In the first step, we look at the focus points of the department and divide the employees into powerful and cross-functional groups (squads) with a size of 3-8. Cross-functional means that a squad can solve tasks without many interfaces.
The important thing is that you can cut your squads quickly and well. Many companies are obviously struggling. Spotify itself has made the division by function on the website. Other possibilities would be divisions according to:
Industries (e.g. for service providers)
Customers (e.g. with IT service providers)
Products (e.g. at product store)
Functions or technology (e.g. at a software house)
Divisions (e.g. for corporations)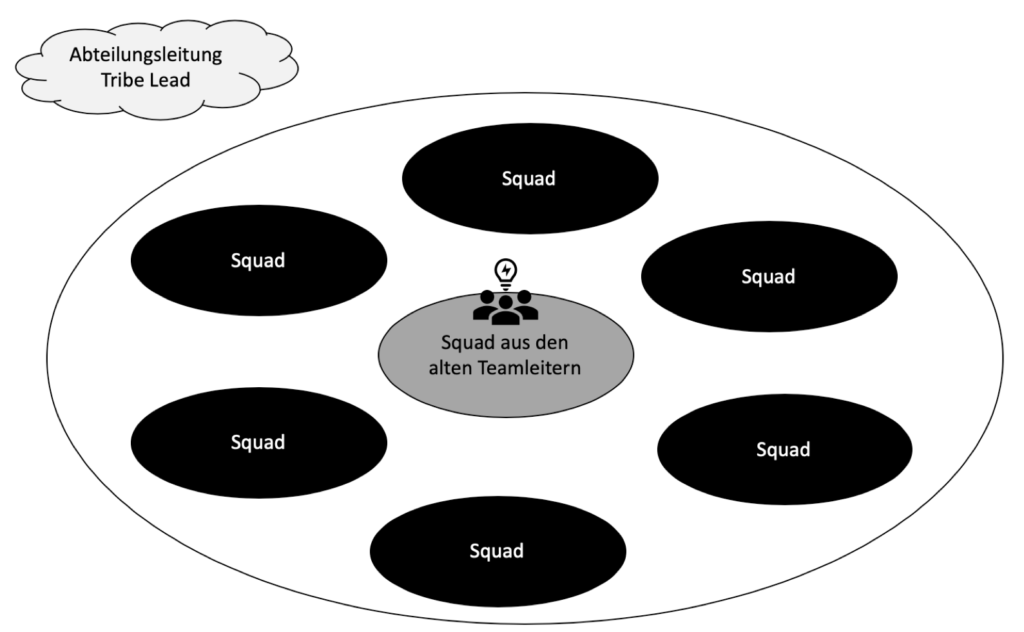 It is important that a holistic view is created. If the order of a customer in the webshop was previously processed by 3 teams, this is now to be reduced to one team. The advantage is a holistic view of the process by the squad. Phrases like: I am not responsible for this or I have no justification for it will be a thing of the past.
So what do you do with the team leaders? Leadership is still important only should this no longer be tied to one person. My recommendation is: form a squad of executives, who is the global point of contact for all squads and takes care of the leadership tasks.
I can tell you from my own experience that as a leader you are often alone in the classical sense. Harvard Business Review conducted a survey of many executives. Nearly half of all CEOs feel lonely and can have a negative impact on their performance. The consequence is a lack of feedback and a difficult self-reflection. The fact that you bring the executives together into a separate team also promotes their performance.
Something is also changing for the head of the department. He keeps his eye from the outside and acts as a coach and organizational developer. Due to the fact that the management squad can take over all operational tasks of the leadership, the time is right for this.
In summary, you divide the department into powerful units with an eye for the whole and minimize interfaces for a holistic view of the process. Guided tour is also represented by a powerful unit. The advantages are the equal distribution of managers. This allows more rational leaders to help with customer escalations and emotional leaders in conflicts. The leadership squad is basically (theoretically) the perfect leader with the optimal staffing.
My learning: Leadership is not a privilege but a service and hard work!
Step 2: Creation of cross-sectional roles and appointment of squadleads
Now it is important to organize and connect the individual squads. First, each squad appoints a squadlead to represent the squad to the outside world. The team leaders also appoint a squadleader of the leadership squad. You now have the following organization.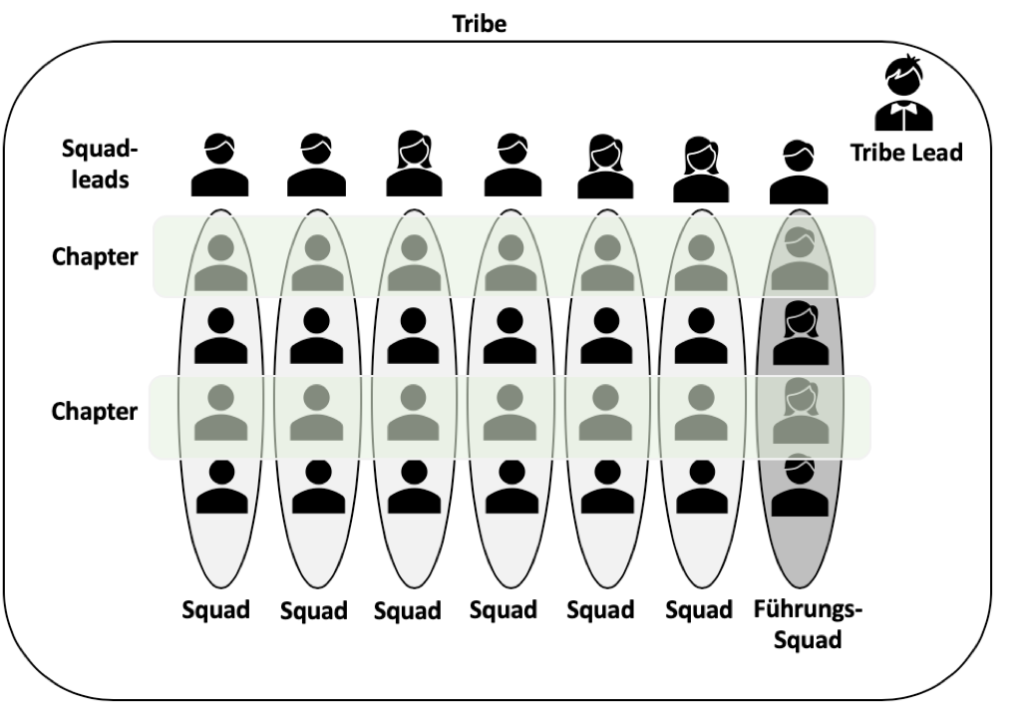 You can also see chapters in the illustration, which are marked in green. In order to promote professional exchange, we form chapters in the cross-section, i.e. specialist groups that deal with a topic. Unlike traditional cross-sectional roles (toothless tigers), the chapters form a high body for your purpose, for example, monitoring the use of technology and compliance with uniform standards, e.g. for databases or software code. A chapter can also be a process (ordering process) or a technology (Java) for customers if the division by function is strong.
By the way, the chapters represent a little bit of the horizontal professional career and the squads the vertical leadership career. Through Sqaud change and the new roles, you offer employees a lasting perspective and the opportunity to create their own job (Jobcrafting).
Spotify also suggests guilds, but I have never found a useful use case for this or am currently completely satisfied with squads and chapters in my professional life. Guilds are usually there to educate each other and exchange knowledge. Often these are the internal user groups. However, they have no influence in decision-making.
My learning: The job of leadership is no longer to approve vacations and manage a team, but rather to be like a gardener who maintains a greenhouse.
Step 3: Customize meetings and information flow
What would knowledge work be without data and information? Not much! That is why the new organisation needs new information channels. I've been thinking a lot about the number and type of meetings for a very long time, because meetings are expensive and employees can get bored. My ideas can be found in the following figure.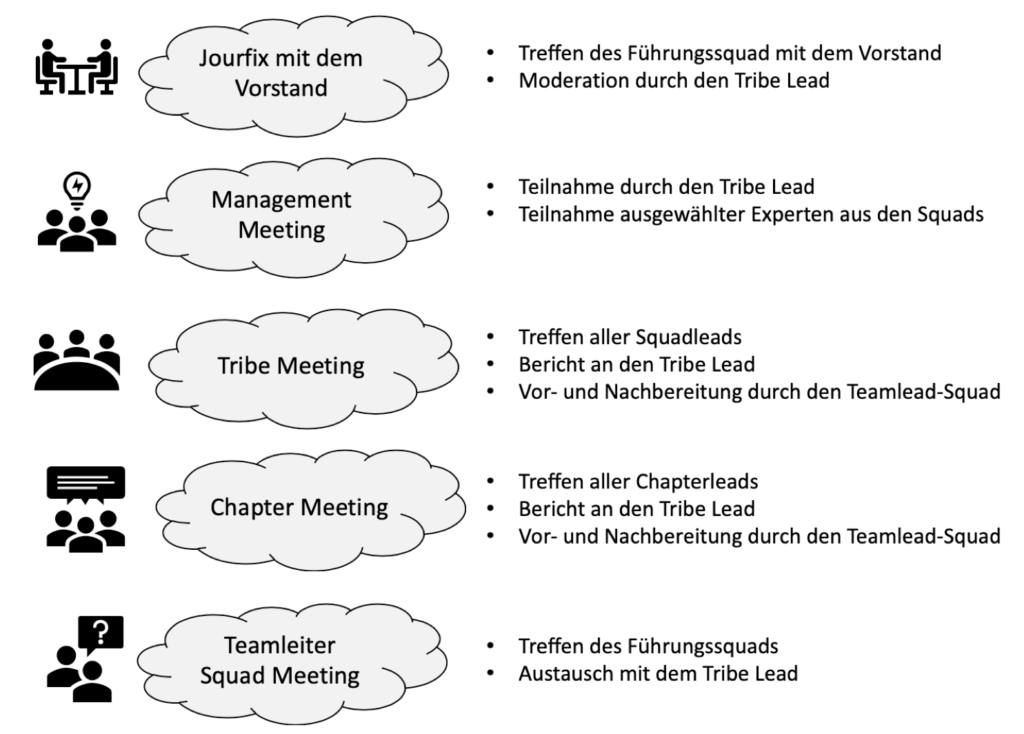 I recommend the Jourfix with the board to extend to the squad that takes over the leadership. The Tribe Lead moderates the topics and shows the board: my department insists not only on a hero, but on many great and motivated employees.
I have not yet adapted the classic management meeting with other departments, as acceptance must first be available throughout the company.
It has also been shown that a meeting of all squadleads and all Chapterleads once a month, as well as a meeting between Tribe Lead and the leadership squad once a week, makes sense.
I think it makes sense to use the formats shown, because information is now distributed horizontally and no longer individual people have too much information sovereignty and everyone can get involved in the department.
My learning: The leadership in such a system is now similar to the relationship between conductor and musician in an orchestra.
Step 4: Adjust controlling and maintain controllability
Of course, an organization must also be visualized by certain instruments. I took this step 1 year after the start of the change. I have implemented two controlling instruments for this purpose.
Hard Controlling: Business Key Figures
I come from the IT services industry. We work on an hourly or fixed price basis for numerous customers and provide an invoice. If you only have internal customers, just ignore the part with the time booking.
Each squad has its own board to visualize the work. How the squad arranges the board is individual. The only important thing is that it is clear:
What do you want to do this week?
What are you working on?
What have you done?
There are numerous free software such as Redmine as well as paid software such as Jira. Each task has a reviewer and a customer/project assigned. This allows you to view expenses per customer, squad and project. I created an individual dashboard on it.
It is important that you teach the squadleads how to use the software and work correctly according to Scrum or Kanban. If all fields are filled in correctly, we are meaningful to the Board of Management and the customer. I did an internal training as well as individual coaching and founded a chapter.
As a service provider, we always need proof of work and have to invoice customers, so every employee adds the appropriate time to a tool after completing a task. In addition to the number of the task, it also specifies the hours. In this case, it is not interesting how long the employee works in total, but only:
How many hours have created worth for the customer?
what do we have for the customer?
My Learning: Hard controlling can ensure the location- and time-flexible and autonomous work of the squads.
Soft Controlling
Peter Drucker already said: "culture eats strategy for breakfast" and it is especially important to monitor the culture in this model. My experience is that the organization is incredibly flexible and fast but also very sensitive.
First of all, each squad held a workshop and set out values, vision and guidelines. So it's up to the squads to keep leading themselves.
Reading tip: Teamworkshop Slides
To then measure the soft factors, there is the Spotify Squad Healthcheck. They check the satisfaction of the individual squads every 14 days based on a variety of criteria. The Squadleads will convey the respective mood in the squad by means of traffic light colors. Below you will find my traffic light cards.
Tip: Please download the template here and customize it!
The individual results are very useful for the squadleads. It is now up to the Tribe Lead to pack all the results into a uniform table. This looks like the following figure.
In the columns you can see the main differences between the different squads. Squad 2 is happy with pretty much everything. Squad 3 has many problems, but there is a positive trend on almost all points.
In the rows we can see systemic patterns. Every squad has fun at work (and the trend goes even higher!). Motivation does not seem to be a problem. However, the processes cause problems. Over time, this will certainly also affect the fun factor at work.
In the overall picture you can see that many arrows point upwards. This means that the improvement process (the most important process at all) works.
My Learning: This type of organization can only work on values and trust. These must be measured regularly!
Conclusion
The Spotify model is a great driving force for an agile organization. Of course, every company has special framework conditions that do not allow the model to be easily copied. However, it makes sense to take some basic ideas out of it and adapt them to your own organization. I particularly like the division of leadership into a central squad and the new transparency of information. I hope that the impulses of my article can help you in your daily work. I can see from my own experience that such a change can be mastered in 1 year and can significantly increase the satisfaction of employees and customers.
Reading tip: Agility in service companies
Reading tip: Agility in product houses
Image source: Music photo created by freepik – de.freepik.com
Gender note: I have used the male form for easier reading. If no explicit distinction is made, women, miscellaneous and men as well as people of any origin and nation are always meant.
Read more.
If there are still questions, you are welcome to call me. Just look in the booking system for a free appointment. I take a few hours every month to interact with readers.
Help my blog, network or work with me
You have your own interesting thoughts about the topics of the blog and would like to have them in a Share guest article on my blog? - But with pleasure! This way you can address customers and professionals.



I am also currently looking for advertising partners for banner ads for my blog. If it should be exciting for you to lead specialists or customers to your site, then you get more information here.
In any case, please connect on
Xing
or
LinkedIn
with me or contact me directly for an exchange if you want to talk to me. Please also take a look at my
book suggestions for digitization
, maybe you want to recommend a book to me?
I like working with companies. You can also ask me about the following points: