Home office and distributed teams are on everyone's hands and for many it is a dream to be able to work from anywhere and at any time. What sounds like a dream for employees is the sheer horror for many executives, because the question arises: Does someone still work what?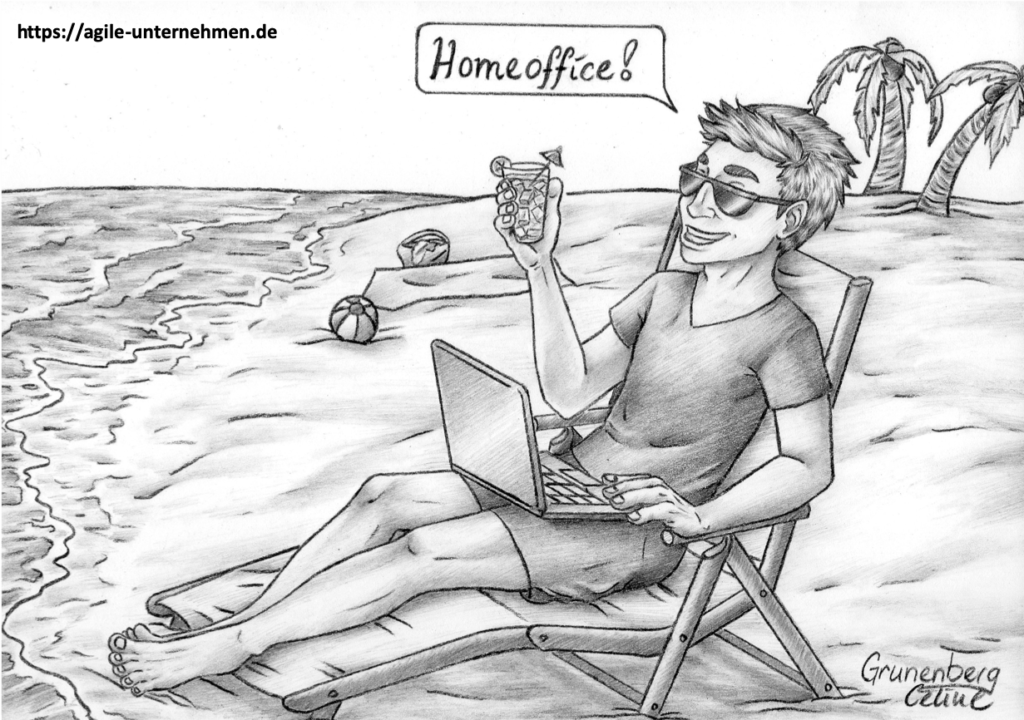 My experience is fundamental that employees who hardly work anything in the office do little at home. On the other hand, hard-working employees are just as diligent at home. A recent study, which examined nearly 30,000 employees, found that home office employees work an average of 4 hours of overtime per week than employees in the office. So the fear that employees are doing nothing only seems to exist in the minds of managers?
Control task completion in the home office
Even with great self-organization and trust, a possibility of control should be possible. To do this, you must first cleanly divide the existing work into small tasks. You must prepare the existing work so that it can be processed using methods such as Scrum and Kanban.
Think of it as eating a cake at a party. Nobody will want to bite directly into the cake because the pieces are too big. So you have to cut it into small pieces. Afterwards, guests can take small pieces and eat. As soon as they are hungry again, they eat the next piece. Eventually the cake is gone. The last pieces that no one wants, then actively distribute at the party.
In business, this means that you divide ideas into projects that consist of different tasks. These are clearly described and can be processed by the employees. You can now visualize this using methods such as Scrum and Kanban. As a leader, you always see on one board:
What are the remaining tasks?
What do my employees do?
Where are we blocked?
What's done?
Above, you can see an example. You can see on the board that there are currently three tasks free and your 4 employees are currently actively working on task 4-7. As a manager, you could take care of the decrease of tasks 10-12 or the blockers 8-9. As you can see, work is being done and no one is resting. With a short daily conference call, you should discuss the board with the team.
Conclusion
You realize that remote work is not difficult and that task completion can still be controlled. I have been working as a manager for a virtual team for more than 2 years and have the best experience with these methods. I am always ready to say what my employees are doing and the transparency is even significantly higher than in on-site teams. The basic requirement is the separation and documentation of the work as well as the visualization by a virtual board.
Tip: Read my book: SMEs in digital transformation at Springer Gabler orbook me for a lecture.
Image source: https://pixabay.com/de/illustrations/b%C3%BCro-arbeit-urlaub-recovery-1548297/
Genderhinweis: Ich habe zur leichteren Lesbarkeit die männliche Form verwendet. Sofern keine explizite Unterscheidung getroffen wird, sind daher stets sowohl Frauen, Diverse als auch Männer sowie Menschen jeder Herkunft und Nation gemeint.
Lesen Sie mehr dazu.
Falls es noch Fragen gibt, können Sie mich gerne anrufen. Hierzu einfach im Buchungssystem nach einen freien Termin schauen. Ich nehme mir jeden Monat einige Stunden Zeit um mit Lesern zu interagieren.
Helfen Sie meinem Blog, vernetzen Sie sich oder arbeiten Sie mit mir
Sie haben eigene, interessante Gedanken rund um die Themenwelt des Blogs und möchten diese in einem Gastartikel auf meinem Blog teilen? – Aber gerne! Sie können dadurch Kunden und Fachkräfte ansprechen.



Ich suche aktuell außerdem Werbepartner für Bannerwerbung für meinen Blog. Sollte es für Sie spannend sein Fachkräfte oder Kunden auf Ihre Seite zu leiten, dann bekommen Sie mehr Informationen hier.
Vernetzen Sie sich in jedem Fall auf
Xing
oder
LinkedIn
oder kontaktieren Sie mich direkt für einen Austausch, wenn Sie gleich mit mir ins Gespräch kommen wollen. Werfen Sie auch einen Blick in meine
Buchvorschläge zur Digitalisierung
, vielleicht wollen Sie mir auch ein Buch empfehlen?
Ich arbeite gerne mit Unternehmen zusammen. Sie können mich ebenfalls gerne bezüglich folgender Punkte anfragen: