I've been working with virtual teams for more than three years and I'm building them up over and over again. Companies are often still classically organized and start with first virtual teams due to multiple locations and skill shortages. This makes sense, as in addition to location advantages (customers, resources), specialists can also be hired in each region.
In this article, I want to show my experiences, which are important for building such virtual teams and what exactly the specific differences to local teams are.
Virtual teams mean you have to work with tools. Tools such as phone, email, and video conferencing. Whatever it is, it's a different kind of work and we're still fully understanding it.

Member of the Executive Board of an IT service provider in the roundtable
Recreating work in a meaningful virtual way
Most companies are still testing virtual work. But basically, in my opinion, you can do a part of the work virtually in any company.

Managing Director of an IT service provider in the roundtable
This is precisely the key statement. The first step is to see what kind of work is actually suitable for a virtual team. I think that software development and knowledge-based work are more suitable than production tasks.
It is now necessary to visualize this work and make it virtually visible. I notice that e.g. the organization of the company celebration is rather subconscious and it is already very difficult to put together a checklist at all. Try a project of your choice.
I will show an example in the following by organizing a company celebration. These following packages can be mapped as tasks in a software, for example. I was inspired by a website.
Choose an occasion
Set the date and time
Choose and book location
Choose the motto
Setting goals
Set funding and budget
Create a guest list and invite guests
Choosing and booking artists
Choose and book party service or catering
Organize decoration and styling
Organize construction and cleaning
Create and send invitations
Compile framework programme / process programme
Organize technical planning (sound, light, stage, video)
Choose and organize company celebration marketing (give-aways)
Making place rules
With your abstraction, a virtual team could now work through this list, and an executive would just need to make sure that tasks are done in the right order at the right time.
Reading tip: Requirements for work 4.0
Processes and tools
Now it is important to establish meaningful technology for cooperation. But I don't want to get too deep on chat systems and co. because I've already done this in another article. I am concerned with setting up and using the tools on a daily- day-to-day way.
Reading Tip: Virtual Teams Tools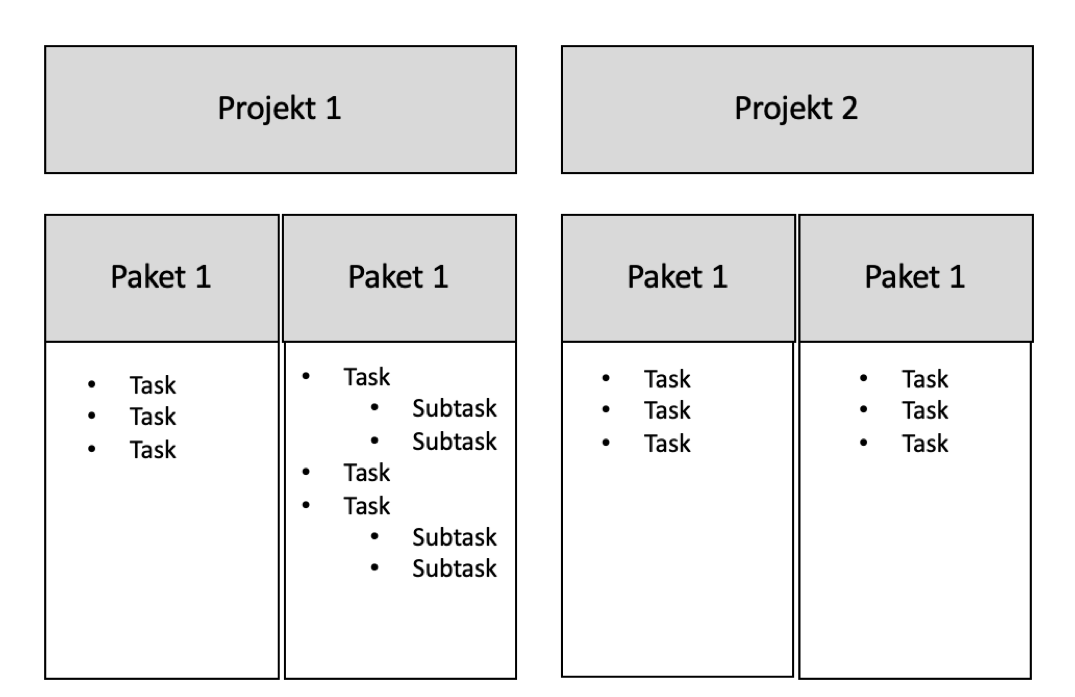 The first step is to break down the tasks cleanly into small projects. This way, you can easily report the status of projects. For example, you have a project in 18 tasks. You know that 16 of the 18 are already finished and can say that the project is almost finished.
Now it is necessary to write sensible and good descriptions of the tasks. The goal is that every employee can understand them easily and quickly. Conversations and stati would also have to be recorded for the task. These can be recorded as comments in the system. You can see both in the screenshot above. Important contents of tickets are:
Who (customer/internal) is the stakeholder of the ticket?
What should be done?
Why do we need this task?
When do we need the ticket
What is the Definition of Done?
Now it's about cleaning up this work cleanly on the board and ensuring that the tasks are done. Above, you can see a meaningful and clean picture of the work in the picture. They always know exactly who, when, what. This can now be mapped in any tool like Jira, ORTS, Trello, OpenProject and much more. The choice is up to you.
Leadership, in particular, is changing. While you were still leading the employees some time ago, now pay attention to the queue and the correct division of the work. Of course, there is still coaching of the staff, but I do not want to go into the human component in this article.
A leader becomes a little product owner on from Scrum. Not 100% but it is very similar. My main tasks were:
Coordinate goals with management and break the work into small tickets
To give the team the overall picture
All tickets in the queue have the correct status and are clearly formulated.
Ensure that the queue is visible, transparent, and clear to everyone what to do.
Sort the tickets in such a way that goals and missions can be optimally achieved
Optimizing the value of work
Ensure that the team understands the content of the tickets to the extent necessary.
You realize that the work of a leader from the prestige leadership tends to change in a queue filler and it sounds like a degradation but remains an important task. It is the basis that the team can work. You will notice that virtual teams with clear tasks are much more efficient than on-site teams, and you are often the star as a leader.
Reading Tip: Digital Leadership
Conclusion
You realize that virtual teams can bring a big advantage. It is important that you abstract the work cleanly and divide it into small packages. These must be mapped in a software. When processing, compliance with processes is particularly important (due to distance). As a manager, the work also changes fundamentally and can be compared a little with the product owner.
Tip: Read my book: SMEs in digital transformation at Springer Gabler orbook me for a lecture.
Image source: https://pixabay.com/de/photos/thailand-asien-koh-lanta-2113685/
Genderhinweis: Ich habe zur leichteren Lesbarkeit die männliche Form verwendet. Sofern keine explizite Unterscheidung getroffen wird, sind daher stets sowohl Frauen, Diverse als auch Männer sowie Menschen jeder Herkunft und Nation gemeint.
Lesen Sie mehr dazu.
Falls es noch Fragen gibt, können Sie mich gerne anrufen. Hierzu einfach im Buchungssystem nach einen freien Termin schauen. Ich nehme mir jeden Monat einige Stunden Zeit um mit Lesern zu interagieren.
Helfen Sie meinem Blog, vernetzen Sie sich oder arbeiten Sie mit mir
Sie haben eigene, interessante Gedanken rund um die Themenwelt des Blogs und möchten diese in einem Gastartikel auf meinem Blog teilen? – Aber gerne! Sie können dadurch Kunden und Fachkräfte ansprechen.



Ich suche aktuell außerdem Werbepartner für Bannerwerbung für meinen Blog. Sollte es für Sie spannend sein Fachkräfte oder Kunden auf Ihre Seite zu leiten, dann bekommen Sie mehr Informationen hier.
Vernetzen Sie sich in jedem Fall auf
Xing
oder
LinkedIn
oder kontaktieren Sie mich direkt für einen Austausch, wenn Sie gleich mit mir ins Gespräch kommen wollen. Werfen Sie auch einen Blick in meine
Buchvorschläge zur Digitalisierung
, vielleicht wollen Sie mir auch ein Buch empfehlen?
Ich arbeite gerne mit Unternehmen zusammen. Sie können mich ebenfalls gerne bezüglich folgender Punkte anfragen: