Bad newshas been piling up lately. Deutsche Bank wants to cut 18,000 jobs and is not alone. Siemens plans to cut 10,000, 7,000 at Volkswagen, 5,400 at Ford, 4,500 at Bayer, 4,000 at Thyssenkrupp and also cable giant Leoni plans to cut 2,000 jobs.
On the other hand, however, we also have good news. Volkswagen wants to create 2,000 new jobs at the same time, Siemens also wants to create around 2,500 new jobs, and Thyssenkrupp also wants to create 1,000 new jobs.
In total, more than 65,000 jobs have been lost in the German groups this year, but more than 700,000 skilled workers are still being sought on the labour market. But how does this fit together?
Job cuts in Germany
Increasingly intelligent machines are changing our world of work and demanding new skills or automating entire professions. Robots don't need a holiday and do work without fatigue and grumbling. Of course, it will take some time before this vision becomes truth, but the first consequences are already visible.
ING-Diba has examined 4 million jobs and provided an initial forecast for the next 10 years of which occupations are particularly at risk and could be eliminated. Take a look at the statistics.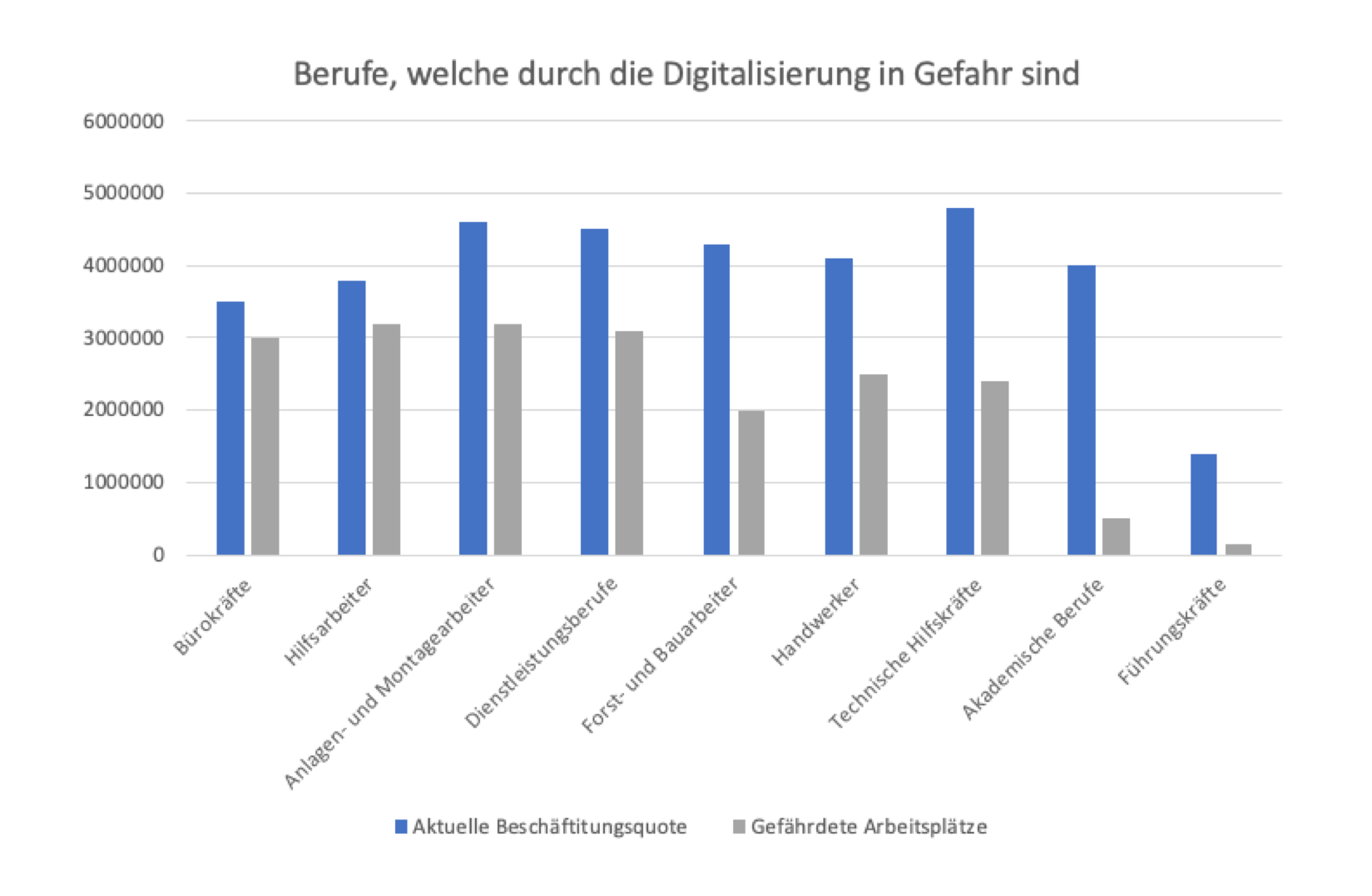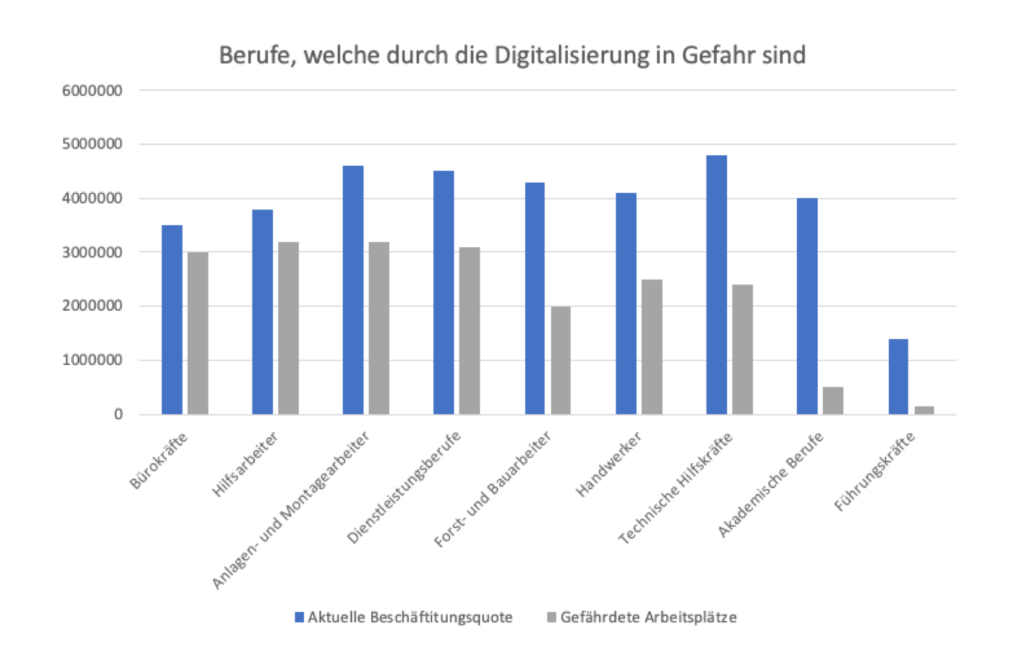 You will notice that, above all, jobs in administration, support work and counselling are at risk. This is often due to intelligent software, forecasting tools and chatbots. But even with physically demanding work in the construction and crafts industry, intelligent robots could provide a remedy.
Lack of skilled workers in Germany
According to the Federal Employment Agency, companies are currently looking for 700,000 skilled workers in the industrial, retail and service sectors. But which professions are fit for the future from a current point of view?
The Boston Consulting Group has examined which occupations are least at risk from digitalization, analyzing 7.7 million workers. I'll show you a statistic about this in the following.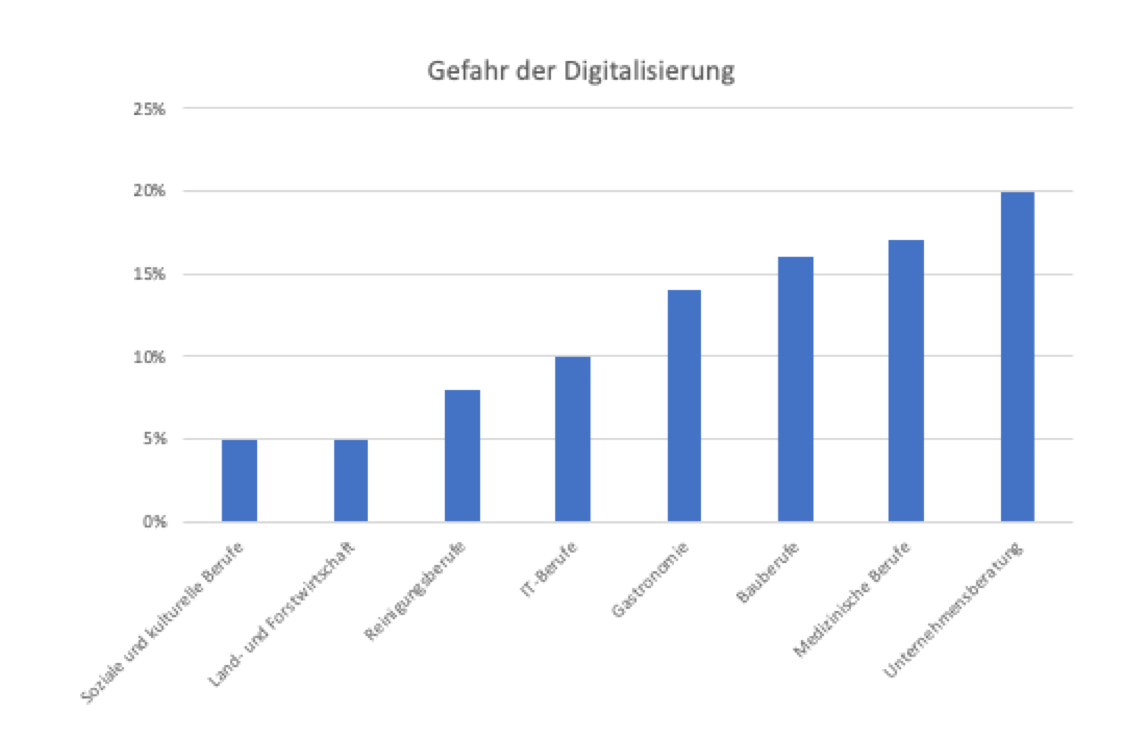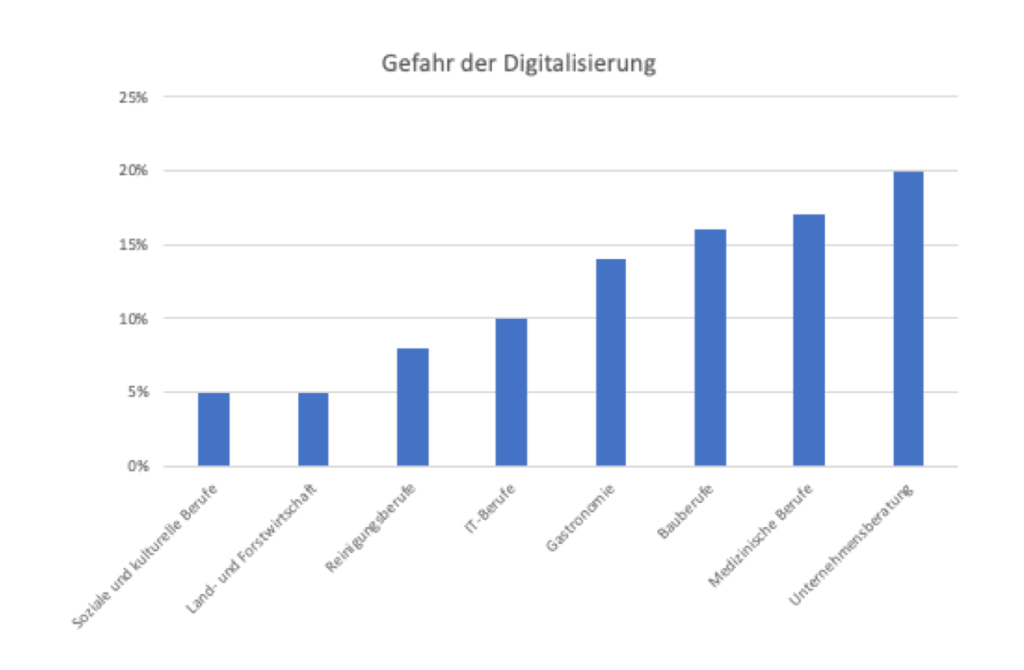 Of course, difficult-to-digit professions such as care for the elderly, crafts, teachers, lawyers, educators or protected professions such as tax consultants or notaries will continue to exist for a long time to come. On the other hand, you will also notice how particularly professions with human competence such as empathy and empathy remain sustainable. These are executives, management consultants, medical professions and educators. On the other hand, the IT industry will also grow strongly and IT competence in general will be more and more important.
Conclusion
Lack of skilled workers is becoming one of the biggest growth hurdles in the age of digitalisation. We are changing from a classic industrial society to a digital society. The consequence is that on the one are being massively cut and, on the other hand, they are being rebuilt.
In vulnerable professions, it is important to consistently train and change the professional profile with the help of new IT skills. For example, a clerk can use IT skills to configure automation software or a construction worker to operate intelligent machines.
As employees, we should start to take 100 per cent responsibility for occupational safety #Employability, because that responsibility can no longer be assumed by companies for workers. Nor can we rely on education systems in companies, but must also continue to train in leisure time through active learning. A survey by Haufe already shows that more than a third of the more than 1,000 employees surveyed already train at weekends and in their leisure time.
Image source: Shop photo created by freepik – de.freepik.com
Genderhinweis: Ich habe zur leichteren Lesbarkeit die männliche Form verwendet. Sofern keine explizite Unterscheidung getroffen wird, sind daher stets sowohl Frauen, Diverse als auch Männer sowie Menschen jeder Herkunft und Nation gemeint.
Lesen Sie mehr dazu.
Falls es noch Fragen gibt, können Sie mich gerne anrufen. Hierzu einfach im Buchungssystem nach einen freien Termin schauen. Ich nehme mir jeden Monat einige Stunden Zeit um mit Lesern zu interagieren.
Helfen Sie meinem Blog, vernetzen Sie sich oder arbeiten Sie mit mir
Sie haben eigene, interessante Gedanken rund um die Themenwelt des Blogs und möchten diese in einem Gastartikel auf meinem Blog teilen? – Aber gerne! Sie können dadurch Kunden und Fachkräfte ansprechen.



Ich suche aktuell außerdem Werbepartner für Bannerwerbung für meinen Blog. Sollte es für Sie spannend sein Fachkräfte oder Kunden auf Ihre Seite zu leiten, dann bekommen Sie mehr Informationen hier.
Vernetzen Sie sich in jedem Fall auf
Xing
oder
LinkedIn
oder kontaktieren Sie mich direkt für einen Austausch, wenn Sie gleich mit mir ins Gespräch kommen wollen. Werfen Sie auch einen Blick in meine
Buchvorschläge zur Digitalisierung
, vielleicht wollen Sie mir auch ein Buch empfehlen?
Ich arbeite gerne mit Unternehmen zusammen. Sie können mich ebenfalls gerne bezüglich folgender Punkte anfragen: