"The future is agile: rapid technological change, an increasing pace of change and profound social changes require dynamic robustness, flexibility and liquid structures – in a word: agility. Agility is the survival paradigm of the knowledge society." (Mark Wagner) With this in this words, Mark Wagner opens his white paper on creative spaces. This topic is just one of the many subtopics on the hashtag: futurework.
Everyone is working with us!
The trend has been going in one direction for years: Alle are supposed to participate in the company and so far companies have succeeded better and better. Driven primarily by digital technologies. When you talk about Web 2.0 from the "participating web" it became much more interactive with apps and the Internet of Things. Now there are many other possibilities through cloud services, among others. The goal of Futurework is now also to adapt the workplace and the work to this "participation culture".
Work wherever you want (futurework)
Most of the articles on Twitter on the subject of futurework deal with the new workplace design. The articles speak of a culture of results rather than a present. The theme: Acitivity-based working defines an "ultimate workplace" that is suitable for any kind of work and in which there is a culture of trust and a lasting networking. The image shows the idea behind the hashtag futurework and activity based working.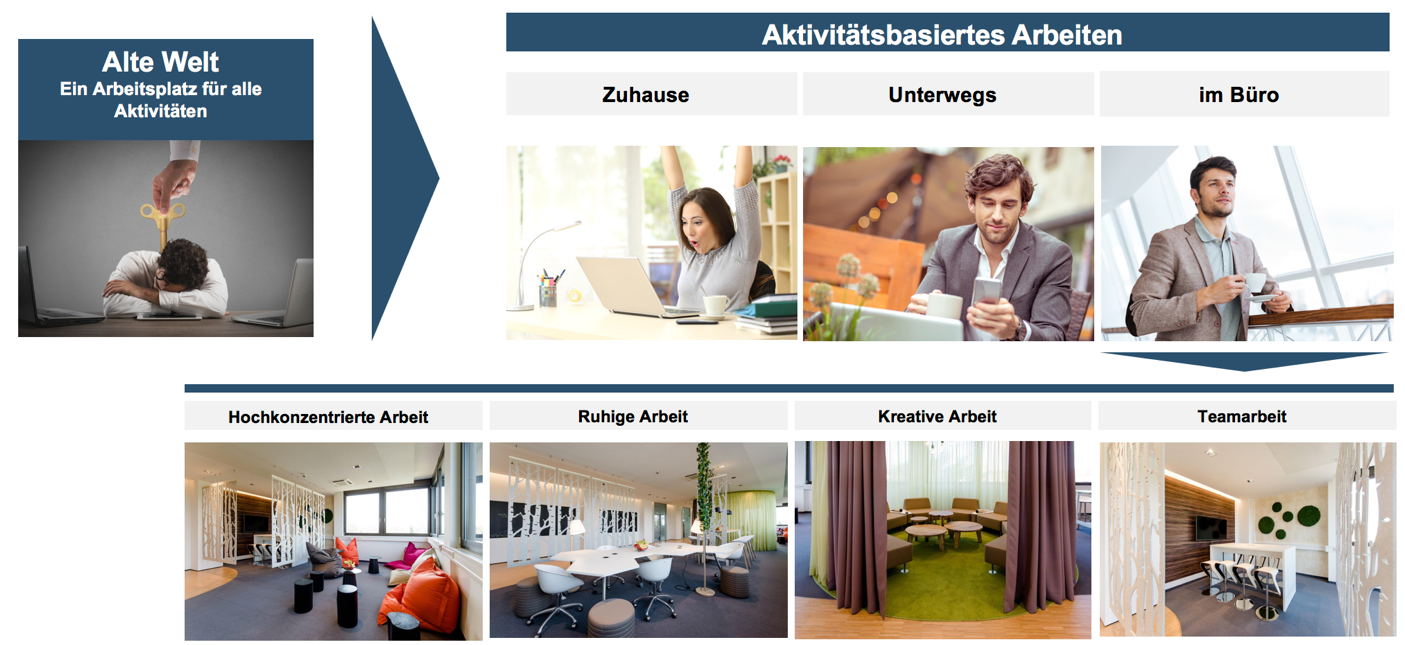 Futurework – Collection of office concepts?
Overall, the investigation of the hashtag shows a strong focus on space and office concepts to promote agility in the company. Of course, there is also talk of a cultural change and this is also dealt with in great detail, but office concepts are mainly evaluated. Thus, the following sentence summarizes the topic very well: "The office is transforming into a place of communication and networking. This requires situation-oriented spaces that promote creative exchange or project work, as well as offer retreats for concentrated and confidential work and optimally support routine activities. " (Source Detecon).
Is that agile?
Companies want agile employees. These should deliver high-quality work, be creative, flexible and deliverable. I do not need to go into further detail the thesis that this is an important characteristic in today's knowledge society. But are these new concepts really a factor in the structural transformation of companies?
I have found many articles about concepts but no direct case studies yet, whether such a concept has really improved the work. Sure, these concepts promise a really great job, but does every employee really want to work like that? To answer this question, I will conduct a case study with a company that has implemented such a concept and assess exactly whether and how this open space has changed the work exactly.
Genderhinweis: Ich habe zur leichteren Lesbarkeit die männliche Form verwendet. Sofern keine explizite Unterscheidung getroffen wird, sind daher stets sowohl Frauen, Diverse als auch Männer sowie Menschen jeder Herkunft und Nation gemeint.
Lesen Sie mehr dazu.
Falls es noch Fragen gibt, können Sie mich gerne anrufen. Hierzu einfach im Buchungssystem nach einen freien Termin schauen. Ich nehme mir jeden Monat einige Stunden Zeit um mit Lesern zu interagieren.
Helfen Sie meinem Blog, vernetzen Sie sich oder arbeiten Sie mit mir
Sie haben eigene, interessante Gedanken rund um die Themenwelt des Blogs und möchten diese in einem Gastartikel auf meinem Blog teilen? – Aber gerne! Sie können dadurch Kunden und Fachkräfte ansprechen.



Ich suche aktuell außerdem Werbepartner für Bannerwerbung für meinen Blog. Sollte es für Sie spannend sein Fachkräfte oder Kunden auf Ihre Seite zu leiten, dann bekommen Sie mehr Informationen hier.
Vernetzen Sie sich in jedem Fall auf
Xing
oder
LinkedIn
oder kontaktieren Sie mich direkt für einen Austausch, wenn Sie gleich mit mir ins Gespräch kommen wollen. Werfen Sie auch einen Blick in meine
Buchvorschläge zur Digitalisierung
, vielleicht wollen Sie mir auch ein Buch empfehlen?
Ich arbeite gerne mit Unternehmen zusammen. Sie können mich ebenfalls gerne bezüglich folgender Punkte anfragen:
Verwendete Quellen anzeigen