Since then, Beginning of my blog, I deal with the advantages and opportunities for SMEs through the introduction of agility and the implementation of related agile methods. As part of the blog parade of projektmagazin.de, I would like to make a special contribution to address the opportunities that small and medium-sized enterprises can by optimizing physical and virtual collaboration in internal project management.
In Germany small and medium-sized enterprises is strongly represented. More than 99 percent of all companies are among the SMEs in this country, and many of them can be level in addition to pioneers and best practice examples. But how can it be that these companies seem to be so ordinary methods, such as the introduction of holistic strategies? How can it be that role models from the middle class are still rigid boundaries between individual departments and areas of responsibility Prevail? Or in other words:
What prevents SMEs from Implementation of holistic strategies?
The answer is both simple and frightening at the same time: old-fashioned silo thinking in closed project boundaries.
In doing so, one of the clearly: Project management in particular will be digitalisation in the coming years. And even if which is not a new change, the influencing factors change Significantly. Instead of the automation of electronics, the Informatization in the foreground. In this context, data should be after professional preparation, by means of artificial intelligence, everywhere and available at all times. Accordingly, it is not only the conditions in project management, but also the way in which work is being done. Project boundaries will have to be broken up much more in the future increasing complexity requires increased cooperation.
However, although this change is clearly predictable, many SMEs still do not seem to have taken sufficient measures. Too often there are conditions as in the following figure, in which in rigid patterns with little transparency thought and act. Instead of information through an open river by the individual areas of responsibility within a project. transferred, is carried out independently in closed departments in the form of of silo thinking.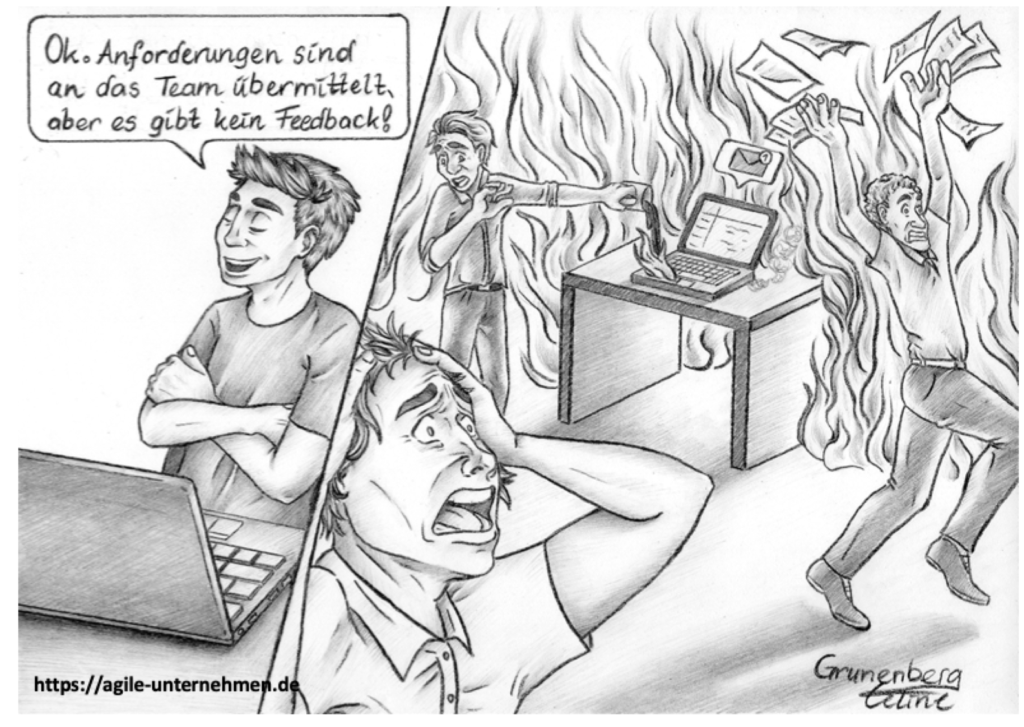 The problems with project boundaries and a lack of cooperation in small and medium-sized enterprises are deep
This The main disadvantage is that, although successes for individual departments, but only on one-dimensional level are really useful. Because silo thinking always means, above all, that department and company objectives do not cover themselves 1:1 and thus integral economic potential of a company. Solutions are developed in a fruitful way, but often double or are at the expense of other divisions. This ultimately results in often a struggle for budget and resources between individual departments. The result is low-risk decisions, emergency and insular solutions. Simultaneously divisions are increasingly moving away from each other. Cooperation practically non-takes-up, innovative thinking is reduced to a minimum and potential.
But how deep must the breaking of project boundaries for SMEs go?
The promotion of cross-departmental communication and cooperation, as well as the strengthening of of these very places, however, it is not only at the physical level that targeted. Even at the virtual level, new challenges that, after significantly more interaction and communication, Require. Especially in virtual project management, it is also prevent situations such as Figure 2 only if sufficient transparency is paired with a sense of responsibility between the individual tasks of each team member.
This means that that sub-areas are defined but no longer rigidly defined Must. Instead of concentrating only on one's own responsibilities, are also virtually implemented by means of holistic strategies, rather than only solutions that are pro-department.
What measures do SMEs need to take to this end?
In order to ensure that a change management, away from silo thinking, must first and foremost be triggering point. And this is not uncommon the workforce Itself. Because silo thinking arises primarily in the head of the individual employee, who tries to fulfil its tasks in the best possible way – and this is precisely where the problem lies: instead of looking for holistic solutions, is too focused on one's own area of responsibility.
SMEs must therefore start primarily with corporate identity and promote the establishment of a uniform culture of values. In this way, employees can be motivated to put down their own blinkers and contribute to a holistic transformation. This can be done in particular through measures such as the increased use of heterogeneous teams or the development of community-promoting workshops and training. But also the introduction of an intranet, open office areas as well as the introduction of agile methods put the people themselves in the foreground and promote not only trust and motivation but also the feeling for more initiative within the framework of joint solution strategies.
Image source: Pixabay
Genderhinweis: Ich habe zur leichteren Lesbarkeit die männliche Form verwendet. Sofern keine explizite Unterscheidung getroffen wird, sind daher stets sowohl Frauen, Diverse als auch Männer sowie Menschen jeder Herkunft und Nation gemeint.
Lesen Sie mehr dazu.
Falls es noch Fragen gibt, können Sie mich gerne anrufen. Hierzu einfach im Buchungssystem nach einen freien Termin schauen. Ich nehme mir jeden Monat einige Stunden Zeit um mit Lesern zu interagieren.
Helfen Sie meinem Blog, vernetzen Sie sich oder arbeiten Sie mit mir
Sie haben eigene, interessante Gedanken rund um die Themenwelt des Blogs und möchten diese in einem Gastartikel auf meinem Blog teilen? – Aber gerne! Sie können dadurch Kunden und Fachkräfte ansprechen.



Ich suche aktuell außerdem Werbepartner für Bannerwerbung für meinen Blog. Sollte es für Sie spannend sein Fachkräfte oder Kunden auf Ihre Seite zu leiten, dann bekommen Sie mehr Informationen hier.
Vernetzen Sie sich in jedem Fall auf
Xing
oder
LinkedIn
oder kontaktieren Sie mich direkt für einen Austausch, wenn Sie gleich mit mir ins Gespräch kommen wollen. Werfen Sie auch einen Blick in meine
Buchvorschläge zur Digitalisierung
, vielleicht wollen Sie mir auch ein Buch empfehlen?
Ich arbeite gerne mit Unternehmen zusammen. Sie können mich ebenfalls gerne bezüglich folgender Punkte anfragen: