"Work when, where and how you want" is more than a Silicon Valley startup vision. Even large corporations such as Microsoft, Daimler, Siemens, Adidas, Datev and numerous medium-sized companies are intensively considering the design of Work 4.0 in their companies. Concepts such as Bring your own device, Home Office and novel office concepts are the consequence of the digitization of work.
Already in my roundtables I noticed that especially company agreements and legal framework conditions currently make agility and digitization difficult. In the 3rd Roundtable That is why the IT Board of Employees of one of Germany's largest trade unions has given us first insights into the status quo: "It is by no means the case that we want to prevent work 4.0, but we have already advanced very far in the definition of guidelines on agile and mobile work and even carry out studies on it."
Overall, legal framework conditions and legal requirements were a vexing topic for many of my participants, but especially necessary and important for work 4.0 – after all, it should be about the human being. But it is often difficult to get an overview of the legal framework.
A few days ago, I discovered the book by Britta Redmann Agile's work in the company, which provides insights into the topic. I would like to briefly summarise the contents of the book below. At the end of each chapter there is a legal checklist, which I also show in part under each sub-chapter.
In this article I was only able to cover a part of the contents of the book for a short time. My goal was to give an overview of all dimensions of agility in the workplace and an initial orientation, which must be observed in each area. If you want to know more about the individual points, I recommend reading the book or contacting Britta Redmann directly.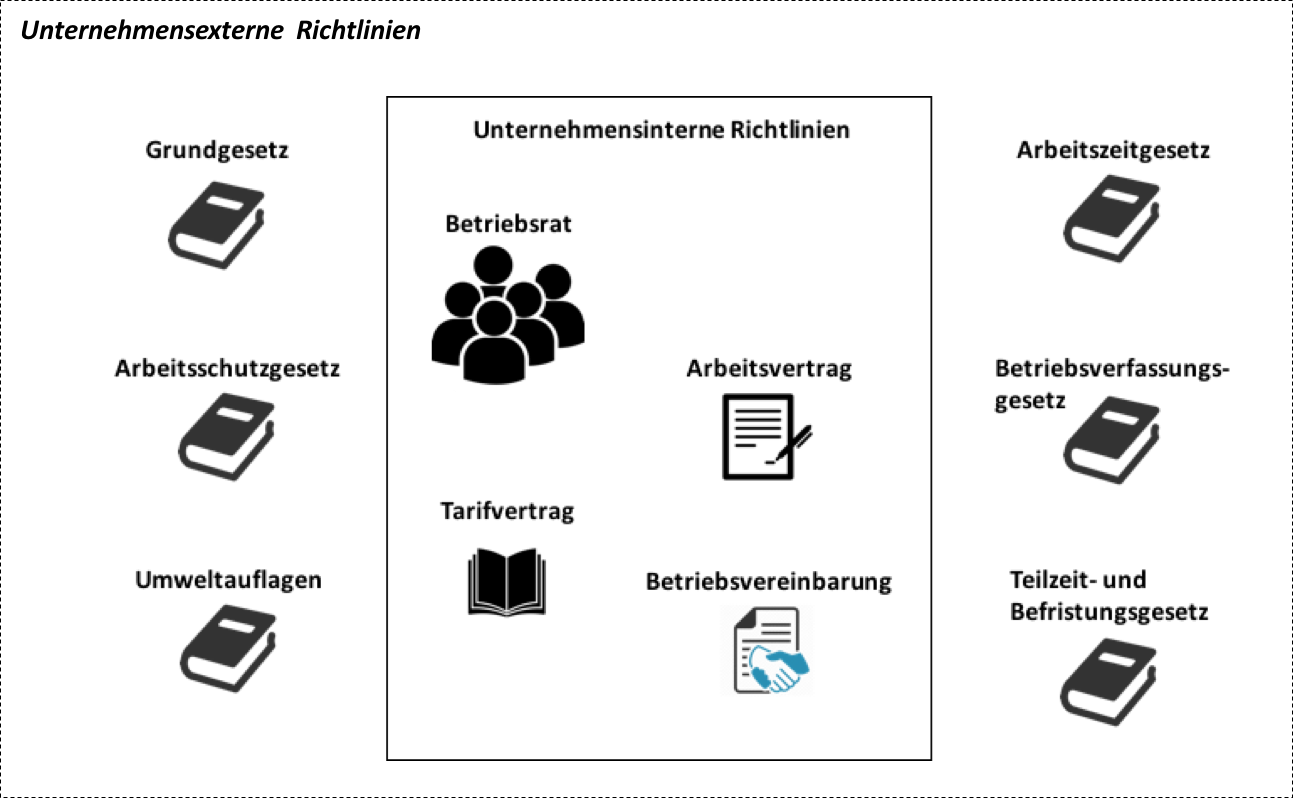 AGILER WORKING PLACE
"Home Office, free job choice and the like – is that just the way it is?" many employers are surely wondering. What if my employees demand to work from anywhere and how does Home Office actually regulate itself?
In the book there is the passage that the employer is always authorised to issue instructions as to the place of work. Of course, there are exceptions here too, but this also applies specifically in the Home Office. Legally, a home office is a permanently equipped screen workstation in the private sector of the employee. However, this is the case where an employee is forced to work from home in the case of teleworking or other reasons. In practice, however, it is the other way around, Redmann notes. Here, the employee usually wants the home office. In any case, therefore, a passage on this should be laid down in the employment contract.
The situation becomes much more complex as soon as the employee can and should/should work from anywhere. As a rule, the employment contract specifies a place from which the employee must normally work. On the one hand, this protects the employee from an improper working environment and on the other hand, laws of occupational health and safety dictate the work environment. Therefore, a special clause in the employment contract is required for mobile work. The assumption of costs for the home office as well as the mobile equipment should also be clarified. In the same way, the works council can and should be involved, says Redmann, when it comes to safeguarding the protective rights of employees, e.g. health protection, occupational health and safety or data protection. In some cases, mobile work can even be regarded as a transfer, which means that the works council must give its consent here. Data protection should also be clarified in mobile work. Detailed information and checklists can be found in the book by Britta Redmann.
AGILE WORKSPACES
New office concepts and open space are often the consequence of a design of New Work or Work 4.0. The office should be just as agile as the work, according to most of my practice partners, and you can see: it works! But what is to be considered? Information on this activity-based work (example: rest areas, team areas, …) can also be found in the book by Britta Redmann.
The Occupational Safety and Health Act always applies across the board and, in the case of established rules such as on rest areas, the works council and employees are also entitled to participate. Of course, environmental protection always applies. Changes in office space require the involvement of the works council and, insofar as the change in the environment also entails concrete effects and changes in the activity, the works council may even have to agree to this. He also has a right of co-determination, insofar as rules of conduct are established, e.g. in open-plan offices.
It is important that the works council is involved in a change in the workplace, says Redmann. In particular, an agile work space can also change the activities of the employee and then the works council might even have to agree to this.
AGILE WORKING TIME
The flexibility of the place of work is also preceded by agile working time. "Work when you want," the New Work demands say, making it an important aspect of the digitization of work. This topic is also included in the book.
Flexitime, trust work and the like definitely require an individual agreement between employees and companies according to the current state of knowledge. Especially with the variants of flexitime and trust working time, there are already numerous legal possibilities to make working hours flexible, says Redmann.
What many of my practice partners from small and medium-sized enterprises are aiming for is a completely open 24/7 working time under the premise "the main thing is that the results are right". Here, Redmann points out that the Occupational Safety and Health Act must be observed and that there is also an employment law duty to the employee. Many collective agreements also prohibit Sundays and public holidays, as well as breaks and night shifts. The company must definitely ensure the protection of the employee against overload. Nevertheless, there is already the possibility to enter into individual agreements in, for example, employment contracts, which are in conformity with the Occupational Safety and Health Act and still enable mutual needs for flexibility. In addition, there are also numerous existing operational models for flexitime and trust working hours.
AGILE ACTIVITIES
From the Group to the Startup – Agile work dissolves rigid positions and employees can, in extreme cases, take on new roles in the company on a daily basis. It is also evident in my roundtables that this leads to a high speed and flexibility in the company. But here, too, the question of my practical partners arises: Can I just do this?
In her book, Redmann points out that even the right formulations in an employment contract can facilitate and support the flexibility of roles. Existing employment contracts can be redrafted with the employees and new employees can receive corresponding passages directly into the contracts.
In such a passage, a framework of use must be defined which is compatible with an existing collective agreement. Forms of hiring have also changed considerably in recent years and many new forms of work can be found in companies. In addition, Redmann points out that in the case of hiring-outs of employees and freelance employees, care must be taken urgently to avoid bogus self-employment.
AGILE WORKING METHODS
Scrum, Kanban, XP: There is a wide range of agile methods. These are to be specially developed in the IT State of the Art and are also tested by my practice partners in non-IT departments. Thus, approaches of agile HR, sales, production or marketing can be found in the companies of my practice partners. But what does German law say about this? Can I just introduce scrum?
First and foremost, Redmann shows that agile working methods can be introduced by the employer. However, it is just as important to convince the employee of the introduction and not simply order it "per order Mufti". If necessary, co-determination rights of the works council can be affected here, e.g. if the agile methods change work areas and processes to such an extent that a legal change in the company can be assumed.
When agility is introduced, not only the work steps change, but often also the organizations and the cooperation. In this case, the employee's personal right must be respected, especially in the case of collaboration systems. He is allowed to decide which private information he wants to set to it. A special instruction on networked information exchange may also violate the employee's right. Clear framework conditions tend to support collective exchange and help to avoid misunderstandings. Here, too, the credo of conviction applies in order to attract employees to a networked exchange instead of persuading them to do so through work instructions.
AGILES PERFORMANCEMANAGEMENT
Annual discussions, performance reviews and feedback discussions shaped the digitization of work. But what about retros, dailys and reviews replacing them and creating real-time feedback on networking? Can I simply abolish the annual call because the employee automatically receives feedback every 2 weeks through Scrum?
Performance management in an agile context is different, as the team and collaboration are very much in the foreground here. This has an impact on the concept of "performance," says Redmann, so companies should deal with what they consider to be performance in terms of agility. Especially when it comes to feedback and performance measurement, the personality of the employee must be protected. In particular, bullying and disadvantage of the employee must be excluded. Here it makes sense to establish clear rules on how and for what feedback is used.
One way is to communicate clear culture and performance requirements to employees and to establish clear rules that clarify the use of feedback. Especially in team decisions, such as the design of premiums, the works council must be involved.
FAZIT on the digitization of work
Work 4.0, agility and the digitization of work are not an easy task. Even the implementation in the company through renovation and the necessary change management drives welding beads on the foreheads of managers.
The article shows that, in addition to these points, there are many legal issues that need to be taken into account. What is clear is that these laws are primarily designed to protect the employee, not to prevent work.
In this article I was only able to cover a part of the contents of the book for a short time. My goal was to give an overview of all dimensions of agility in the workplace and an initial orientation, which must be observed in each area. If you want to know more about the individual points, I recommend reading the book or contacting Britta Redmann directly.
For me, I have learned that in addition to the numerous framework laws, a lot can also be covered by an individual agreement with the employees. So it is worth convincing them of concepts of work 4.0 and agility, because as Britta Redmann says: "Agile law follows agile culture."
Reading tip: Book by Britta Redmann
Genderhinweis: Ich habe zur leichteren Lesbarkeit die männliche Form verwendet. Sofern keine explizite Unterscheidung getroffen wird, sind daher stets sowohl Frauen, Diverse als auch Männer sowie Menschen jeder Herkunft und Nation gemeint.
Lesen Sie mehr dazu.
Falls es noch Fragen gibt, können Sie mich gerne anrufen. Hierzu einfach im Buchungssystem nach einen freien Termin schauen. Ich nehme mir jeden Monat einige Stunden Zeit um mit Lesern zu interagieren.
Helfen Sie meinem Blog, vernetzen Sie sich oder arbeiten Sie mit mir
Sie haben eigene, interessante Gedanken rund um die Themenwelt des Blogs und möchten diese in einem Gastartikel auf meinem Blog teilen? – Aber gerne! Sie können dadurch Kunden und Fachkräfte ansprechen.



Ich suche aktuell außerdem Werbepartner für Bannerwerbung für meinen Blog. Sollte es für Sie spannend sein Fachkräfte oder Kunden auf Ihre Seite zu leiten, dann bekommen Sie mehr Informationen hier.
Vernetzen Sie sich in jedem Fall auf
Xing
oder
LinkedIn
oder kontaktieren Sie mich direkt für einen Austausch, wenn Sie gleich mit mir ins Gespräch kommen wollen. Werfen Sie auch einen Blick in meine
Buchvorschläge zur Digitalisierung
, vielleicht wollen Sie mir auch ein Buch empfehlen?
Ich arbeite gerne mit Unternehmen zusammen. Sie können mich ebenfalls gerne bezüglich folgender Punkte anfragen:
Verwendete Quellen anzeigen
Redmann, B. (2017). Agile working in the company: Legal framework conditions and legal requirements. Haufe Lexware