As early as 2016, the Following line was found in the WiWo: "Digitalization in the workplace: Home office usually better equipped than office". The hosting service provider Host Europe had conducted a survey of 1000 knowledge workers at the time and concluded that there is a large discrepancy between digitalisation in the home office and in the workplace. I would like to go into more detail on this thesis. You can read my article on the digital workplace and the definition of digital transformation in advance.
Digital Transformation Workplace vs. Home Office
Already at my roundtables, the representatives of the trade union have shown that home office has already prevailed in most German corporations and that virtually every knowledge worker can work at home at least one day a week. I, too, am allowed to work regularly from the home office and, like many employees, have set it up accordingly. A large screen, plants, quiet corner and lots of light. In the following 2 sections I discuss the results of the study and use it with my own opinion.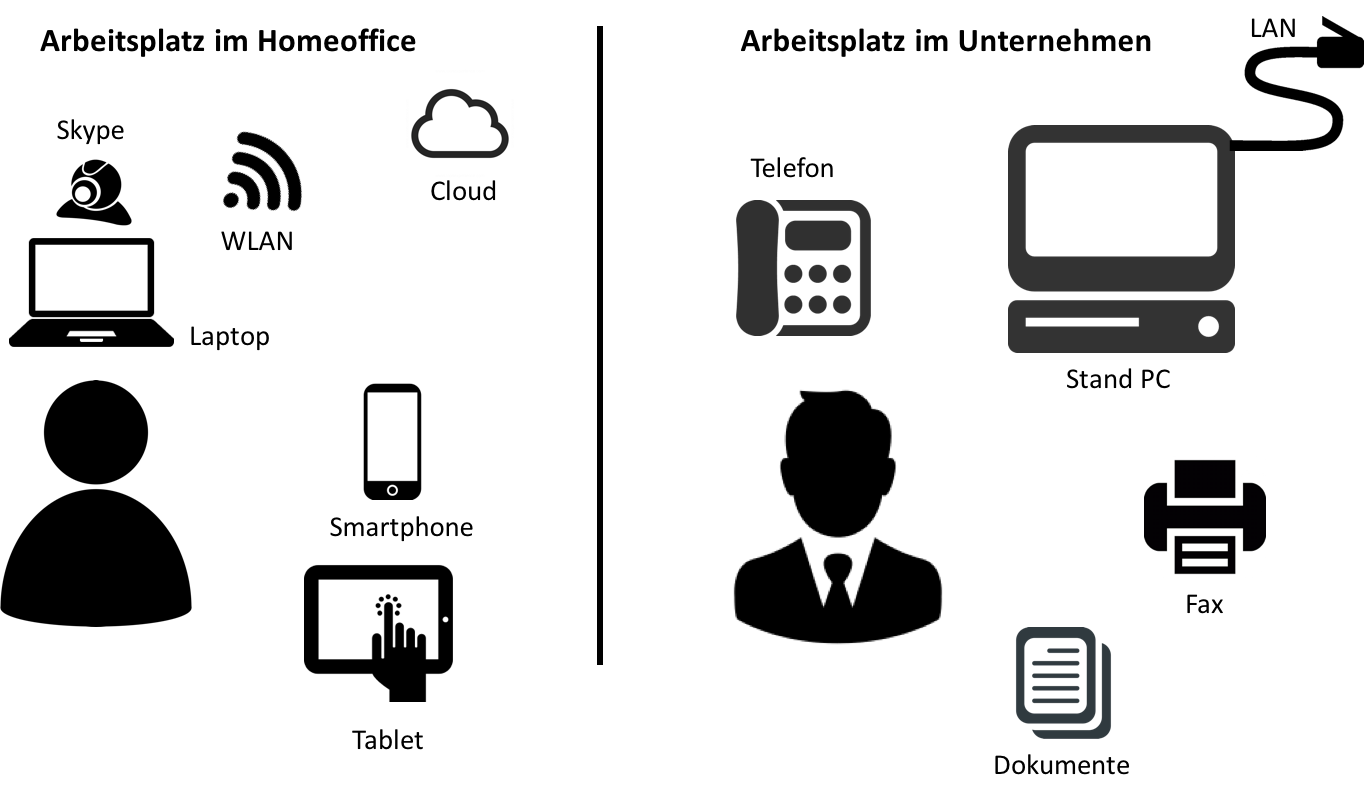 Digital Transformation in home office
If we look at the first part of the image, we will see Wi-Fi, tablets, laptops, smartphones and even the cloud. According to the study, this is what a typical home office workplace should look like. Also in conversations I notice that many homes are equipped with partly the latest technologies and even many younger professionals often want to work from home, because it simply works better from there. Digitisation seems to be well advanced in the home office and people are digitizing themselves voluntarily and even often at their own expense. But what about the workplace in return?
Digital transformation in the workplace
If we look at the other side, we notice that the typical workplace is not quite as advanced compared to the home office. I remember that when I worked as a consultant, I often worked with local customers and even once got a very old laptop with Windows XP. The PC was slow and the work very tedious. I was usually happy to be able to work remotely from the home office again. If you have too much of a discrepancy between the home office and the workplace, employees may feel like "moving back to the Stone Age".
Nevertheless, I found many positive examples in the roundtable of the participants of medium-sized companies and corporations. For example, laptops or thinclients are standard in corporations and small businesses, and smartphones are actually quite widely available as they were in 2016. I think that a lot has changed rapidly since the 2016 study, and clearly for the better.
Conclusion: More digital at home than at work
I think that the digital workplace is now more advanced than the study showed. Personally, I can even say that my workplace is just as digital as my home office. However, I also seem to be a little bit of an exception. In my environment, the home office is often still far ahead of the workplace. For this reason, the question can be asked: Why does digitalization work better in the home office than in companies? Isn't it often blamed for employees inhibiting digitalization? I often can't imagine this, because with smart home, Bluetooth toothbrushes and much more, most of Generation Y and even X cheerfully digitize themselves voluntarily and at their own expense. The Generation X usually even has quite a lot of fun to link your SUV to your new iPhone 7 or turn on the heating at home just before work.
But I have to limit my observations to IT consultants and IT industry employees. However, this study also shows that people seem to be willing to take on digital transformation and, as already mentioned in the Roundtable, are curious and open to digital change. Overall, however, it appears that digital change is currently progressing faster in private than in companies, and we should ask ourselves: Why? What is your opinion? Do you see it the same way i do?
Genderhinweis: Ich habe zur leichteren Lesbarkeit die männliche Form verwendet. Sofern keine explizite Unterscheidung getroffen wird, sind daher stets sowohl Frauen, Diverse als auch Männer sowie Menschen jeder Herkunft und Nation gemeint.
Lesen Sie mehr dazu.
Falls es noch Fragen gibt, können Sie mich gerne anrufen. Hierzu einfach im Buchungssystem nach einen freien Termin schauen. Ich nehme mir jeden Monat einige Stunden Zeit um mit Lesern zu interagieren.
Helfen Sie meinem Blog, vernetzen Sie sich oder arbeiten Sie mit mir
Sie haben eigene, interessante Gedanken rund um die Themenwelt des Blogs und möchten diese in einem Gastartikel auf meinem Blog teilen? – Aber gerne! Sie können dadurch Kunden und Fachkräfte ansprechen.



Ich suche aktuell außerdem Werbepartner für Bannerwerbung für meinen Blog. Sollte es für Sie spannend sein Fachkräfte oder Kunden auf Ihre Seite zu leiten, dann bekommen Sie mehr Informationen hier.
Vernetzen Sie sich in jedem Fall auf
Xing
oder
LinkedIn
oder kontaktieren Sie mich direkt für einen Austausch, wenn Sie gleich mit mir ins Gespräch kommen wollen. Werfen Sie auch einen Blick in meine
Buchvorschläge zur Digitalisierung
, vielleicht wollen Sie mir auch ein Buch empfehlen?
Ich arbeite gerne mit Unternehmen zusammen. Sie können mich ebenfalls gerne bezüglich folgender Punkte anfragen: