More and more companies are using technologies and constantly expanding them with individual functions, which increasingly support processes in companies. The data thus obtained is often worth protecting and critical for the company. The non-transparent storage of data thus creates a risk for companies.
Already in the coalition agreement, the governing parties commit themselves to the preservation and recovery of technological sovereignty. The focus is on alternatives to current US providers, which often offer cloud and software solutions without sufficient transparency. Due to the fact that we are becoming more and more dependent on technologies in the future, sovereignty over their administration should be in the hands of the German entrepreneurs.
This article illustrates current risks in working with major U.S. providers and explains the use of open source software as an alternative solution to creating digital sovereignty.
Risk 1: Vendor LockIn
The reason for the frequent focus on a provider is obvious: Providers such as Apple and Microsoft often optimize their own components on each other and it is difficult to link them to solutions from other manufacturers. It is called a Vendor LockIn:
In the case of Vendor Lock-In, a customer cannot replace a service or product used without increased effort with an equivalent solution from another provider. This is mostly due to the use of proprietary technologies that are incompatible with those of competitors.

Lindner et al. (2020)
The risks of such a vendor lockin are often high costs and royalties, as there is a strong dependency on the individual provider.
Risk 2: Data in Cloud – But how are you?
Another risk is the storage of data, which often lie in a cloud of the provider. Cloud is defined as:
The term includes the interaction of several servers over the Internet. All servers share tasks with each other. If one server fails, another server takes over. The cloud user thus does not have an overview of the individual servers. Its data or application somehow (cloudy) runs in the cloud.

Lindner et al. 2020
You notice that the data is often not stored transparently in the cloud and thus cannot be 100% guaranteed that the data is sufficiently protected from third-party access. Such storage also often violates order processing agreements (ADV) with key key customers.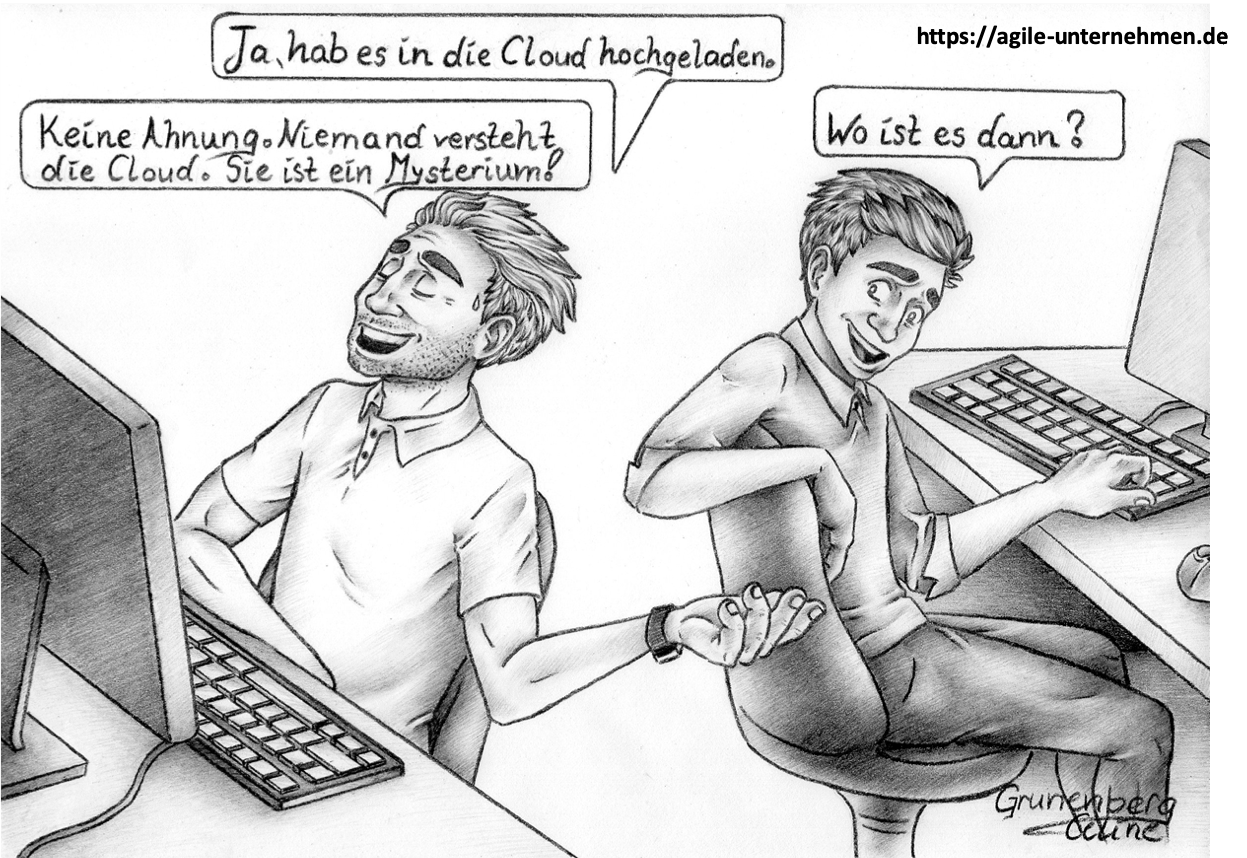 Digital sovereignty
Sovereignty is defined as the ability of a natural or legal person to exclusively self-determination. The ability to self-determination is characterized by the independence and independence of the individual and is the middle way to foreign determination and self-sufficiency.
Demarcation: Sovereignty does not mean that a company has to do everything itself (self-sufficiency) but that a company is capable of acting and can decide for itself what it does. It is itself able to choose between alternatives of powerful software.
For me, digital sovereignty stands for independence from a provider as well as self-determination, which components I can use to support a certain activity in the company digitally. Furthermore, I have complete transparency about my data.
In the following, I would like to show both companies and households an example from my current experience.
Open source as an alternative for companies
For almost every task there are free, so-called open source software, which often do not have to hide behind commercial applications. Open source software is software whose source code can be freely downloaded via the Internet and used free of charge under open source licensing models. By publishing the source code, the user can understand that data is not used without the user's permission (Lindner at al. 2020).
Take the example of Microsoft's Office 365, which is used in many companies for the following activities:
Writing program (Word),
Tables (Excel),
Presentations (PowerPoint),
Notes (OneNote),
Videoconference (Skype),
E-mail (Outlook) and
File sharing (OneDrive).
Microsoft Office 365 combines various online services with traditional desktop office software. Office 365 is available in a variety of ways. The web applications can be used via browser via the Internet from computers with any operating system (Lindner at al. 2020)
There is also a secure alternative for Office 365. The various services could also be obtained on the basis of open source software. By e.g. On Premise installation (own servers or free choice of data center) and a variety of administration and security features give entrepreneurs full control over your data and are compliant with gdpR (Lindner at al. 2020). The following figure shows the implementation by ownCloud with Collabora in the browser as an alternative to Microsoft Word and OneDrive.
Similarly, the entire functionality of Office 365 can now be replicated by individual open source variants. My recommendation is:
Writing program, tables and presentations (OnlyOffice),
Notes (Joplin),
Videoconference (Kopano),
User management (Univention)
E-mail (Open XChange) and
File sharing (ownCloud).
These functions can be flexibly set up and integrated into the existing open source infrastructure. You can also replace individual components (no Verdor LockIn) at any time and have transparent source code.
Open source as an alternative for home
Privately, too, one should pay more and more attention to the sovereignty of one's own data. Providers such as Dropbox or Microsoft, like companies, also give private users little transparency in the storage of their own data.
For example, I connected two hard drives (4TB) to a Raspberry PI at home. The hard drives are redundant, so data loss is not possible in the event of a hard drive failure. The whole set will cost you around 250 euros. Since commercial clouds often cost 10 euros per month, this investment is worth it after 2 years. However, this was not my primary goal, as I wanted to achieve the sovereignty of my data.
I then installed the ownCloud software on my Raspberry PI. Due to the open source, I could be sure that no one has access to my data. I also know that the data is on my hard drives, which are on my desk.
Reading tip: Read my guide on how to set up such a cloud!
The alternative is to buy your own NAS station. For example, I have a Synology NAS. Long established in PC circles, Synology is one of the leading manufacturers of NAS servers. The pre-configured version is particularly suitable for beginners and requires very little knowledge. Components can be installed and set up with a click. However, they are not completely free, but unlike Dropbox and Co., they have their own hardware. Here is my recommendation: Synology NAS DS-218 with 2 Seagate hard drives.
Conclusion
Digital sovereignty is an essential issue for businesses. As more and more technology is becoming more and more established in companies, the issue should also become more and more important. The main dangers are the dependence on a provider and the associated high costs as well as the lack of transparency of the data.
For almost every task there are free, so-called open source software, which often do not have to hide behind commercial applications. The use of such software can be an alternative to commercial providers and increase the digital sovereignty of businesses and households.
Tip: Read my new book: The way to the cloud at Springer Gabler or book me for a talk .
Image source: Pixabay
Source
Lindner, D., Niebler, P., & Wenzel, M. (2020). The Way to the Cloud – A Guide for Entrepreneurs and Decision Makers. Heidelberg: Springer Gabler.
Genderhinweis: Ich habe zur leichteren Lesbarkeit die männliche Form verwendet. Sofern keine explizite Unterscheidung getroffen wird, sind daher stets sowohl Frauen, Diverse als auch Männer sowie Menschen jeder Herkunft und Nation gemeint.
Lesen Sie mehr dazu.
Falls es noch Fragen gibt, können Sie mich gerne anrufen. Hierzu einfach im Buchungssystem nach einen freien Termin schauen. Ich nehme mir jeden Monat einige Stunden Zeit um mit Lesern zu interagieren.
Helfen Sie meinem Blog, vernetzen Sie sich oder arbeiten Sie mit mir
Sie haben eigene, interessante Gedanken rund um die Themenwelt des Blogs und möchten diese in einem Gastartikel auf meinem Blog teilen? – Aber gerne! Sie können dadurch Kunden und Fachkräfte ansprechen.



Ich suche aktuell außerdem Werbepartner für Bannerwerbung für meinen Blog. Sollte es für Sie spannend sein Fachkräfte oder Kunden auf Ihre Seite zu leiten, dann bekommen Sie mehr Informationen hier.
Vernetzen Sie sich in jedem Fall auf
Xing
oder
LinkedIn
oder kontaktieren Sie mich direkt für einen Austausch, wenn Sie gleich mit mir ins Gespräch kommen wollen. Werfen Sie auch einen Blick in meine
Buchvorschläge zur Digitalisierung
, vielleicht wollen Sie mir auch ein Buch empfehlen?
Ich arbeite gerne mit Unternehmen zusammen. Sie können mich ebenfalls gerne bezüglich folgender Punkte anfragen: