Ma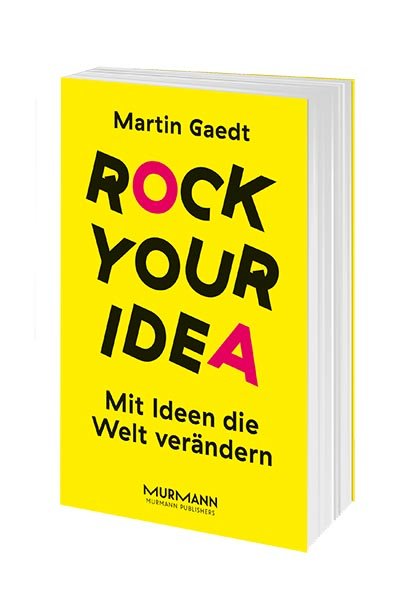 rtin Gaedt describes himself as the provotainer and is the managing director of Provotainment GmbH, founder of cleverheads, younect, askabit, Sweet Souvenir, Knack the Nut and Gewinnovation and has thus founded numerous start-ups. His lectures are a mixture of provocation and entertainment. With his new book: Rock Your Idea and already in 2014 with the myth of skills shortage, he has written two interesting books. Today I talk to him about the question: What could be an agile recruiting and how can you rock with it?
Drive from your own motivation
I founded my own start-up in 2007, in which I wanted to arrange trainees at training companies. The market analysis was good. 60,000 vacancies per year which have not been filled. But somehow hardly anyone used the portal 2008/2009 despite 30,000 students with a competence profile looking for training places, according to Martin. So weren't so many vacancies open? Martin then began to question the figures and came to the conclusion that this so-called shortage of skilled workers does not seem to exist as stated in the surveys. With that in mind, he was at a party in the evening. In the course of the evening, a discussion on this topic also took place there. Coincidentally, the counterpart of the conversation was employed by a publisher and so he suggested to make a book out of it directly. That's how his first book came about!
The myth of a shortage of skilled workers
"Skills shortage is a box office hit." Martin said. The associations are doing surveys in an increasing number of counties and industries and are showing the growing shortage of skilled workers. Since then, the result has been confirmed from year to year: over and over again. But we never ask ourselves why there are fewer applications, but blame it on the fact that there are fewer applicants, Martin notes.
He also told me that there may be 1001 reasons for a shortage of skilled workers: unattractive offers, fixed-term contracts, boring job advertisements, far too late responses to applications, lack of ideas, poor pay and many more.
What could be agile recruiting?
Agility is a buzzword with raison d'etre. There are 7 billion ways to reach 7 billion people, Martin said, when I talk to him about agile recruiting. He complains that many companies often run a classic job ad and wonder why traditional applicants or even hardly anyone registers. "Rock your Recruiting" means being more agile, i.e. developing new ideas and trying them out quickly. Try, learn, change and try again until you succeed. This is where agility comes into recruiting," says Martin.
And what does digitalization have to do with it?
Afterwards, I discussed with Martin what this megatrend of digitization actually has to do with it. In Martin's view, only maybe 1% of the possibilities are currently exhausted and we are only just beginning to understand what this trend actually means. He notes that, especially in HR, there is often little digitized and that applicant management systems are mostly used, which send the applicants beautiful e-mails such as: "Dear applicant, we have received your application and report to us". Talent management systems also often analyze the CV, i.e. the past of an applicant. So they show what the candidate can do today, Martin notes. But what they don't show is what he's ready to do tomorrow. It is also important to exploit these potentials.
Examples of how recruiting can rock
Martin showed me three examples of companies that he thinks are rocking their recruiting! In the first example, he shows a small company that is mainly looking for engineers. At some point, this company wondered what our applicants were actually doing and after a survey they realized that they like to listen to heavy metal, says Martin. So this company has raffled off 4 tickets for the Heavy Metal Festival Wacken among all applicants. The campaign even went viral, Martin said.
The second example is about a farm that was very well optimized FOR SEO, i.e. can be found digitally and can be experienced to the other end, because every applicant was allowed to come by and experience the day-to-day business on the farm directly. Findability and readability as opposed to hard-to-find job ads and sterile meeting rooms. That's how recruiting rocks, Martin said.
The third example is that of a company that has been looking for an accountant. According to Martin, the company learns three things through a classic application: Can the applicant research, write and talk? But an accountant doesn't have to be able to do all of this, Martin said. But it should be thorough. For example, the company has overpaid three cents too much for all transfers. When an accountant came back, he was offered a good job because it turned out to be very thorough.
Recommendations for action by Martin Gaedt
At the end of our dialogue, Martin has two clear recommendations for action, which he recommends to companies in order to operate agile recruiting or for those who simply want to rock their recruiting:
Treats applicants as customers alike and cooperates with other companies in the HR sector (Martin Gaedt)
Many companies are very successful, which is usually due to good customer loyalty. This simply had to be transferred to applicants, Martin notes. Especially in diszplins such as purchasing many companies cooperate, but at the recruitment level such is not yet state-of-art. He recommends thinking about it.
I would like to thank Martin for the great dialogue and found the conversation instructive and particularly pleasant. I am also looking forward to his next book, which he is currently working on. The content is still secret but surely he will tell us more about it soon.
Reading tip: Recommendations for action on the shortage of skilled workers in small and medium-sized enterprises
Genderhinweis: Ich habe zur leichteren Lesbarkeit die männliche Form verwendet. Sofern keine explizite Unterscheidung getroffen wird, sind daher stets sowohl Frauen, Diverse als auch Männer sowie Menschen jeder Herkunft und Nation gemeint.
Lesen Sie mehr dazu.
Falls es noch Fragen gibt, können Sie mich gerne anrufen. Hierzu einfach im Buchungssystem nach einen freien Termin schauen. Ich nehme mir jeden Monat einige Stunden Zeit um mit Lesern zu interagieren.
Helfen Sie meinem Blog, vernetzen Sie sich oder arbeiten Sie mit mir
Sie haben eigene, interessante Gedanken rund um die Themenwelt des Blogs und möchten diese in einem Gastartikel auf meinem Blog teilen? – Aber gerne! Sie können dadurch Kunden und Fachkräfte ansprechen.



Ich suche aktuell außerdem Werbepartner für Bannerwerbung für meinen Blog. Sollte es für Sie spannend sein Fachkräfte oder Kunden auf Ihre Seite zu leiten, dann bekommen Sie mehr Informationen hier.
Vernetzen Sie sich in jedem Fall auf
Xing
oder
LinkedIn
oder kontaktieren Sie mich direkt für einen Austausch, wenn Sie gleich mit mir ins Gespräch kommen wollen. Werfen Sie auch einen Blick in meine
Buchvorschläge zur Digitalisierung
, vielleicht wollen Sie mir auch ein Buch empfehlen?
Ich arbeite gerne mit Unternehmen zusammen. Sie können mich ebenfalls gerne bezüglich folgender Punkte anfragen: