Industry 4.0 is a practical term and stands for a project of the German Federal Government. In science, the influence of technology on classical production as well as the networking of people and machines is investigated, such as the integration of technologies such as sensor technology, 3D printing and artificial intelligence (AI).
In the course of my research, I have examined two recent studies on Industry 4.0 and would like to summarize and compare them in the following.
Study 1: Bitkom
In the first selected study, more than 550 industrial companies of different sizes were interviewed by Bitkom (2019) on the topic of Industry 4.0. More than half of the companies surveyed say that first use cases are used by Industry 4.0. 21% of the companies surveyed also plan to expand them. A special field of application is the linking of machines to the Internet in order to enable a link and a targeted data evaluation.
According to the majority of the companies surveyed, 20-50% of machines in production are currently connected to the Internet. According to the companies surveyed, the benefits currently visible are primarily increasing productivity, predictability of maintenance and optimising processes in production. Overall, the benefits seem to be small at the moment. The figure shows other advantages.
According to the study, the current implementation of Industry 4.0 requires further investment and the recruitment of skilled workers. For example, companies currently invest a majority of about 5% of their turnover in technologies associated with Industry 4.0. In addition, 50% of companies believe that these projects require the search for new IT and production specialists. According to the study, more than two-thirds of the skilled workers sought have an academic background and could displace professionals with a training background. In addition to the numerous opportunities shown in the following figure, there are also risks that companies currently see as obstacles to projects in the context of Industry 4.0. In particular, high investment costs, aspects of data protection and security, and a shortage of skilled workers are to be mentioned. Further results are shown in the following figure.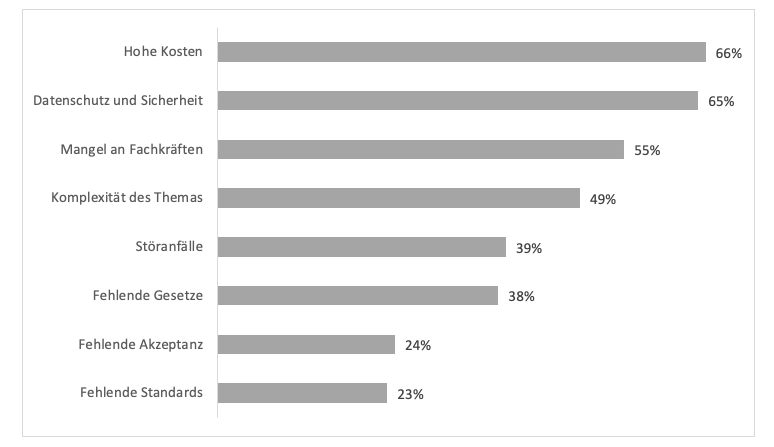 Study 2: Saarbrücken Centre of Excellence
The second selected study was carried out in 2017 by the Saarbrücken Competence Centre. With the help of almost 340 interviews with IT managers of production companies, aspects of Industry 4.0 were examined. The main results of the study are that almost 80% of the participants are currently carrying out projects with an association with Industry 4.0. In particular, the participants noted initial successes after three months (small efficiencies) for individual measures. For larger projects, more than two-thirds of the participants expect that the first potentials, concretely sales increases and competitive advantages, will only become apparent after three years.
But how does this study differ from Bitkom? difference can be found in the potentials. These are as follows:
competitive advantage (44%),
Cost savings (40.7%) And
Speed of processes (38%).
The study also examined possible obstacles to Industry 4.0, although the data are also slightly different from the first study. For example, the shortage of skilled workers does not play a role here. According to the study, the main obstacles are:
Hacker attacks (47%),
Industrial espionage (29.7%),
Production losses (29.5%) And
Legal problems (26.3%).
The central point in both studies is almost always the high cost of Industry 4.0 projects. The highest costs are licensing, training, and hardware costs.
Conclusion
Industry 4.0 is increasingly being used in Germany and is also to be expanded slowly. However, there are obstacles that prevent companies from significantly increasing projects. According to the companies, the high costs in particular are a high risk.
Sources
Bitkom. (2019). Industry 4.0 – Study. Retrieved May 19, 2020, from https://www.bitkom.org/sites/default/files/2019-04/bitkom-pressekonferenz_industrie_4.0_01_04_2019_prasentation_0.pdf
Competence Center-Saarbrücken. (2017). IDG Study Industry 4.0. Retrieved May 20, 2020, from https://kompetenzzentrum-saarbruecken.digital/wp-content/uploads/2018/10/IDG-Studie2017-Industrie4.0.pdf
Source: https://pixabay.com/de/photos/gabelstapler-lagerhaus-maschine-835340/
Genderhinweis: Ich habe zur leichteren Lesbarkeit die männliche Form verwendet. Sofern keine explizite Unterscheidung getroffen wird, sind daher stets sowohl Frauen, Diverse als auch Männer sowie Menschen jeder Herkunft und Nation gemeint.
Lesen Sie mehr dazu.
Falls es noch Fragen gibt, können Sie mich gerne anrufen. Hierzu einfach im Buchungssystem nach einen freien Termin schauen. Ich nehme mir jeden Monat einige Stunden Zeit um mit Lesern zu interagieren.
Helfen Sie meinem Blog, vernetzen Sie sich oder arbeiten Sie mit mir
Sie haben eigene, interessante Gedanken rund um die Themenwelt des Blogs und möchten diese in einem Gastartikel auf meinem Blog teilen? – Aber gerne! Sie können dadurch Kunden und Fachkräfte ansprechen.



Ich suche aktuell außerdem Werbepartner für Bannerwerbung für meinen Blog. Sollte es für Sie spannend sein Fachkräfte oder Kunden auf Ihre Seite zu leiten, dann bekommen Sie mehr Informationen hier.
Vernetzen Sie sich in jedem Fall auf
Xing
oder
LinkedIn
oder kontaktieren Sie mich direkt für einen Austausch, wenn Sie gleich mit mir ins Gespräch kommen wollen. Werfen Sie auch einen Blick in meine
Buchvorschläge zur Digitalisierung
, vielleicht wollen Sie mir auch ein Buch empfehlen?
Ich arbeite gerne mit Unternehmen zusammen. Sie können mich ebenfalls gerne bezüglich folgender Punkte anfragen: