The term big data refers to the handling and evaluation of large amounts of data in the context of companies. Large amounts of data can be collected via sensors, mobile phones, machines, customer cards, vehicles or come from social media and numerous other sources and must be stored, processed and evaluated using special procedures due to the large amount. I would like to present two relevant studies on this topic, which I have analysed in the course of my research work and thus convey the current state of play. Have fun reading!
Study 1: Bitkom 2014
The first study was conducted by Bitkom in 2014. Based on more than 500 participants, senior managers of German companies were interviewed online. The study is no longer fully up-to-date, but the information may help to compare the 2014 results with the second selected study of 2018. First, the study of Bitkom (2014) will be presented.
The aspect of the use of Big Data in companies. According to the study, 9 out of 10 participants initiate at the time of the survey, projects in the company that are subject to the topic of big data to be assigned. The companies try to evaluate the following data:
Master data (3%),
Transaction data (3%),
Log data (31%),
Sensor data (25%) And
Web content (9%).
The main areas of application of data analysis are the areas
Marketing & Sales (74%),
Finance (44%),
IT (33%),
Logistics (33%) And
staff (26%).
The main potentials that companies expect in this area are listed in the following figure. In this context, the main examples are the addition of previous decisions, the improvement of customer knowledge and the preparation of trend analyses.
Current obstacles in the use of big data have been also covered in the study. The most frequently mentioned were:
Criticism by customers (31%),
high costs (23%),
Image damage in public (23 %) And
Ethical-moral reasons (14%).
Commerzbank 2018
A further, more recent study on this topic was carried out by Commerzbank in 2018. The study results are based on a survey of more than 2000 managers from companies who say they are responsible for big data projects.
According to the study, more than 80% of study participants through big data projects in the company. Most projects retail trade (49%), wholesale (46%) And Manufacturing (46%) as well as in companies with more than 100 million euros Sales (52%) Realized. This information is available in a clear Compared to those from the 2014 Bitkom study.
There is also a need for data source. differences from the 2014 study, as internal data and a few external sources are:
Financial data (67%),
utilization of employees (55%),
Stocks (54%) And
Customer satisfaction (50%).
In an overall view, many results of both studies similarities and differ more in the strong orientation of the Commerzbank's study (2018) of trading companies (e.g. utilization of employees and stock levels).
Two other aspects related to the chances and the obstacles to the use of big data in the enterprise. According to the study are the most important opportunities:
Decision-making certainty (58%),
utilization of resources (57%),
Automation of processes (54%) und
Financial analysis (46%).
With regard to the obstacles to the use of big data, the main mention was of: quality of data, qualification of employees and problems with evaluation (see figure).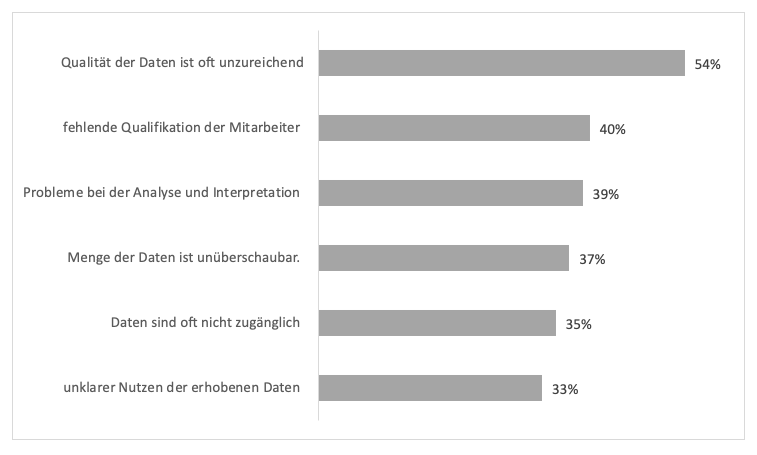 Conclusion
Overall, comparing the odds between the two studies reveals many similarities. There are significant differences in the obstacles, which in the first case are seen more in cost and image damage, and in the second as internal obstacles in the form of employees and the data base.
Sources
Commerzbank. (2018). The raw material of the 21st century: Big Data, Smart Data – Lost Data? Retrieved May 20, 2020, from https://www.iais.fraunhofer.de/de/geschaeftsfelder/big-data-analytics/referenzprojekte/big-data-studie.html
Bitkom. (2014). Potentials and use of big data – results of a representative survey of companies in Germany. Retrieved May 20, 2020, from https://www.bitkom.org/sites/default/files/file/import/Studienbericht-Big-Data-in-deutschen-Unternehmen.pdf
Image source: https://pixabay.com/de/photos/lager-handel-monitor-gesch%C3%A4ft-1863880/
Gender note: I have used the male form for easier reading. If no explicit distinction is made, women, miscellaneous and men as well as people of any origin and nation are always meant.
Read more.
If there are still questions, you are welcome to call me. Just look in the booking system for a free appointment. I take a few hours every month to interact with readers.
Help my blog, network or work with me
You have your own interesting thoughts about the topics of the blog and would like to have them in a Share guest article on my blog? - But with pleasure! This way you can address customers and professionals.



I am also currently looking for advertising partners for banner ads for my blog. If it should be exciting for you to lead specialists or customers to your site, then you get more information here.
In any case, please connect on
Xing
or
LinkedIn
with me or contact me directly for an exchange if you want to talk to me. Please also take a look at my
book suggestions for digitization
, maybe you want to recommend a book to me?
I like working with companies. You can also ask me about the following points: