When you hire a service provider, you want them to be on hand to provide advice and assistance. Lately, I've been reading articles more often, but they complain that consulting often provides too much advice rather than action. In concrete terms, the criticism means that too much theory is sold at a high level and that there is too little real consultation. This criticism hits IT service providers hard.
Here's how Nicolas Kittner points out in a quote: The problem with most consultants is that they are only consultants. They move on a meta-level, everything is macro, nothing micro. It's about trends in the market, about processes, about structures, about price models, about business plans and brand strategies. But consultants need to know the mic, they need to know how to turn an e-commerce strategy into a shop, how to build a prototype out of an idea, how to develop a product from trends.
Kittner demands: Consultants that program. Consultants who design. Managers who develop prototypes. Numerous service providers have taken up this development and have since described themselves as an agile IT service provider. But what does this mean and how do I work with one?
Agile IT service providers
I have already presented an approach for an agile IT service provider in the article: Influence of digital change on IT service providers and would like to tackle it here only briefly. Overall, more consultants, makers and implementers are desired, who look outside the box and offer everything, according to the criticism in the articles. A service provider should be able to cover an entire process from start to finish.
But a service provider often cannot cover everything. Let us think of a small consulting house with 30 people. It's just impossible to cover an entire IT process. One solution I have already explained in the Consulting 4.0 article is: you enter into partnerships. This means that customers are offered a complete and comprehensive service. As a service provider, I use other service providers for this purpose, but manage them in such a way that the customer does not notice it with the focus on high added value for the customer.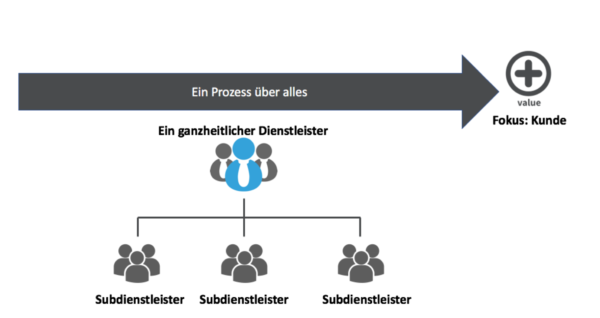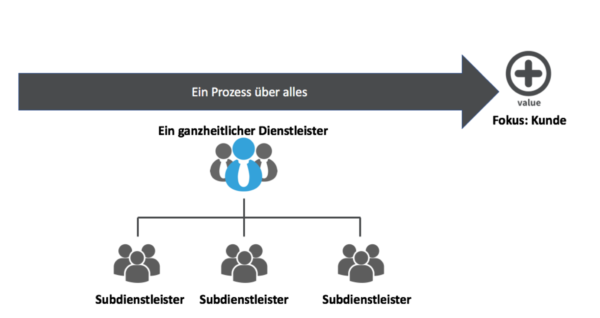 Consulting Y
Everything that can be digitized is digitized. Simply because it is possible. Companies that cannot withstand the frenzied pressure for innovation in the age of the digital revolution are dying out like dinosaurs. But who should implement the increasingly complex digital transformation processes in times of skill shortages and demographic change? Ferdinando Piumelli asks himself in his book Consulting Y. In this book I have found two exciting places, which I would like to elaborate in more detail below. For more information, see the book by Ferdinando Piumelli.
External or Internal?
Companies continuously need new know-how if they are to be able to compete. Since few top-level workers have the necessary know-how to innovate, companies cannot avoid working with external experts.Puimelli said.
This thesis may be true. But how does working with an agile service provider work? According to Puimelli, there are 4 possibilities for this, of which I would like to introduce 3.
The first is a one-off project. According to Puimelli, it makes no economic sense to qualify employees for a one-off case. The external allocation of the project is a good way to do so. The advantages are that external service providers have already carried out similar projects many times at best, so that the company can benefit from these experiences and be guided through the process. Disadvantages are that after the completion of the project there are no know-how carriers in the company who are deeply familiar with the subject matter. This is especially problematic when the project team has developed a product that will require strong support later on.
Outsourcing is also an opportunity. As Puimelli says: If entire processes or individual applications are outsourced to service providers in Asia (offshore) or Eastern Europe (nearshore), then we are talking about outsourcing. This form of cooperation attracts considerable cost savings. However, it requires that the processes be semi-automated and that each service is precisely defined.
The last form is honor forces, because in Germany there is the right expert for every problem and an almost unmanageable number of freelancers,says Puimelli. He also sees an advantage in the fact that the company hardly takes on obligations and can meet short-term personnel requirements. Disadvantages are that according to Puimelli freelancers like mercenaries and are looking for the most expensive contract offer. Real loyalty cannot be expected here.
Trust in the service provider
The success of a consultant and consultant is not primarily determined by his professional competence. His ability to enter into and maintain trusting relationships is at least as crucial to success, Puimelli wrote in his book.
However, he also speaks of a dilemma: However, the relationship between consultant and manager makes it difficult for the manager to have an interest in securing a certain level of information in his area of responsibility in order to secure his position in the company. So innovations are only of interest for as long as they do not jeopardize its own existence. At the same time, it is in the interest of the consultant to obtain as far-reaching insights as possible into the company in order to provide meaningful and promising advice beyond the current case and possibly to generate follow-up orders.
He describes the solution in a concept of credibility, reliability and relationship that needs to be built. He also describes these abstract elements in more detail:
Credibility, for example, consists of the elements: knowledge, presence and behavior. The basis for credibility as a consultant is professional competence. But beyond that, personal interaction must show a presence that shows sincere interest, integrity, and loyalty. This starts with the appropriate clothing. The third component is honest and consistent behaviour. This means not talking nicely, but also addressing unpleasant truths. There should be no promise that cannot be kept. Like credibility, reliability and relationship can be translated into concrete attitudes and behaviours. A trusting relationship can be established in a targeted manner and does not have to be a coincidence.
Is this agile consulting now?
Whether this is now agile consulting or consulting Y cannot be clearly determined, but something seems to be changing for the middle class. In this way, the strategy is visibly changing towards agile service providers and the nature of the partnership is also changing. The framework agreements are easing and enabling new forms of agile cooperation as well as the more flexible provision of services and even the implementation of Work 4.0.
If you would like to learn more about this topic Consulting Y, you are welcome to participate in the roundtables and discuss relevant topics with me and other experts. Read also my article on the tradition in small and medium-sized enterprises or on the influence of digital change on IT service providers and take a look at the article Consulting 4.0. Take a look at Ferdinando Piumelli's book on Consulting Y.
Genderhinweis: Ich habe zur leichteren Lesbarkeit die männliche Form verwendet. Sofern keine explizite Unterscheidung getroffen wird, sind daher stets sowohl Frauen, Diverse als auch Männer sowie Menschen jeder Herkunft und Nation gemeint.
Lesen Sie mehr dazu.
Falls es noch Fragen gibt, können Sie mich gerne anrufen. Hierzu einfach im Buchungssystem nach einen freien Termin schauen. Ich nehme mir jeden Monat einige Stunden Zeit um mit Lesern zu interagieren.
Helfen Sie meinem Blog, vernetzen Sie sich oder arbeiten Sie mit mir
Sie haben eigene, interessante Gedanken rund um die Themenwelt des Blogs und möchten diese in einem Gastartikel auf meinem Blog teilen? – Aber gerne! Sie können dadurch Kunden und Fachkräfte ansprechen.



Ich suche aktuell außerdem Werbepartner für Bannerwerbung für meinen Blog. Sollte es für Sie spannend sein Fachkräfte oder Kunden auf Ihre Seite zu leiten, dann bekommen Sie mehr Informationen hier.
Vernetzen Sie sich in jedem Fall auf
Xing
oder
LinkedIn
oder kontaktieren Sie mich direkt für einen Austausch, wenn Sie gleich mit mir ins Gespräch kommen wollen. Werfen Sie auch einen Blick in meine
Buchvorschläge zur Digitalisierung
, vielleicht wollen Sie mir auch ein Buch empfehlen?
Ich arbeite gerne mit Unternehmen zusammen. Sie können mich ebenfalls gerne bezüglich folgender Punkte anfragen:
Verwendete Quellen anzeigen
Ferdinando Piumelli
. (2016).
Consulting Y – The Digital Transformation
. Bielefeld: Edition Carthago.