Complexity in management has come back into focus since the digital transformation. How can companies deal with growing complexity and dynamics of markets? How can modern leadership and structure be established in companies and how can we reduce complexity with the help of special methods. According to the author Niels Pfläging, corporate structures should be as lively as markets. But how does he mean this exactly and how is complexity reduced in practice?
Why is there complexity in management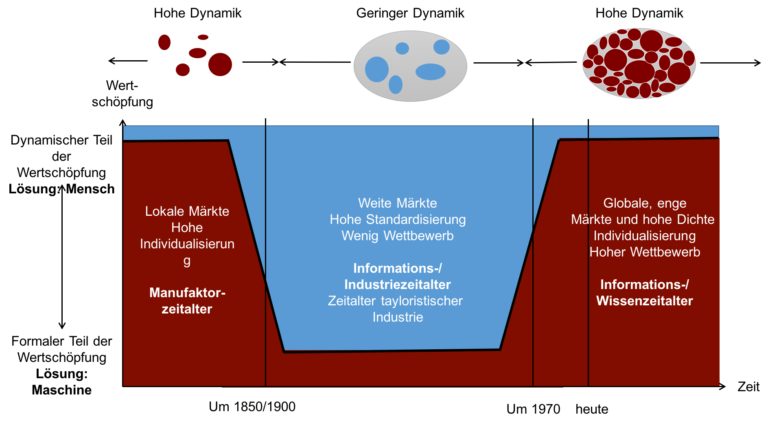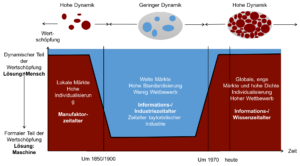 Why did it become so complex? What were triggers and why wasn't it "earlier"? For this I found the above picture. It seems that this dynamic has only been slowly rising since 1970 and has reached a peak again in a few years. The justification for the high density and the increase in competition seems understandable. In addition, many authors mention digital transformation, Industry 4.0 and Big Data. Take a look at the book "Organisations for Complexity" by Pfläging! or in the article "Frames for Agility".
What is complexity?
Simple systems contain few elements, are stable and predictable. So you have a clear attitude. Chaotic systems, on the other hand, are characterized by many elements, extreme dynamics, many relationships and a lack of "cause-effect" relationship. So no patterns can be formed.
Complicated systems are comprehensible. Their behavior is predictable and it is often just a matter of the available information to understand it. The system consists of many logical parts. This can be, for example, an extensive algorithm.
Complex systems are open to results. Their behavior is unpredictable, and the unexpected determines the development. The system consists of many elements whose behavior cannot be planned. The system is therefore full of contradictions and always has several possibilities to behave.
Meeting complexity in management
Complex testicles
In 2015, Niels Pfläging wrote the second book "Complexithoden". According to its own statement, 33 methods to reduce complexity in management will be presented. Take a look at the book of Pfläging! In the next paragraph I evaluated these methods with 16 companies and came to an interesting result.
Examples from practice
In the first interviews and case studies I found results. According to the subjects, organizations have to change permanently, these changes are becoming more and more complex and radiate more and more uncertainty to the employees. The experts gave me 4 methods to counteract this complexity:
Reduce complexity by:
creating transparency and sharing of responsibility,
experienced employees and "departmental heroes",
positioning and limitation to certain criteria as well as
IT tools and technology.
In the further course, I examine even more methods to reduce complexity. I also look at the extent to which we should reduce complexity in the first place. It has already become clear in the first interviews that too much reduction in complexity can also be negative.
Genderhinweis: Ich habe zur leichteren Lesbarkeit die männliche Form verwendet. Sofern keine explizite Unterscheidung getroffen wird, sind daher stets sowohl Frauen, Diverse als auch Männer sowie Menschen jeder Herkunft und Nation gemeint.
Lesen Sie mehr dazu.
Falls es noch Fragen gibt, können Sie mich gerne anrufen. Hierzu einfach im Buchungssystem nach einen freien Termin schauen. Ich nehme mir jeden Monat einige Stunden Zeit um mit Lesern zu interagieren.
Helfen Sie meinem Blog, vernetzen Sie sich oder arbeiten Sie mit mir
Sie haben eigene, interessante Gedanken rund um die Themenwelt des Blogs und möchten diese in einem Gastartikel auf meinem Blog teilen? – Aber gerne! Sie können dadurch Kunden und Fachkräfte ansprechen.



Ich suche aktuell außerdem Werbepartner für Bannerwerbung für meinen Blog. Sollte es für Sie spannend sein Fachkräfte oder Kunden auf Ihre Seite zu leiten, dann bekommen Sie mehr Informationen hier.
Vernetzen Sie sich in jedem Fall auf
Xing
oder
LinkedIn
oder kontaktieren Sie mich direkt für einen Austausch, wenn Sie gleich mit mir ins Gespräch kommen wollen. Werfen Sie auch einen Blick in meine
Buchvorschläge zur Digitalisierung
, vielleicht wollen Sie mir auch ein Buch empfehlen?
Ich arbeite gerne mit Unternehmen zusammen. Sie können mich ebenfalls gerne bezüglich folgender Punkte anfragen:
Verwendete Quellen anzeigen
Pfläging, N., & Hermann, S. (2015). Complexittestes: Clever ways to (re)revitalize companies and work in complexity. Munich: Redline Verlag.
Pfläging, N. (2014). Organization for Complexity. Munich: Redline Verlag.
http://image.slidesharecdn.com/reconfsusanne-140415073434-phpapp01/95/agilitt-im-systems-engineering-geht-das-12-638.jpg?cb=1397547757