The beginnings of cloud technologies are just under 20 years ago. Already after the turn of the millennium, large companies such as Amazon, Google, IBM, Yahoo and Co experimented with the flexible use of computers over the Internet. At present, the focus has been mainly on the growing user base at peak times, such as Christmas. Companies such as online retailer Amazon pursued the quest to serve their customers faster and more efficiently through bundled computers over the Internet.
From these beginnings, today's cloud technologies eventually evolved. But what exactly do they actually describe? What service and delivery models of cloud technologies are now available? And what summation can be drawn from the rapid development?
What does the term mean ?
The term "cloud," german "cloud," describes the application of special IT infrastructure. The main aim is to make IT resources available dynamically via the Internet, in the form of a network of several servers. Individual service packages are divided into the respective servers, so that in the event of failures, another server can always take over the tasks. As a result, the user does not have an accurate overview of exactly where his data and applications are located in the cloud, but can be sure of their occurrence at any time. The usage is billed according to flexible payment models.
According to a 2012 definition by the US National Institute of Standards and Technology (NIST, NIST 2019), cloud technologies should also have the following characteristics:
On-demand self service: The user can access cloud resources over the Internet at any time.
Broad network access: Users can access the cloud using the Internet in combination with well-known mobile devices such as smartphones, computers or tablets.
Resource pooling: The performance of the servers is made available to the user bundled, so that the user has no influence on individual servers.
Rapid elasticity: The storage space and performance of the cloud can be adjusted almost infinitely.
Measured service: The optimization and monitoring of the servers is done by the cloud.
Service Models of Cloud Technologies
Service models in the field of cloud technologies have been growing strongly for more than 10 years. However, such a model is defined not only by an overview-like description of a service, but also by the parameters required for realisation.
In practice, a distinction is usually made between three different categories, some of which flow into each other.
Software as a Service (SaaS),
Platform as a Service (PaaS) and
Infrastructure as a Service (IaaS)
Although cloud technology service models have been heavily represented for a decade, the initial steps were rather small. Before models such as Infrastructure as a Service or Platform as a
service became lucrative markets, initially only Software as a Service applications achieved significant sales (see Figure 1).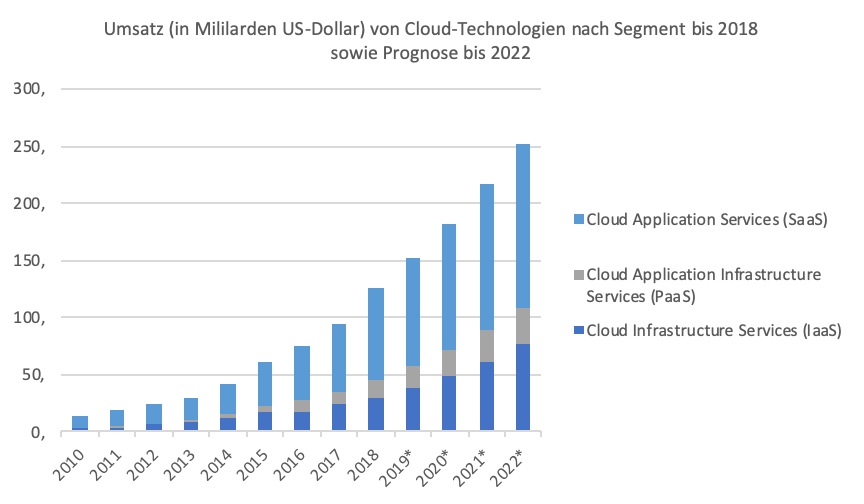 SaaS, PaaS and IaaS in comparison
In the following, I would like to compare the different service models for better clarity (see Fig. 2).
Saas
The first service model with the abbreviation SaaS stands for the term Software as a Service and is one of the most well-known variants among most end users. In this case, cloud providers provide their customers with software that can be used over the Internet at a fixed monthly price. While the provider monitors and organizes all the requirements around the range of updates and settings, the user has only limited influence on the software itself. The big advantage here, however, lies above all in the comparatively low costs and the possibility to use the software at any time and from anywhere.
Examples of SaaS: Microsoft Office 365, WordPress.com, GitHub, ownCloud online and Mailchimp
Paas
PaaS describes the second service model and stands for the term Platform as a Service. As the name suggests, the user can access a ready-made and flexibly expandable software environment in exchange for a payment. There, he can also run his own software. PaaS is therefore particularly strongly represented among software developers who use the service model, e.g. to develop their own software applications or to test them in the provided environment. Compared to a software environment of its own, the flexibility of PaaS is significantly higher, giving software developers the opportunity for different programming languages and almost infinite computing power.
Examples of PaaS include: Microsoft Azure, Amazon Web Services, and OpenShift
Iaas
Infrastructure as a Service, or IaaS for short, includes the last service model. It describes a virtual data center and the first alternative to buying your own hardware, such as virtual machines, storage, and networks. Since the end user is responsible for the virtualization of the environment as well as the installation of software, Iaas scores with the advantages of high flexibility and scalability as well as an almost limitless use of IT resources.
Examples of IaaS include: Clouds from Google, Amazon and Microsoft
Cloud Technology Delivery Models
In addition to the service models, there are also delivery models in the field of cloud technologies. Such a model describes how an acquired service model (SaaS, PaaS or IaaS) can be provided as a service. Here, three different delivery models are usually differentiated
Public Cloud
Private Cloud
Mixed shapes (e.g. hybrid cloud)
The first two are usually of greater importance and dissemination in enterprises (see Figure 3).
Public Cloud
Public cloud is described in practice as the public cloud of any provider, such as SaaS application such as Google Docs or Microsoft Office 365 or iaaS solution by the clouds of Google, Amazon or Microsoft. The great advantage of the public cloud lies in particular in the possibility of individual and needs-based setup. At the same time, however, public access in some countries can also cause problems with the legal situation in data protection.
Private Cloud
The private cloud, on the other hand, describes a delivery model where privacy barriers and IT security are usually no problems. This is because the private cloud is only explicitly available to companies that operate this cloud itself and make it available to their workforce in the form of company-specific software, a platform, or an intranet.
Hybrid Cloud
However, as many companies seek a combination of the benefits of both cloud technologies, the hybrid cloud delivery model has also become established. It describes a mixed form of public and private cloud as well as the possibility to operate certain services with public providers over the Internet and data-critical applications and data in their own cloud.
Example of using a hybrid cloud
A company stores customer and strategy data within its own cloud. For this purpose, own servers were purchased, which are managed by internal IT personnel. Since the purchase of own servers is very expensive and therefore only small capacities are available, non-protective data (e.g. brochures, company presentations …) is stored in the low-cost public cloud of a regional German provider. A community cloud is infrastructure that is shared by multiple companies, such as suppliers, for example, in the context of a project, where specific services are shared. For example, three suppliers can share IT infrastructure and professionals to implement a project for the same end customer. Only shared data is then stored in the cloud.
Conclusion
The term "cloud" describes the interaction of several services over the Internet, which divide individual task packages in such a way that in the event of failures, another server can always step in. Thus, the cloud user never has an accurate overview of where in the cloud their data and applications are currently located, but can be sure of their occurrence at any time.
Within cloud technologies, a distinction is made between service and delivery models and their individual classes.
Thus, service models split into three different categories, allowing the user to use the cloud in different types of abstraction:
Software as a Service (SaaS),
Platform as a Service (PaaS) and
Infrastructure as a Service (IaaS)
On the other hand, cloud providers provide their users with three different delivery models:
Public Cloud
Private Cloud
Mixed shapes (e.g. hybrid cloud)
Tip: Read my new book: The way to the cloud at Springer Gabler or book me for a talk .
Source
Lindner, D., Niebler, P., & Wenzel, M. (2020). The Way to the Cloud – A Guide for Entrepreneurs and Decision Makers. Heidelberg: Springer Gabler.
https://pixabay.com/de/photos/wolke-finger-smartphone-telefon-2537777/
Genderhinweis: Ich habe zur leichteren Lesbarkeit die männliche Form verwendet. Sofern keine explizite Unterscheidung getroffen wird, sind daher stets sowohl Frauen, Diverse als auch Männer sowie Menschen jeder Herkunft und Nation gemeint.
Lesen Sie mehr dazu.
Falls es noch Fragen gibt, können Sie mich gerne anrufen. Hierzu einfach im Buchungssystem nach einen freien Termin schauen. Ich nehme mir jeden Monat einige Stunden Zeit um mit Lesern zu interagieren.
Helfen Sie meinem Blog, vernetzen Sie sich oder arbeiten Sie mit mir
Sie haben eigene, interessante Gedanken rund um die Themenwelt des Blogs und möchten diese in einem Gastartikel auf meinem Blog teilen? – Aber gerne! Sie können dadurch Kunden und Fachkräfte ansprechen.



Ich suche aktuell außerdem Werbepartner für Bannerwerbung für meinen Blog. Sollte es für Sie spannend sein Fachkräfte oder Kunden auf Ihre Seite zu leiten, dann bekommen Sie mehr Informationen hier.
Vernetzen Sie sich in jedem Fall auf
Xing
oder
LinkedIn
oder kontaktieren Sie mich direkt für einen Austausch, wenn Sie gleich mit mir ins Gespräch kommen wollen. Werfen Sie auch einen Blick in meine
Buchvorschläge zur Digitalisierung
, vielleicht wollen Sie mir auch ein Buch empfehlen?
Ich arbeite gerne mit Unternehmen zusammen. Sie können mich ebenfalls gerne bezüglich folgender Punkte anfragen: