Due to the nationwide digitization, the requirements for computing resources have also increased sharply. As a result, cloud computing is becoming increasingly important. Due to the large number of data and information and the urge for faster and more flexible solutions, the demand has also increased. More storage, better servers, and a higher amount of software, network components, and databases are now needed.
The advantage is in particular that the user only pays for the cloud service actually used. This allows companies to reduce their operating costs. At the same time, they can realize demand-driven scaling in an effective infrastructure.
But how many companies have recognized these opportunities? And what is the current usage rate?
Or in other words:
What is the status quo of cloud computing in companies?
As recent statistics from Bitkom's "Cloud Monitor 2019" show, almost three-quarters of all companies already use cloud computing. As a result, the use of cloud technologies has increased by almost 10 percent in just two years (2016-2018). As a result, there are fewer and fewer deniers and more and more planned uses.
However, while cloud computing seems to be gaining ground across the board, the way it is used and how data backup is being backed up has changed in recent years. While 2016 was restrained in the first stages of rapprochement, more trust has now emerged. For example, the storage of uncritical data has decreased by 3 percentage points, while the backup of more estimated data has increased by ten percent from 2016 to 2018. And users have also discovered cloud computing for themselves when it came to secret information. In fact, the use has increased from 19 percent to 33 percent in just two years, by as much as 14 percentage points.
What are the still implementation and application issues?
But even as confidence in cloud technologies continues to grow, implementation seems to be a real problem for some companies. While many executives yearn for more productivity and competitiveness, they find the seemingly optimal solution in outsourcing information, data, and entire programs to internet service providers' computers. At the same time, however, there is often a lack of one: qualified staff on an expert basis, with whom change could be implemented efficiently. This is probably also the main reason for the still almost 1/5 of the refusals and the still main use of cloud computing for uncritical information.
In particular, the fact that cloud computing is sometimes difficult to access for the average employee with little IT knowledge often leads to inferior uses, such as in the following graphic: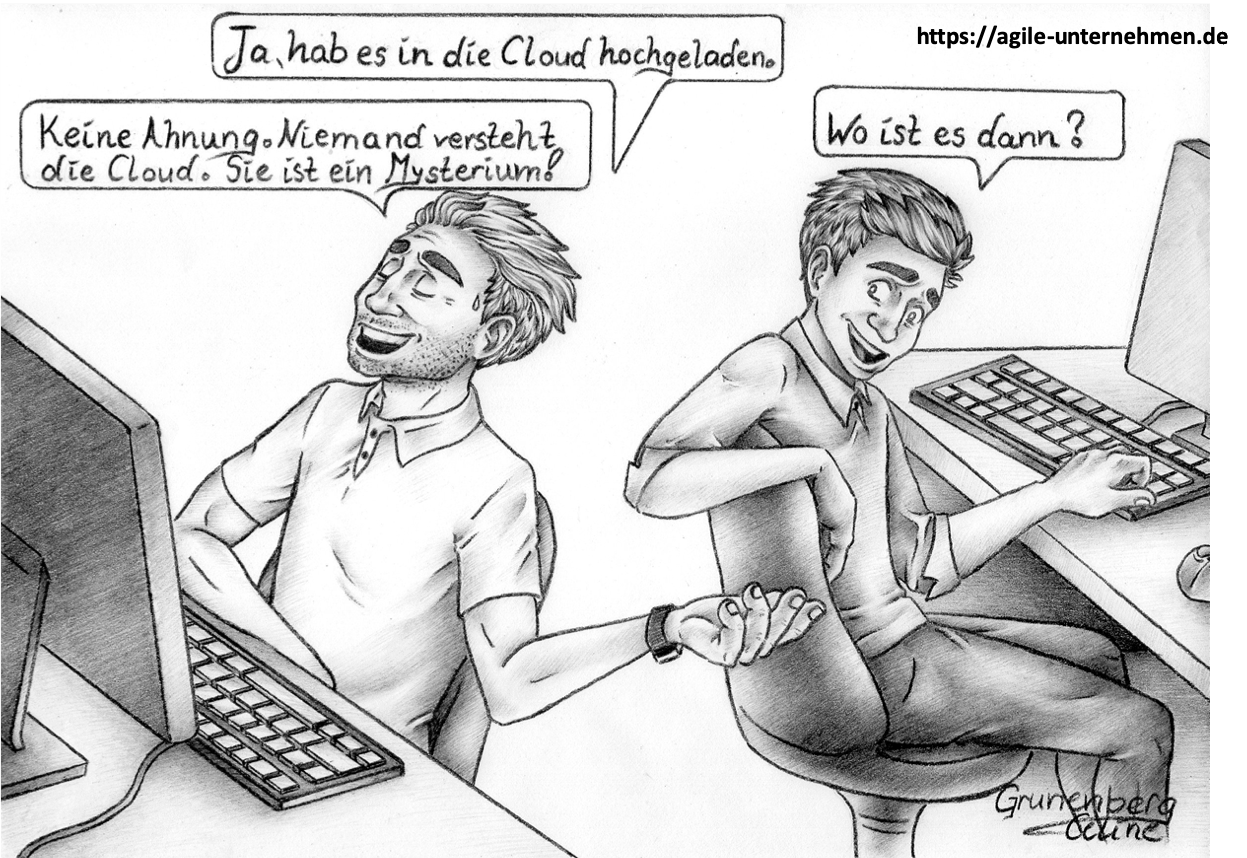 The implementation of cloud technologies often means that large parts of the workforce are willing to use them in their daily work, but at the same time they lack resources. And the background knowledge for optimal application is not always available. This often results in chaotic conditions, in which information is uploaded to the cloud, but there is no uniform system behind it. As a result, the system can quickly become inefficient and lose flexibility and speed. Ultimately, this makes it difficult to scale processes and creates unnecessary costs.
Conclusion
Nevertheless, I see far more benefit than harm in the use of cloud computing. Of course, the principle of cloud technologies is not easy for everyone to understand. At the same time, however, the chances outweigh the chances that it can be worthwhile for companies to invest a little more at first. These investments should be used to get the right professionals to get the right ones for a successful implementation.
In addition, I recommend that companies that already use cloud technologies stay on the ball. Cloud computing should be used consistently. Finally, as the statistics of Bitkom Monitoring show, confidence in the cloud is steadily increasing. As a result, more and more secret data is stored securely.
Tip: Read my new book: The way to the cloud at Springer Gabler or book me for a talk .
Source
Lindner, D., Niebler, P., & Wenzel, M. (2020). The Way to the Cloud – A Guide for Entrepreneurs and Decision Makers. Heidelberg: Springer Gabler.
More information on the topic can be found in the following articles:
Gender note: I have used the male form for easier reading. If no explicit distinction is made, women, miscellaneous and men as well as people of any origin and nation are always meant.
Read more.
If there are still questions, you are welcome to call me. Just look in the booking system for a free appointment. I take a few hours every month to interact with readers.
Help my blog, network or work with me
You have your own interesting thoughts about the topics of the blog and would like to have them in a Share guest article on my blog? - But with pleasure! This way you can address customers and professionals.



I am also currently looking for advertising partners for banner ads for my blog. If it should be exciting for you to lead specialists or customers to your site, then you get more information here.
In any case, please connect on
Xing
or
LinkedIn
with me or contact me directly for an exchange if you want to talk to me. Please also take a look at my
book suggestions for digitization
, maybe you want to recommend a book to me?
I like working with companies. You can also ask me about the following points:
Image source: pixabay.com