Agility has long been a fundamental part of IT and there is actually no more non-agile software development. Agility is also expanding outside it. There is already an article on agile departments outside IT. But since the establishment of agility, the question often arises: What comes "Beyond Agile"?
Agile in the Waterfallworld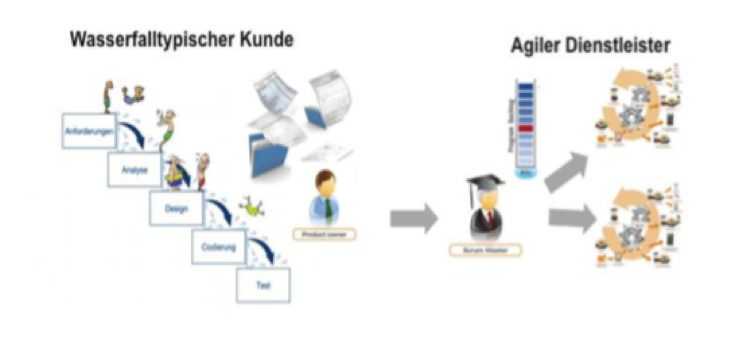 In my master's thesis (Lindner 2015, p. 24), I have already researched the initial situation of agile departments and found that an IT department often has to react flexibly to waterfall-typical customers and that agility ceases after IT. In the current research project a year later, I find that agility is now slowly leaving IT. However, IT departments will still have to respond flexibly to every customer. This must therefore be an important property of the next level of agility. You will find a white paper: Agile Team Teams in Waterfall Organizations free for download in my blog.
Antifragility and Resilience
Resilience is defined as the ability to have a high level of resilience. In recent years, resilience has been described as one of the most important characteristics of an IT department. The presentation based on Bargstedt et al. (2015, p. 279) shows exactly how, for example, after a sever failure, the system is restored as quickly as possible and one even emerges stronger from such a failure. This could take the form of a retrospective. This collective mindfulness and the possibility of briefly dissolving a current form of organization are the signs of good and healthy resilience.
In his book, Taleb (2013, p. 1) shows that everything created by man is fragile and could be permanently redesigned. Unplanned events, i.e. "black swans", are an ever-increasing dilemma in IT and demand resilience from all parties involved. As you know, an agile team has to save the world every day and often use "magic".
I also found a really successful presentation on Slideshare. It is currently one of many presentations that see the abstract approach of antifragility as "Beyond Agile".
Agile fixed price
Gloger & et al. (2012, p. 32) published her book "The Agile Fixed Price", a framework for contract design for agile software development. This setting of the time and budget for agile projects has been well received by the IT scene. However, the implementation is still difficult, as waterfall-typical customers are still too happy to specify the software exactly, in order to want to change it again and again. For "Beyond Agile" I would like to see more agile fixed prices.
HR and agile software development
Professionals! Everywhere there are calls for skilled workers, especially in software development. For this reason, HR will play an important role in HR. It doesn't look like how I find developers for my agile software development, but how I find the real agile software developer. How do I reach this person, where is, and most importantly, how do I keep them with me in the company? I have already written a detailed article about agile HR here in the blog, which further deepens all the points in this paragraph. One approach after agility will definitely be to offer developers new and exciting career paths such as Junior Scrum Master and also the product owner new challenges. The picture is by Gloger & Häusling (2011, p. 89).
Hybrid Agile?
Or will Scrum mix with other methods in the near future? Will hybrid models shape the state-of-the-art of modern companies and the "Beyond Agile" trend? The following concept also comes from my master's thesis (Lindner 2015, p. 91). All departments permanently overturn new requirements. A Requrements Engineer writes User Stories and the User Stories are edited by either a Kanban team or an agile team. For smaller and non-contiguous user stories, the Kanban team consistently delivered the best results. The scrum team planned larger projects. The employees could also be exchanged between the two teams as often as desired. We have also coordinated major projects with a steering committee and collected the necessary resources or budgets in good time. Despite many methods, we had harmony in our IT department.
Beyond Agile?
To this answer I found a blog article by Boris Gloger. He's talking about Scrum 3.0. So Boris says: Scrum has evolved. To a management framework, to an attitude, to an approach that allows entire companies to be controlled. Scrum has become the de facto standard in the agile project management landscape and we now know how to make cross-functional, multidisciplinary teams work across continents in software and hardware development.
Boris Gloger also has an answer to the question of what Scrum 3.0 is. He says: Scrum 3.0 is no longer what was in Scrum 1.0. Today we can no longer tell the great camels, because they have proved to be non-functional over the years. In addition, the possibilities have changed. He formulates some facts, of which I would like to present 10 selected ones. He says: Scrum 3.0 knows today,
that there is such a thing as "flow",
that it also needs the skills to work with Scrum,
that remote work is no longer evil,
that we naturally want to make fixed prices,
we focus on improving one thing,
we know that agile scaling certainly does not work through the next models (although this can be sold well), but only succeeds if the architecture also produces it and that
the developers need the skills to implement all this.
Genderhinweis: Ich habe zur leichteren Lesbarkeit die männliche Form verwendet. Sofern keine explizite Unterscheidung getroffen wird, sind daher stets sowohl Frauen, Diverse als auch Männer sowie Menschen jeder Herkunft und Nation gemeint.
Lesen Sie mehr dazu.
Falls es noch Fragen gibt, können Sie mich gerne anrufen. Hierzu einfach im Buchungssystem nach einen freien Termin schauen. Ich nehme mir jeden Monat einige Stunden Zeit um mit Lesern zu interagieren.
Helfen Sie meinem Blog, vernetzen Sie sich oder arbeiten Sie mit mir
Sie haben eigene, interessante Gedanken rund um die Themenwelt des Blogs und möchten diese in einem Gastartikel auf meinem Blog teilen? – Aber gerne! Sie können dadurch Kunden und Fachkräfte ansprechen.



Ich suche aktuell außerdem Werbepartner für Bannerwerbung für meinen Blog. Sollte es für Sie spannend sein Fachkräfte oder Kunden auf Ihre Seite zu leiten, dann bekommen Sie mehr Informationen hier.
Vernetzen Sie sich in jedem Fall auf
Xing
oder
LinkedIn
oder kontaktieren Sie mich direkt für einen Austausch, wenn Sie gleich mit mir ins Gespräch kommen wollen. Werfen Sie auch einen Blick in meine
Buchvorschläge zur Digitalisierung
, vielleicht wollen Sie mir auch ein Buch empfehlen?
Ich arbeite gerne mit Unternehmen zusammen. Sie können mich ebenfalls gerne bezüglich folgender Punkte anfragen:
Verwendete Quellen anzeigen
Bargstedt, U., Horn, G., & Vegten, A. van (2015). Strengthening resilience in organizations: preventing and managing critical situations. Oberhaching: Publishing House for Police Studies.
Gloger, B., & Häusling, A. (2011). Successful with Scrum – Impact Factor Human Resources Management: Finding and Retaining Employees in Agile Companies. Munich:Carl Hanser Verlag GmbH & Co. KG.
Gloger, B., Opelt, A., Pfarl, W., & Mittermayr, R. (2012). The Agile Fixed Price. Munich: Carl Hanser Verlag GmbH & Co. KG.
Lindner, D. (2015). Agile in the Waterfallworld. University of Erlangen-Nuremberg.
Taleb, N. (2013). Antifragility: Guidance for a world we don't understand. Munich: Albrecht Knaus Verlag.