"Industry 4.0 is a marketing term that is also used in science communication, and stands for a "future project" of the German Federal Government " (Gabler Lexicon). However, this so-called fourth industrial revolution does not yet seem to have been fully understood.
That is why there is still restraint in German companies at the moment. As the Bitkom studysays: "Industry 4.0 has reached the economy, but companies are still reluctant to invest in innovative digital technologies for connected production and products."
For this reason, this article is intended to examine and argue about the potential benefits of Industry 4.0. On the basis of these, the considerations for Industry 4.0 can be further mentioned. Now I'll show you some selected benefits of Industry 4.0.
Reading tip: What is Industry 4.0
Transparency and communication
Thanks to the various interfaces and reports as well as the real-time notifications by RFID chips, among others, a higher transparency in the supply chain can be created. This also increases communication, as reports are sent automatically and employees can track production at other locations in real time.
Simplifying processes
New software and hardware can simplify processes. For example, an ERP tool makes ordering parts easier and easier to get forecasts and reports from a document management system.
Automated processes
You know this: processes are carried out manually over and over again. This can be tiring, cause mistakes and demotivate employees. By automating processes, this can be handled.
Good employees could also devote themselves to other tasks and improve production instead of just working in it. Automated processes can be used to increase employee satisfaction and efficiency.
All these software tools produce data. Data that can be used to make predictions and predictions. On the basis of these, informed decisions can be made. These can also be used to initiate processes such as ordering new goods or alerting them for shipping.
Efficiency
Thanks to the added efficiency, the adherence to deadlines can be increased and with the help of the software tools, on the one hand, faster and more products can be produced and on the other hand customers can be satisfied. Keep in mind that you could show your customers a dashboard by tracking your parts live or by ordering them conveniently through an online store.
Business
New opportunities can be used to better respond to changing customer conditions. By partnering with startups and other manufacturers, new synergies and products can be created.
Other services such as a dashboard fee or the use of the live tracker to make the parts may also be charged. Own developments such as production utilization control can also be sold to other companies as a consultancy or service.
A final example is the opening of a manufacturer's platform. On this basis, production companies can jointly develop and offer services and products digitally. The following applies to the customer: Everything in one place, anytime and anywhere!
New career opportunities
With the help of the new human-machine cooperation, man can serve as a monitor and manager in production and will also be challenged. Instead of monotonous operation of machines, creativity is required and continuous further training is required.
In this way, an employee can constantly develop and also help shape the IT landscape and digital processes. All this can keep employees in the company longer and especially attract skilled workers, especially in rural regions from the metropolises.
Tip: Book suggestions for Industry 4.0
Conclusion: Benefits of Industry 4.0
The advantages of Industry 4.0 are obvious, but there still seems to be a high degree of uncertainty and a shy ness against high investment costs in German companies. This text has highlighted cases that Industry 4.0 can bring.
In addition to increased efficiency and big data, employees can also be happier and offer new opportunities. Synergies between manufacturers and new business models are also conceivable.
I hope to be able to give a first thought with the articles and look forward to comments. But as always, these advantages also bring disadvantages, which should be taken into account. Therefore, read also the disadvantages of Industry 4.0.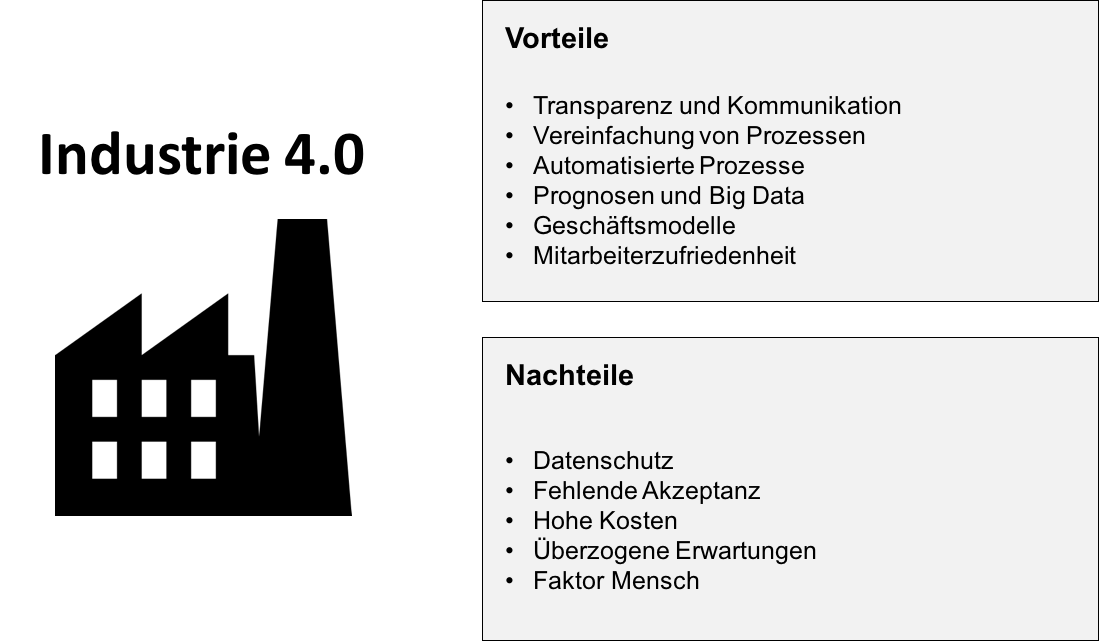 Genderhinweis: Ich habe zur leichteren Lesbarkeit die männliche Form verwendet. Sofern keine explizite Unterscheidung getroffen wird, sind daher stets sowohl Frauen, Diverse als auch Männer sowie Menschen jeder Herkunft und Nation gemeint.
Lesen Sie mehr dazu.
Falls es noch Fragen gibt, können Sie mich gerne anrufen. Hierzu einfach im Buchungssystem nach einen freien Termin schauen. Ich nehme mir jeden Monat einige Stunden Zeit um mit Lesern zu interagieren.
Helfen Sie meinem Blog, vernetzen Sie sich oder arbeiten Sie mit mir
Sie haben eigene, interessante Gedanken rund um die Themenwelt des Blogs und möchten diese in einem Gastartikel auf meinem Blog teilen? – Aber gerne! Sie können dadurch Kunden und Fachkräfte ansprechen.



Ich suche aktuell außerdem Werbepartner für Bannerwerbung für meinen Blog. Sollte es für Sie spannend sein Fachkräfte oder Kunden auf Ihre Seite zu leiten, dann bekommen Sie mehr Informationen hier.
Vernetzen Sie sich in jedem Fall auf
Xing
oder
LinkedIn
oder kontaktieren Sie mich direkt für einen Austausch, wenn Sie gleich mit mir ins Gespräch kommen wollen. Werfen Sie auch einen Blick in meine
Buchvorschläge zur Digitalisierung
, vielleicht wollen Sie mir auch ein Buch empfehlen?
Ich arbeite gerne mit Unternehmen zusammen. Sie können mich ebenfalls gerne bezüglich folgender Punkte anfragen:
Verwendete Quellen anzeigen