Agility is on everyone's watch and many companies are pushing ahead with internal digitization in order to remain attractive to professionals and customers. There is also an intense debate in literature about the role of agility in digital change. The core topic is a hen-egg problem: Should agility be increased first in order to digitize or does agility automatically increase with digitization?
Debate on agility in the context of digitalisation
The debate about the digitization of organizations is by no means new and does not directly address the agile organization. As early as 1985, Bair investigated the changes in organizations due to the so-called personal computer (PC) and called for a debate on the digitization of organizations, which only since the turn of the millennium had further significant and since 2012 more publications.
There are mainly two opinions on the design of this digital organisation. While experts such as Arnold (2016) and Gloger (2016) believe that increased agility in companies can drive digitalization, Urbach & Ahlemann (2016) and Schrauzer (2016) believe that digitalization is the trailblazer for increased agility in organizations. However, all debates aim at increasing the agility of the company organization.
Agility as a prerequisite for digitalization
Schrauzer (2016) takes up this thesis of computerization and notes that more mobile hardware and software makes it possible to reorganize companies more flexibly. He concludes that the digitalisation of companies paves the way for new and more flexible forms of business. Urbach and Ahlemann (2016) are concretising this and showing the increasing flexibility of organisations. According to these, the prerequisite is the reorganization of internal IT. Below is an illustration of how such a reorganization can take place.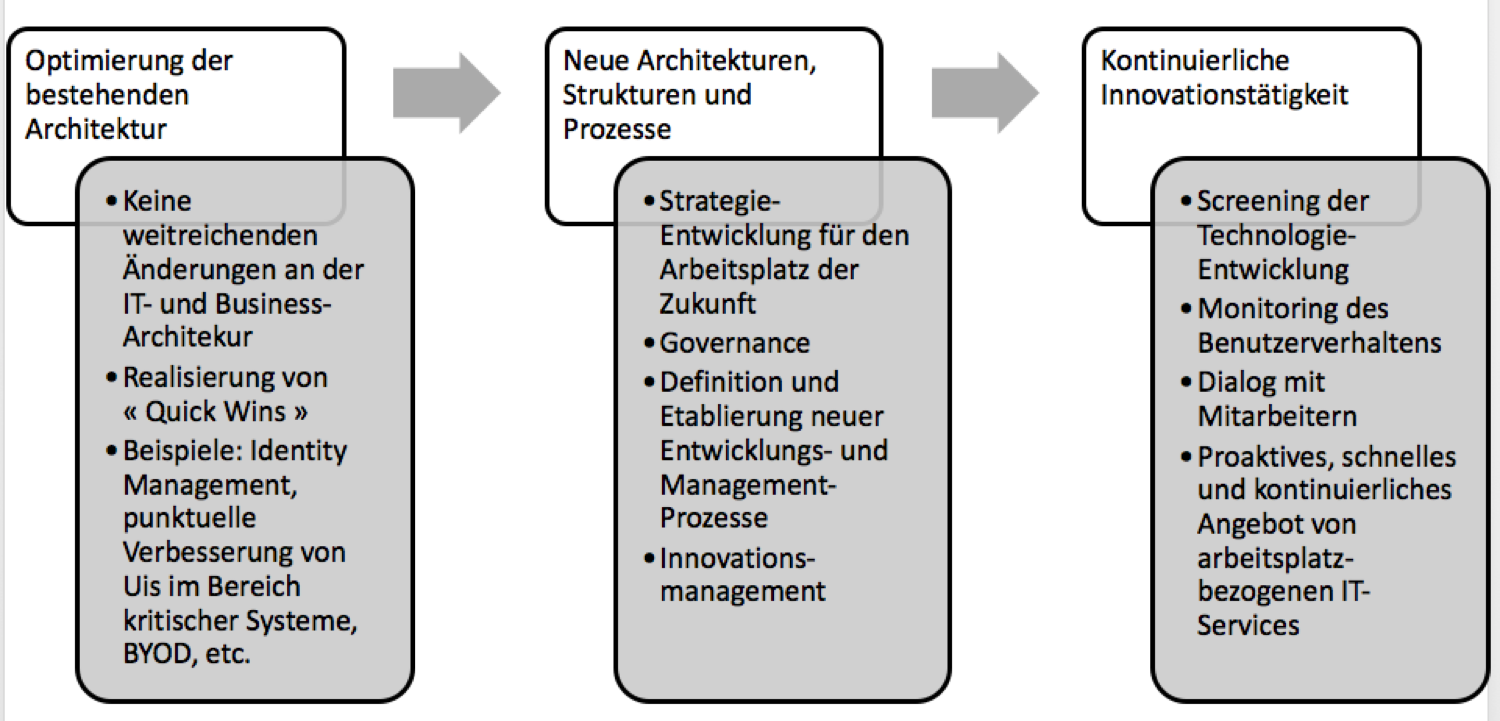 Mobile technology and software can enable constant reorganization, free seat selection and concepts such as home office, remote or mobile work. Distributed teams and much freer work are also possible. This is why a higher agility in the work can be noted.
Agility as a result of digitalization
In contrast to the currently mentioned sources, Arnold (2016) notes that digitalization, such as the required IT reorganization of Urbach and Ahlemann (2016), can demand disruptive changes from companies. He believes that this cannot be implemented in a classical/Taylorist organization and calls for more agile structures. He describes the example of the pile umantis and recommends testing this with experiments and evaluating how to achieve higher agility. Similar to Arnold (2016), Petry (2016) sees a paradigm shift in existing organizations as a "building block for sustainable corporate governance in the digital economy." He recommends that organizations adapt to NewWork's vision: work when, how, and where you want. In this way, employees are to be given maximum freedom in the execution of work. It notes that the flexibility of work depends heavily on mobile hardware and software, but the necessary restructuringshould be made before introducing it, as this will make the introduction of technology easier. The following figure shows the vision of NewWork.
It turns out that the introduction and implementation of technology is complex and that appropriate framework conditions must also be created in order to realize the vision of NewWork. However, according to the authors, these are the real sticking point. So these frameworks should be created first. As the union board says in the 1st Roundtable:"Agility also needs guidelines in order not to end in chaos. This means that we ultimately need framework conditions to create agility." The marketing manager also adds that self-determination of work is an important prerequisite for successful digitization. This self-determination, according to the marketing manager, allows a"creative environment [mit] of regulations and framework conditions that allows us to have this [geschaffen werden] flexibility." In the 2nd Roundtable, the participants presented a concept for increasing agility in companies.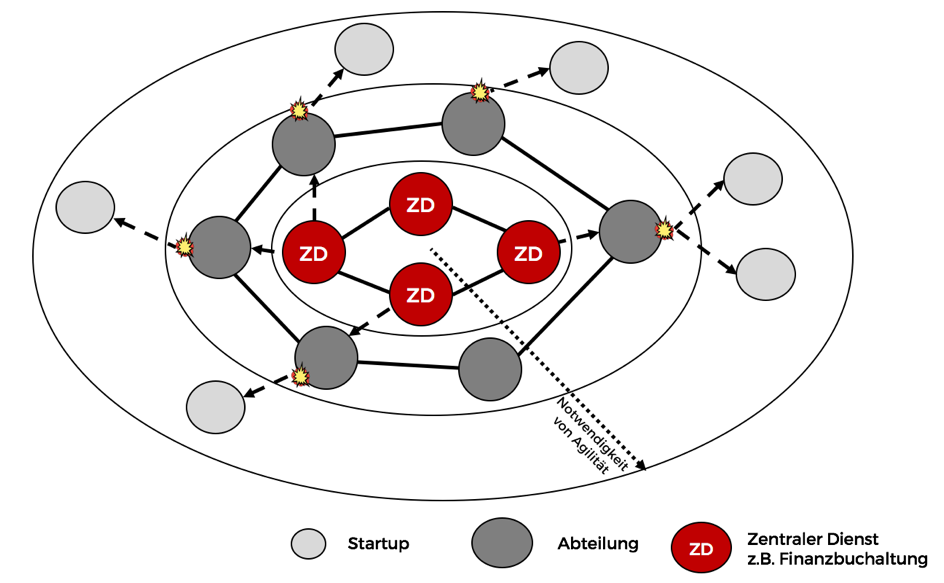 Conclusion
Ludwig et al. (2016) have taken up and evaluated this debate. The result was that the goal of the digital organisation is to continue to humanize work and to represent a humane, flexible and meaningful way of working. However, he still sees many open areas of tension and no to little concrete implementation scenarios for classical SMEs, which are still predominantly in a Taylorist organisation and are now faced with the decision to increase technology or agility first.
Reading tips
Of course, this argument does not have to be right for every company, and every approach is justified. Also, of course, my Roundtable is only a small and selected group of entrepreneurs in Germany. That is why I would be interested to know what you believe? Vote in the poll! Finally, with this post I also wish you a Merry Christmas and a Happy New Year and say goodbye to the holidays until January.
Genderhinweis: Ich habe zur leichteren Lesbarkeit die männliche Form verwendet. Sofern keine explizite Unterscheidung getroffen wird, sind daher stets sowohl Frauen, Diverse als auch Männer sowie Menschen jeder Herkunft und Nation gemeint.
Lesen Sie mehr dazu.
Falls es noch Fragen gibt, können Sie mich gerne anrufen. Hierzu einfach im Buchungssystem nach einen freien Termin schauen. Ich nehme mir jeden Monat einige Stunden Zeit um mit Lesern zu interagieren.
Helfen Sie meinem Blog, vernetzen Sie sich oder arbeiten Sie mit mir
Sie haben eigene, interessante Gedanken rund um die Themenwelt des Blogs und möchten diese in einem Gastartikel auf meinem Blog teilen? – Aber gerne! Sie können dadurch Kunden und Fachkräfte ansprechen.



Ich suche aktuell außerdem Werbepartner für Bannerwerbung für meinen Blog. Sollte es für Sie spannend sein Fachkräfte oder Kunden auf Ihre Seite zu leiten, dann bekommen Sie mehr Informationen hier.
Vernetzen Sie sich in jedem Fall auf
Xing
oder
LinkedIn
oder kontaktieren Sie mich direkt für einen Austausch, wenn Sie gleich mit mir ins Gespräch kommen wollen. Werfen Sie auch einen Blick in meine
Buchvorschläge zur Digitalisierung
, vielleicht wollen Sie mir auch ein Buch empfehlen?
Ich arbeite gerne mit Unternehmen zusammen. Sie können mich ebenfalls gerne bezüglich folgender Punkte anfragen:
Verwendete Quellen anzeigen
H. Arnold, "Digitalization of Corporate Governance," Leadership + Organization, no. 5, pp. 330-336, 2016.
J. H. Bair, Personal computers and the office of the future, Telematics and Informatics, no. 2, pp. 113-117, 1985.
B. Gloger, Scrum: Develop products reliably and quickly. Munich: Hanser Verlag, 2016.
T. Ludwig, C. Kotthaus, M. Stein, H. Durt, C. Kurz, J. Wenz, and V. Wulf, "Working in SMEs 4.0 – SMEs in the Area of Tension of Digital Change," HMD – Practice of Business Informatics, vol. 53, no. 1, pp. 71-86, 2016.
T. Petry, Digital Leadership: Successful leadership in times of the digital economy. Munich: Haufe Verlag, 2016.
S. Schrauzer, Computerization in Global Software Development – A Work Methodical View, HMD – Practice of Business Informatics, vol. 53, No. 1, pp. 42-53, 2016.
N. Urbach and F. Ahlemann, "The Knowledge Workplace of the Future: Trends, Challenges and Implications for Strategic IT Management," HMD – Practice of Business Informatics, vol. 53, no. 1, pp. 16-28, 2016.