Service companies such as IT-Conulting, insurance agencies, tax advice and much more often consider how agility can take place in line with customers. The goal is a high degree of flexibility in terms of customer requirements and Scrum is often not a direct solution due to the long sprint times in an ad hoc business. I would like to make a recommendation for action in this article.
Spotify Model
The streaming service Spotify was founded in 2006 and now has revenues of more than 4 billion euros and has 3,000 employees. This success story can be attributed to a variety of factors. One of them is The Agile Organizational Form of Spotify, which is now taken as a model by many companies.
Spotify's model is to define so-called squads for certain areas. These are loose groups that have a specific purpose and work agilely. Each squad has a chosen squadlead that represents the interests of the team. I don't want to explain the whole model in this article, because only the idea of squads is relevant. You can learn more about the entire model in the following reading tip.
Reading Tip: Spotify Model
Imagine that one squad takes over one module or part of a website, for example, the display of the music and another takes over the sidebar, etc. You have specialized units that work meaningfully for your target group. But how can this be applied to agility in service companies?
Recommendations
My recommendation is that the individual consultants should be close to the customer and be allowed to decide autonomously with the Key Account Manager. The Account Manager is the lawyer of the client and the employee. He knows the customer and speaks his language, but also defends the consultants.
The internal teams such as HR, internal IT and travel management support the consultants at work and provide great services and products such as laptops or Office 365.
The advantages of the squads are that they react individually to the customer and work in a dedicated manner. The squads speak the customer's language and think proactively for him as well. This greatly increases satisfaction. Also, the squads can even take over the sales in the long run, as they build a relationship with the customer. The important thing for you as a leader is to leave squads alone, trust and help the squads. Another advantage is that you can also use it to plan sales cleanly and create forecasts.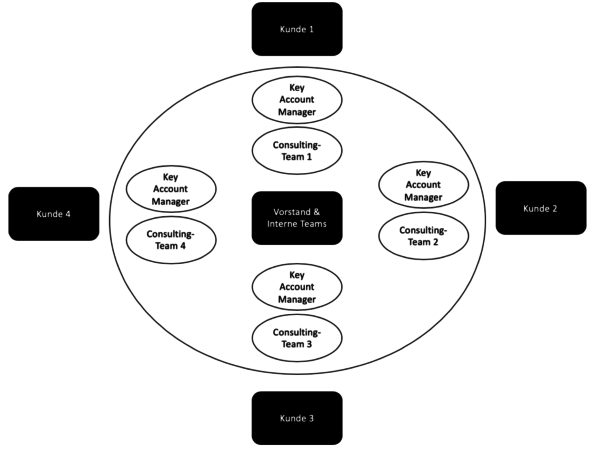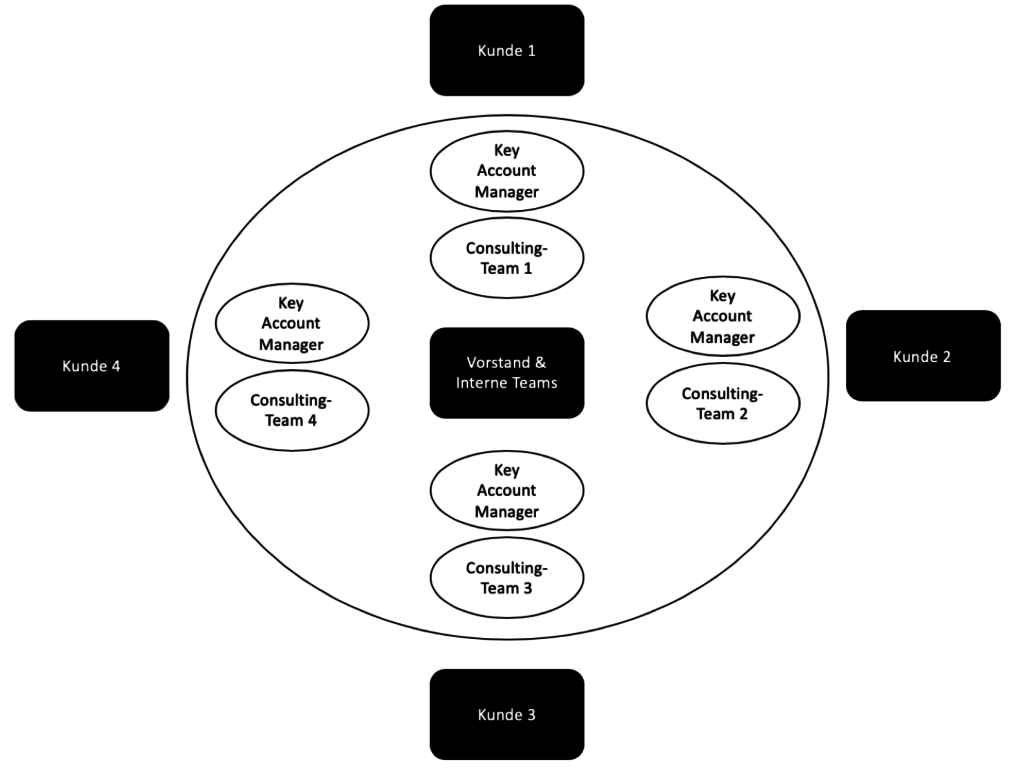 Open questions
Now it remains to be seen how the squads exchange knowledge with each other and whether this is necessary at all, since each squad is individually tailored to the customer anyway. I am also trying to solve this question in my daily work. Do you have any ideas? Then write to me!
Image source: Shop photo created by yanalya – de.freepik.com
Genderhinweis: Ich habe zur leichteren Lesbarkeit die männliche Form verwendet. Sofern keine explizite Unterscheidung getroffen wird, sind daher stets sowohl Frauen, Diverse als auch Männer sowie Menschen jeder Herkunft und Nation gemeint.
Lesen Sie mehr dazu.
Falls es noch Fragen gibt, können Sie mich gerne anrufen. Hierzu einfach im Buchungssystem nach einen freien Termin schauen. Ich nehme mir jeden Monat einige Stunden Zeit um mit Lesern zu interagieren.
Helfen Sie meinem Blog, vernetzen Sie sich oder arbeiten Sie mit mir
Sie haben eigene, interessante Gedanken rund um die Themenwelt des Blogs und möchten diese in einem Gastartikel auf meinem Blog teilen? – Aber gerne! Sie können dadurch Kunden und Fachkräfte ansprechen.



Ich suche aktuell außerdem Werbepartner für Bannerwerbung für meinen Blog. Sollte es für Sie spannend sein Fachkräfte oder Kunden auf Ihre Seite zu leiten, dann bekommen Sie mehr Informationen hier.
Vernetzen Sie sich in jedem Fall auf
Xing
oder
LinkedIn
oder kontaktieren Sie mich direkt für einen Austausch, wenn Sie gleich mit mir ins Gespräch kommen wollen. Werfen Sie auch einen Blick in meine
Buchvorschläge zur Digitalisierung
, vielleicht wollen Sie mir auch ein Buch empfehlen?
Ich arbeite gerne mit Unternehmen zusammen. Sie können mich ebenfalls gerne bezüglich folgender Punkte anfragen: