You know this: you have a suggestion for improvement and you go to specialist teams or managers and nobody listens to you. This can be frustrating and even as a manager you know the problem: you want to make your company more agile but nobody has time.
To this end, I would like to elaborate on what happens to the individual employee when you come up with a decision or proposal on it. To do this, we imagine that our absorption capacity and stress level is a glass that has only a certain capacity. I illustrate this with the example of the decision: "We are making agile now!".
Look at the figure. Currently, our employee (project manager) is slightly stressed. He has a lot to do in the project and is a bit sick (therefore two stress bars). Now the management announces him: from next week you will do scrum and are scrum masters in your project.

After this decision, our employee is much more stressed. He is in poor health, the project is stressful and he has to deal with the agile transformation (4 stress bars). The question now is: was this the right time to announce this decision?
But one thing is clear: you can adapt to a stressed employee who no longer has time for other things. He is currently "too busy to improve". It is therefore also advisable to approach employees with suggestions and agile ideas, who have their heads free for it.
Agile transformation – how the teams react
Now let's look at the same presentation at the team level. You can see two teams in the figure. One team is not stressed and has air as the customer is currently very calm and another team is running from escalation to escalation. They are now announcing to both teams: "From next month we will be agile!"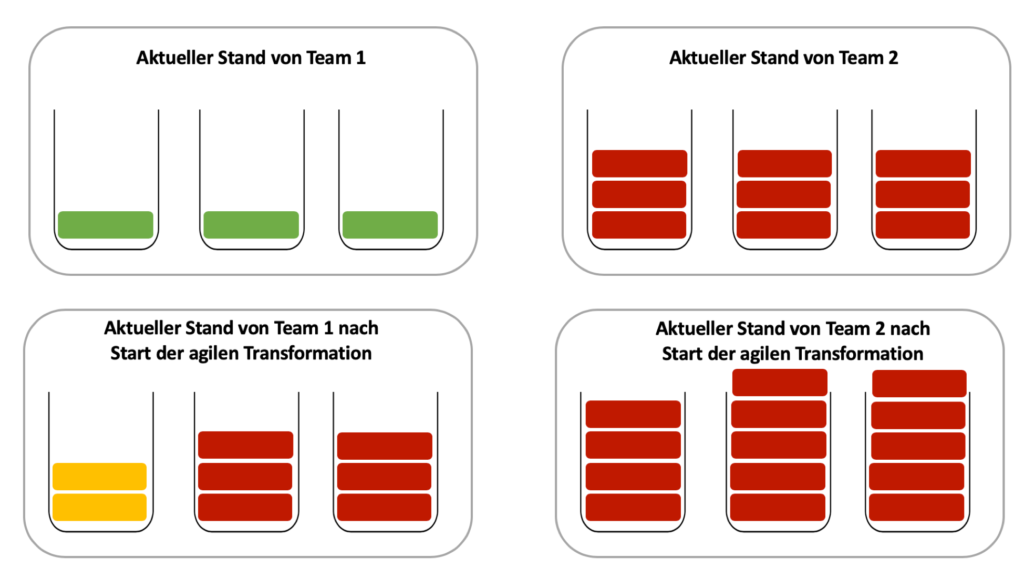 Now you announce the decision to both teams and notice that the stress level is getting significantly higher. Team 1 gives full strength and can handle the agile change in addition to day-to-day business. Team 2, however, is so stressed about the transformation that all members are heavily stressed and on a good german "make your head" and oppose change. Two of the members are even well above the stress level and report getting sick. This may also cause the agile transformation in Team 2 to fail.
Verdict: Too busy to improve
The agile transformation costs strength and is usually carried out in addition to the day-to-day business and can overwhelm the organization. Therefore, you as a manager or change agent have 2 tips:
Start with teams that have low stress levels.
Make sure teams with high stress levels get time.
Finally, I'll give you two reading tips on how to address agile change in concrete ways using existing frameworks.
Reading tips:
Image source: Shop photo created by jcomp – de.freepik.com
Genderhinweis: Ich habe zur leichteren Lesbarkeit die männliche Form verwendet. Sofern keine explizite Unterscheidung getroffen wird, sind daher stets sowohl Frauen, Diverse als auch Männer sowie Menschen jeder Herkunft und Nation gemeint.
Lesen Sie mehr dazu.
Falls es noch Fragen gibt, können Sie mich gerne anrufen. Hierzu einfach im Buchungssystem nach einen freien Termin schauen. Ich nehme mir jeden Monat einige Stunden Zeit um mit Lesern zu interagieren.
Helfen Sie meinem Blog, vernetzen Sie sich oder arbeiten Sie mit mir
Sie haben eigene, interessante Gedanken rund um die Themenwelt des Blogs und möchten diese in einem Gastartikel auf meinem Blog teilen? – Aber gerne! Sie können dadurch Kunden und Fachkräfte ansprechen.



Ich suche aktuell außerdem Werbepartner für Bannerwerbung für meinen Blog. Sollte es für Sie spannend sein Fachkräfte oder Kunden auf Ihre Seite zu leiten, dann bekommen Sie mehr Informationen hier.
Vernetzen Sie sich in jedem Fall auf
Xing
oder
LinkedIn
oder kontaktieren Sie mich direkt für einen Austausch, wenn Sie gleich mit mir ins Gespräch kommen wollen. Werfen Sie auch einen Blick in meine
Buchvorschläge zur Digitalisierung
, vielleicht wollen Sie mir auch ein Buch empfehlen?
Ich arbeite gerne mit Unternehmen zusammen. Sie können mich ebenfalls gerne bezüglich folgender Punkte anfragen: